If you're like most Americans, you don't actually budget. You know it's bad to spend more than you earn, that's not the point. You just don't want to track every dollar coming in and going out. Which may be fine right now. But as you move toward retirement, you'll need a better handle on your ongoing costs. Here are 5 apps to help you budget at midlife.
It's hard to budget
Budgeting is a pain. In fact, only 38% of college graduates budget and track monthly household expenditures. Most of us would like a better idea of where our money goes and how to save more, but we find budgeting tedious.
Recently my husband and I sat down with our bank's financial planners to go over a Personal Financial Plan. The planners used their institution's software to input data we'd provided. We supplied information on our:
Checking and savings accounts
Retirement and investment accounts
Mortgage, car and other loans
Household expenses
Insurance policies
I'd compiled the household expense estimates through painstaking analysis. I downloaded transactions from our bank and credit card accounts. Then I imported it to a spreadsheet and categorized everything.
By the time I'd finished, I was so sick of the numbers that I emailed them to the planners and moved on. I didn't use them to put together a budget. I didn't think about them again until we met with our bankers last week.
Facing money facts can be worrisome
The planners generated year-by-year estimates of our income and expenses from now through 2052. Which seems like a long time away. But it's the year I'll turn 90 – if I'm still alive.
They suggested an order in which we should draw from retirement accounts, how we might save on taxes and other financial tips. The plan contained some interesting euphemisms. My favorite was Deficit Coverage Strategies. I still don't know what that means – but it doesn't sound like something I'll look forward to.
The planners even ran a Monte Carlo simulation to predict the likelihood that our financial plan would "succeed." In other words, it predicted how likely we were to make it to the ends of our lives without running out of money. For the record, the answer wasn't encouraging.
Although I have an MBA, when I hear "Monte Carlo," it conjures up an image of Grace Kelly driving Cary Grant around cliff-bound curves in To Catch a Thief. And I'd rather focus on that than think about my personal cash flow at age 90. Especially if my cash may be running out!
You can avoid gambling with your financial future
Monte Carlo simulations, like all predictive models, are only as good as the data and assumptions underlying them. My husband and I identified some variables for our planners to adjust. Including current expenses that we expect to diminish or disappear in retirement. Hopefully the results from the revised model will be more positive.
I came away from our financial planning conference with a sense that we were ok, but we also weren't ok. The bankers assured us that our savings efforts were on track. But I left feeling worried about the future.
It's clear to me that our present lifestyle may have to change someday when the paychecks come to an end. But I lack the information necessary to see where we should consider making changes.
So I've resolved to get better about budgeting and tracking expenses. My first step on this journey has been to search for apps that will make the process easier. And maybe even make it more fun.
Choosing apps to help you budget at midlife
The iTunes App Store lists 240 "popular apps" in its finance section. The category includes mobile banking apps and various money-oriented apps like tip calculators. But there also are loads of budget apps.
Many personal finance apps target millennial consumers in their first ten years of managing household expenses. They assume little prior knowledge and teach concepts like "give every dollar a job."
But I'm a midlife consumer who understands budgeting principles. I just don't do them. I mean, not with the rigor and intentionality that most apps want you to have. At the same time, I know I need to improve. So as I evaluate which budget apps work for me, here's a list of my requirements:
Automatic downloads
An app has to download transactions from my bank accounts and credit cards automatically. I don't want to go online one account at a time and import recent transactions manually.
Automatic categorization of expenses
I understand I'll have to assign transactions to expense categories, but I want the app to "learn" what categories it should match to recurring transactions. So once I've assigned a category to a  transaction that recurs every month, I'm done. Next month it will be categorized automatically.
Platforms for Mac, iPhone and iPad
Being able to sync data across my different devices matters a lot to me. Even if I have to use my laptop to set up budget categories, I want to be able to check our financial status on my iPad while I'm watching TV. And since sometimes my phone is all I'm carrying with me, I want iPhone access, too.
Ability to customize budget categories
Some apps limit you to a small number of categories in order to simplify the budgeting process. I like keeping things simple. But I want to replace categories that aren't relevant to me, like child care, with other items I care about more at midlife.
Balance between providing information and over-analyzing
In the interest of simplicity, I want to focus on basic measures. I don't have time to deal with tons of information and analysis. I just want to understand essential data that informs how my husband and I will make financial decisions.
Appealing user interface
As noted above, budgeting is a pain. Apps that are easy to use and feature bright colors reduce the frustration and anxiety I associate with this tedious activity. If I can log in, sync new transactions and quickly review reminders without having to click through multiple screens, that's a plus.
5 apps to help you budget at midlife
I reviewed many more apps but narrowed my options to these five. Each one takes a slightly different angle on budgeting and tracking your expenses. See which one works for you.
Mint is available for Android, iPhone and iPad. It also has a web-based interface you can access on your desktop computer. Mint and the next app (YNAB) are dominant players in the budget app category. Mint comes from Intuit. Although they still make Quicken products for Mac and Windows, they now charge annual subscription fees for them. So lots of users (myself included) have switched to Mint.
Mint has an appealing user interface. It downloads and categorizes your transactions from bank accounts, credit and debit cards. It also includes automatic downloading of investment portfolios to give you a total picture of your financial health. You choose what accounts you want to sync and grant Mint access to them one at a time.
Cost: Free, but Mint has tons of ads for related financial service products.
Observations:
(+) Mint starts by downloading up to 90 days of your past transactions. This is super-helpful if you are trying to construct a budget from scratch, as it provides data to inform your estimates.
(+) The app automatically categorizes your transactions when you download them. It doesn't always get it right, but you can adjust individual transactions if they're assigned to the wrong categories.
(-) You can add sub-categories, but you can't add main categories. And you can't delete any of Mint's default sub-categories. You don't have to assign transactions to them, but it can be annoying to scroll through a list of sub-categories you don't use.
(-) Mint abbreviates item descriptions. For example, a payment to my Capital One card downloads as "Capi." An automated payment to State Farm Insurance downloads as "St. O."  I have to look at online credit card statements to figure out what some of the more confusing abbreviations mean.
YNAB (pronounced "Y-Nab") has a cult-like following among its fans. I tend to agree with personal finance website The Balance, which deems YNAB to be "best for type-A personalities." The app takes a bottom-up approach to budgeting.
You enter login information for your various bank and credit card accounts, and YNAB calculates opening balances. The app operates on the philosophy that you start where you are and budget only for money you have today. It doesn't reach back to get transactions that occurred before you set its opening balances.
Cost: $84/year. You can try YNAB for 34 days free. And they don't run ads on their app.
Observations:
(+) From the first few days I've been trying out YNAB, I'd say the app leaves more transactions uncategorized than Mint does. But this is probably better than assigning incorrect categories.
(+) YNAB doesn't abbreviate transaction names as much as Mint does. This saves you time of figuring out what the description actually means.
(+) YNAB allows you to add and delete main categories as well as sub-categories. You can even wipe out all their presets and start with your own set of categories.
(-) YNAB doesn't download historical transactions when you set it up originally. I think there's a workaround to import older transactions with YNAB, but it's probably tricky for the average user to implement.
(-) The user interface is more complicated and not as cheerful-looking as Mint's. YNAB's main screen resembles a checkbook register.
(-) Although more customization is possible with YNAB, you have to invest time in learning how to get the most out of the app.
Tiller takes a different approach. Tiller founders observed that many people used spreadsheets to track their expenses. Thus their app automates the process of getting your transactions into a spreadsheet. This allows you to spend more time analyzing where your money is going than importing it in comma-separated values, etc.
If you prefer a traditional spreadsheet format for analyzing your expenses, you'll like Tiller. The app downloads your transactions every day and collects them in a Google sheet. You can choose from Tiller's list of spreadsheet templates or create your own.
Cost: $59/year. First 30 days are free.
Observations:
(+) Tiller offers lots of templates. You can use different templates for budget tracking, net worth analysis, credit card usage and so on.
(+) Tiller makes it possible to completely customize expense categories. You can assign categories manually or save time with this Tiller add-on.
(-) Tiller's high potential for customization and flexibility is great for power users. But as far as building and tracking a basic budget goes, Tiller may be overkill. It definitely has a cool factor. But it may end up taking too much time to understand and customize.
Personal Capital is another market leader in personal finance apps.  It offers web-based desktop, iPad and iPhone apps for free. While Personal Capital has a robust budgeting and cash flow management section, the company emphasizes its ability to help you track your investments.
The app is easy to use. It presents your information in colorful graphs. It has a Retirement Planner section where you can enter personal information, total dollars saved so far and your estimated retirement spending to generate future savings goals.
In addition to their free service, Personal Capital offers fee-based financial management services.
Cost: Free. Note, however, that users who choose to work with Personal Capital's financial advisors will pay fees based on total assets under management (0.89% for portfolios >$100,000, 0.79% to 0.49% for portfolios>$1 million). For more information on retirement investing options, see this post.
Observations:
(+) Personal Capital's user interface is among the best I've reviewed. It displays your financial information in a way you can understand. The app excels in aggregating retirement and investment accounts. You can link IRA, 401K, brokerage accounts and so on. You also can add in your spouse's accounts to get a total picture of your investments and how they're allocated.
(+) The app offers demo content to help you see how it can help you – what it might look like once you add in all your accounts. I really appreciate this, as most apps require you to link accounts and figure out what you're doing as you go along.
(-) Personal Capital is more oriented toward investment management than budgeting. They automatically assign categories to transactions as they download them to your account. But in my test of the app, many categories were assigned incorrectly.
(-) Customization options are limited. You can add or edit budget categories, but you can't delete them. They don't support sub-categories. You can display spending by month or year, or by a custom time frame. Yet the only budget graphic offered is a pie chart showing this month vs. last month.

I began using the Banktivity desktop app a few years ago when Intuit started Mint and stopped updating Quicken for Mac. I wanted a program to write checks I could print on my laser printer. Intuit is updating Quicken for Mac again, but now they have a Basic/Deluxe/Premier subscription pricing model. And Banktivity still allows you to buy their package for a one-time fee.
At the same time, I've had problems with getting their connection to work with my bank. So I've never used Banktivity's expense tracking and budgeting features.
While writing this post I tried again to connect to my bank and download transactions. This time it worked. Apparently, Banktivity started me on a 30-day free trial of their Direct Access subscription service (see Cost section below).
Something about the user interface makes me think I'm won't enjoy spending more time with it. Everything looks like a checkbook register. Boring!
Cost: One-time fees: Mac version $65, iPad version $20, iPhone version free. Plus, downloading transactions automatically may require a subscription ($6/month or $45/year). It depends on the protocol your bank uses.
Albert is an app available only on Mac iOS at this point. It's marketed as an app that does everything for you. That sounded good to me. So I downloaded Albert on my iPad and signed up. I progressed through the setup screens until I got to the one that requested consent for Albert to withdraw small amounts from my bank accounts so it could set up a separate Albert Savings account on my behalf.
At that point, I canceled out of the app. I was glad I hadn't given them any account numbers! It irritated me to have provided them any information at all.
My general impression now is that Albert targets younger consumers. Alas, gathering spare change isn't going to make enough of a dent in my midlife savings goals. I'm trying to work toward big stuff, like home remodeling and retirement.
And I don't like authorizing an app to withdraw money from my account in order to create an Albert Savings fund in my name. But the setup process won't move forward if one doesn't consent to this practice. Moreover, Albert's website offers scant information. It only facilitates downloading the iOS app. Bottom line: Albert's process feels deceptive.
Cost: Free to users, but the company makes money in other ways. For example, see this 2016 pitch to investors.

My recommendations: apps to help you budget at midlife
Mint and YNAB are market leaders for a reason. Neither is perfect, but both offer excellent functionality in the budgeting app category.
Since Mint is free, go on and sign up for it. If nothing else, you can download the past 90 days of transactions and use that information to create a budget that you'll input to YNAB.
Plus, using Mint for a while may help you form a habit of tracking your expenses, so your comfort with budgeting will increase. And this experience will help you discover your priorities for a budgeting app. If you need more detail and customization,  you can choose YNAB or Tiller, or find another option that suits you.
I personally like YNAB's greater degree of customization. It will let me set up categories that make more sense for me than the ones you get with Mint. And I'd assume that better budget tracking will save me more than the $84/year that YNAB costs. But if I sign up for a year and it turns out that I don't use the app, I'll cancel my subscription.
While I'm intrigued by Tiller's automatic importing to Google sheets, it's probably too complicated for me to customize at this point.
I want to spend more time evaluating Personal Capital. My husband likes it for tracking our investment accounts. But Mint and YNAB offer more budgeting functionality. I think I should focus on budgeting first.
Banktivity works well for me as a check-writing tool. But even with my first download of bank transactions, I noticed the same problems I had with Quicken years ago. Namely, that if I fail to record check numbers properly or can't match a check I wrote with one that's cleared my bank, I spend way too much time fixing it. Also, to download from my bank automatically, I would have to pay for the $45/year subscription service.
Regarding Albert, don't get me going again here! And don't make the same mistake I did. If you want to explore the service, sign up with a fictitious name.
In summary, I'm going to start by using Mint and YNAB in parallel. I think this will help me decide which app works better for me. I'll let you know!
Midlife budgeting: a work in progress
I know my budget and expense tracking has to improve. In fact, I'm pretty sure I'll calm down about affording retirement if I have a better idea of where the money goes and how to reduce expenses if I need to. Lots of you know exactly what I mean.
Other than altering investment allocations, there isn't much you can do to affect the future value of your retirement portfolio. You can't control the stock market. But you can control most of your expenditures.
In fact, spending less and saving more now while you're still earning a paycheck might even help you add to that retirement portfolio. Which would give you more to fund your retirement lifestyle.
The first step is knowing what your actual costs are. Then you can build a budget that reflects your values and priorities. You've probably done this implicitly. But as you move toward retirement, you'll benefit from a more explicit grasp on where your money goes.
I'll continue to share my learnings about budgeting and taking control of my expenses. Please comment or email me with your tips, too.
As they say, knowledge is power. Understanding your finances ultimately puts you in charge of your spending choices. And that's a position you can enjoy.
Images via: Shutterstock, Pixabay
Join my journey through midlife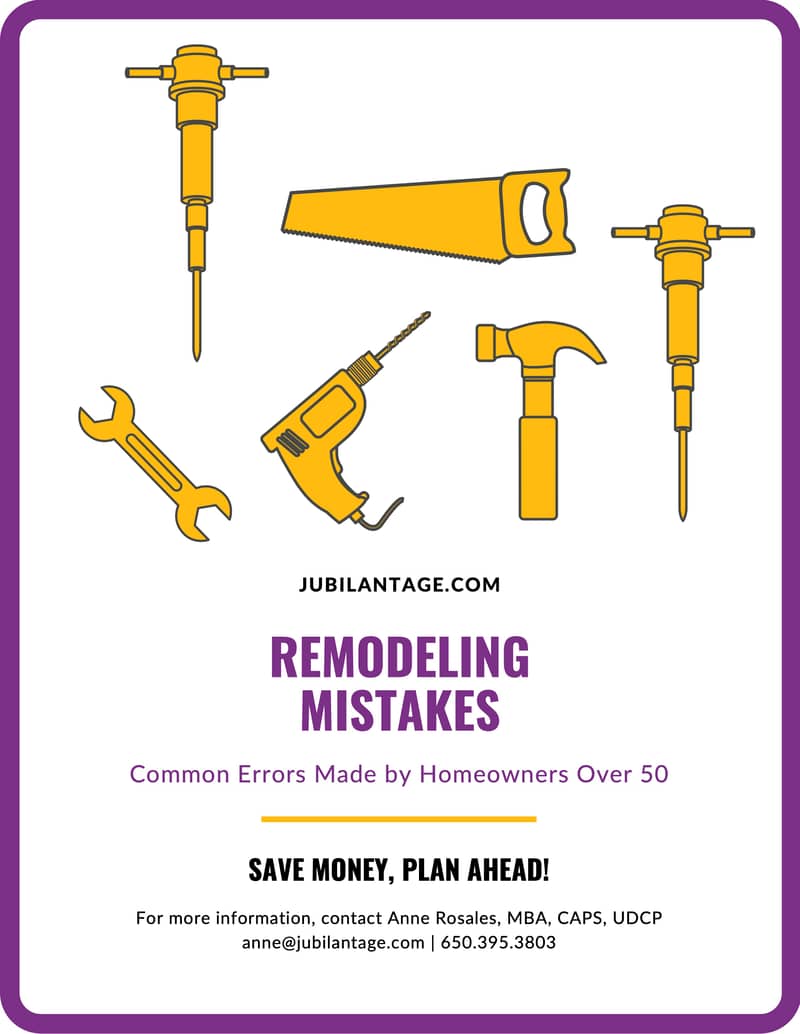 Subscribe to Jubilant Age and download a free checklist of remodeling mistakes to avoid!