Do you find yourself reminding people to do their jobs? I often have to call a contractor or vendor who said he would do something for me but hasn't done it yet. Although friendly in tone, the point of my call is to remind him to follow through on his commitment.
Last week I felt irritated by other people's seeming inability to follow through without reminders. But then I turned the camera on myself. Truth be told, I had follow-through problems of my own. What was preventing me from setting that lunch date, sending that email, or replacing that broken item?
Having trouble following through is a common human condition. But you can build your willpower and ability to follow through. After a little background, I'll tell you 8 ways to do just that.
Why is it so hard to follow through on your intentions?
It's generally not a problem to know what to do. We know what we should do, but we don't do it. Intention does not equal action. You intend to send a note to a friend who's going through a tough time, you really mean to do it. But a week goes by and you realize you've forgotten.
Or you want to lose weight. You set a goal, get off to a good start, then slack off. It's not that you break your diet with binge-eating. You just don't monitor your food intake as closely as you did before. In a short time, you gain back all the weight you'd lost.
You might blame poor follow-through on a character deficiency, saying you lack willpower or persistence. But this attitude leads only to guilt and disappointment. It doesn't help you turn the situation around.
Dopamine thwarts your efforts to follow through
Dopamine, a neurotransmitter compound formed in the brain, is essential to proper functioning of the central nervous system. But it wreaks havoc with your self-control.
Kelly McGonigal describes the dopamine effect in The Willpower Instinct: How Self-Control Works, Why It Matters, and What You Can Do to Get More of It*. Dopamine creates an arousal instinct. It doesn't give you the actual experience of happiness. Rather, dopamine makes you sense the possibility of a reward.
Dopamine inclines you to seek instant gratification of your desires. It also triggers stress, making you feel anxious as you anticipate a possible reward. Marketers use the dopamine effect to sell you things you don't need. Technology's promise of a reward (like a news alert or new message) causes you to check your mobile phone up to 80 times per day.
Dopamine is the enemy of willpower. Following through on your intention requires you to delay gratification now in order to achieve a larger goal in the future.
Follow-through and the survival instinct
Steve Levinson and Pete Greider propose a different view of the internal struggle to follow through in their book, Following Through: A Revolutionary New Model for Finishing Whatever You Start*. They blame follow-through failures on interruptions from your mind's Primitive Guidance System (PGS). The PGS is what enabled our ancestors to survive by spurring them to consume calories, procreate,  fight or flee. But now it conflicts with what your intelligent mind tells you to do.
Although you use your Intelligence Guidance System (IGS) to set an intention, your PGS takes control in the present moment. So for example, your IGS sets an intention to forego sweets so you can lose weight. But when someone brings homemade cookies into the office, your PGS tells you, "Eat one now!" The authors suggest ways to improve your follow-through by bringing your IGS and PGS into better alignment.
Argument: you don't follow through better as you get older
Some people argue that willpower decreases with age. They say willpower is a finite resource, and your ability to follow through on your goals is affected by fatigue, mood and attitude. According to this line of thinking, an older person has less energy than a younger person. This puts the older person at a disadvantage vis-à-vis maintaining the reserve of willpower needed to stick to her intentions.
Scientists point out that your brain begins to lose plasiticity after age 25. Furthermore, as you develop and use neural pathways over the years, these pathways become embedded and stuck. The older you are, the more set in your ways you become – unless you take steps to keep your brain agile. These steps include the development of focused attention, deliberate practice, and the right environment for brain health.
Argument: getting older does help you follow through better
On the flip side, others argue that your ability to follow through can improve with age. Willpower is often likened to a muscle you can strengthen with practice. The more years you practice, the stronger you'll become.
Further, people follow through on their intentions better when they desire to please themselves, not others. Researchers observe that individuals deplete their self-control resources more rapidly when others are pressuring them to follow through. But when they set their own intentions, they maintain greater willpower reserves.
By midlife, most people are comfortable with themselves. Their decisions and actions no longer stem from efforts to please parents or others. If you're a self-motivated person, there's a better chance you'll follow through on your intentions as you grow older.
How to improve your follow-through
Psychologists and researchers suggest a number of techniques for building your willpower. Here are key insights collected from the books and articles mentioned above.
1. Guard your physical and mental health
Make sure you have the energy needed to follow through by eating right, getting enough sleep and so on. View willpower as a muscle you have to exercise the way you might exercise your body.
2. Start small
Instead of promising you'll clean out your entire garage, commit to spend 30 minutes on it, 2-3 times this week. If you think of the whole project in a single chunk, you may procrastinate indefinitely. Remember the adage: "How do you eat an elephant? One bite at a time."
3. Cue yourself to follow through
You've probably heard the classic advice to cue yourself to go for a morning run by placing your running shoes beside your bed the night before. But you can cue all kinds of behaviors. Be creative, set yourself up to succeed.
4. Pre-commit, a.k.a. "burn the ships"
Create a new default. If you're trying to lose weight, pack a healthy lunch so you won't go out for fast food.
5. Connect with like-minded folks
A group of people with similar goals can encourage you, hold you accountable and engage in friendly competition that helps you follow through on your intention. Weight-loss programs have succeeded with this technique for years. A group of two or three friends can help you make a career change, realize exercise goals or learn a new hobby.
6. Be yourself
As mentioned already, people who pursue their own goals are more likely to follow through than those whose intentions reflect another person's desires for them. If you're a people-pleaser, you'll deplete your supply of willpower faster. Instead, practice self-compassion and authenticity. Your improved ability to follow through may surprise you.
7. Be mindful
Increase your awareness. Recognize when you are giving into temptation, procrastinating or otherwise failing to follow through on your intention. You can train yourself in mindfulness. Becoming more mindful will translate into greater self-control.
8. Build good habits
Good habits help you choose right over wrong when the going gets tough. If you can put your follow-through on automatic by practicing a habit you formed earlier, you'll succeed at your goal. Plus, replacing a "bad" behavior with a "better" one can improve on a longstanding habit. Check out this TED talk by Charles Duhigg, author of The Power of Habit*:
A final perspective on follow-through and midlife
By this point in your life, you probably know what you like and what you avoid. You feel comfortable with yourself, too. You're not inclined to conform to another person's expectations if they don't align with your own.
By building good habits, taking care of your health and increasing mindfulness through activities like meditation, you can definitely get better at following through on your intentions in midlife. At least your intentions for the things you really care about. If you set a goal you don't care about, maybe following through on it doesn't matter anyway.
Nobody can follow through on everything. By now, you've earned the right to choose. So set your intentions with confidence at midlife. You'll summon the willpower to follow through. Before you know it, that goal will be within your reach.
Images via: Shutterstock, Pixabay
Join my journey through midlife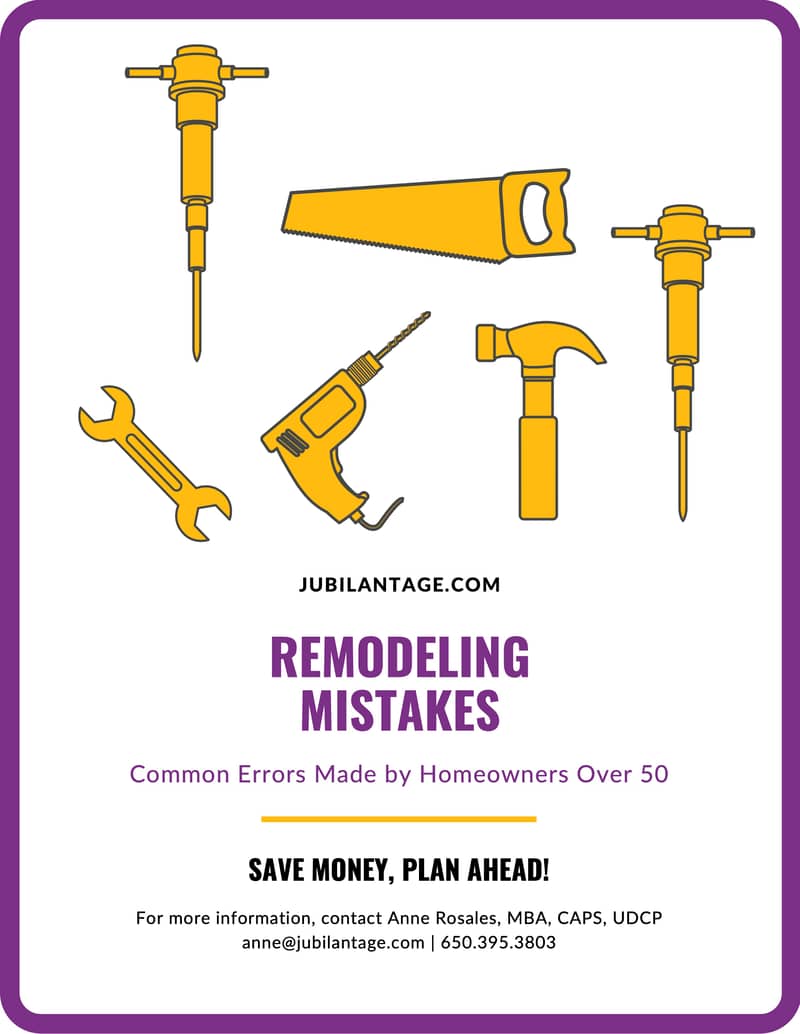 Subscribe to Jubilant Age and download a free checklist of remodeling mistakes to avoid!