He'll always be your kid brother. She'll always be your big sis. There are certain things you'll never stop teasing the other one about. But once you've grown up, you and your siblings can encourage and support each other. In fact, adult sibling relationships at midlife can be a source of joy.
After all, who knows your story better than someone who was there from the beginning? Who has known (and probably will know) you for more years than anyone else? This includes your parents, spouse, kids and most of your friends. Even though time and distance may have come between you and your sibling, you share core experiences.
I'm not talking about families where wounds run too deep for siblings to restore their relationships. In these cases, moving on may be your best option. But often you and your sibling can draw on early childhood bonds as you try to grow closer in adulthood.
It's not too late to deepen your sibling relationships. In fact, midlife offers adult siblings the chance to reconnect at a deeper level. Here are some guiding principles.
Blame your parents
Go ahead, blame your parents. Your kids will blame you for all kinds of stuff, too. They've probably already started. My daughter, for example, often recalls the injustice she suffered when I had her hair cut in a shoulder-length bob at age 7. I honestly can't recall her telling me she wanted long hair until she was older. But I don't mind absorbing her blame.
I'm sure I did worse things than sanction unfashionable haircuts. And I hope my kids will bond over my failures someday. In the meantime, I'm bonding with my sister over family snafus we remember.
We're comparing memories of childhood experiences, including things that made us feel bad. Like many families, ours tended to typecast us into different behaviors and roles. Talking about difficult moments back then helps us now.  We're realizing that although we're different, we share similar burdens of the varying expectations our parents had for us.
Blaming them doesn't mean you don't love them
Our father was gentle and generous, revered by people in his community as well as our family. But Mom holds no such special status. As a more colorful character and the one who enforced the rules at our house, our mom's the one who's easier to blame.
This doesn't mean we don't love our mother. Now a mom myself, I appreciate how hard parenting is. I'd say my folks did a great job overall. But generational and other differences tend to unite siblings against their parents. And this is ok.
Adult sibling relationships gain from perspective
Adult siblings appreciate good things about our childhood. We also view the less-good things from our current vantage points in midlife. The midlife perspective can put past experiences into context. In the best of all worlds, we've learned our childhood roles needn't restrict our adult selves.
As a personal example, I'm learning to go beyond my mother's characterization of me as a younger version of her. I appreciate how my sister is helping me see that, although I resemble Mom in appearance and temperament, our lives have developed differently. By reminding me of this fact, my sister's helping me accept myself in ways I couldn't do earlier.
This is a gift a sibling can give me better than anyone else because no one else shares our childhood experiences.
Being able to see your parents as people with their own strengths and weaknesses also helps you understand your adult siblings. When you consider how early experiences shaped you and your siblings to be the adults you are today, you can appreciate each other more.
Recognize people can change
Related to blaming your parents is recognizing how birth order and childhood personality caused your family to label you. Each child in a family tries to carve out a distinct identity. Families may "help" by labeling siblings: "the smart one," "the funny one," "the athletic one,"  "the rebellious one," and so on. Even when labels are humorous, they still can box you in.
People growing up in the same home have unique personalities. But sometimes families isolate a distinctive feature to characterize the whole person. Your brother may have been "the irresponsible one" growing up. By age 50, however, he might turn out to have stayed married for 25 years, have three children, a distinguished career and a reputation for leadership in his community.
Perhaps he just needed to grow up. Maybe he flourished once he moved away and found friends who didn't label him as "irresponsible." Most likely, it's both.
The best part now is that as adult siblings, you and your brother can enjoy each other's company. You may have to let go of grudges you've held against his irresponsible behavior years ago. I'll bet he has long-held complaints about you, too. But if you both recognize that the other has changed, you can relate to each other as adults who share a common background.
Communicate
Adult sibling relationships can be complex. Sorting out issues and emotions requires that people communicate with respect and authenticity. A counselor or therapist can facilitate honest communication between siblings whom past events or arguments have divided. He or she can help you listen to each other and reframe past hurts to help you see the other sibling's perspective.
Depending on the strength of their relationship, adult siblings may be able to talk openly without professional help.  If you can, sit down with your adult siblings.  Investigate how past assumptions and behaviors produced dynamics that persist in your relationship today. For example, an older brother may assume he knows what's best for everyone, often without realizing this is how he thinks. But a younger sister might name the assumption in a non-judgmental way. If the older brother accepts her feedback, their relationship will emerge stronger. And they can share in making decisions that affect them both.
Deborah Tannen, professor of linguistics at Georgetown University and author of You Were Always Mom's Favorite!*, identifies "sisterspeak" as the type of communication that sisters trust and treasure from one another. At the same time, she observes that "sisterspeak" can twist your words and throw them back to hurt you. As peers who've known us the longest, our adult siblings have the power to build us up or to harm us.
Strengthen your adult sibling relationships with communication that surfaces past issues while focusing on present realities. Use your words to encourage your brother or sister — he or she will appreciate it and hopefully return the favor.
Move forward
In the words of Timon from The Lion King, "You've got to put your behind in the past." Adult sibling relationships prosper when brothers and sisters let go of past grudges and behavior patterns.
Facing a parent's health crisis together
A common instance in which adult siblings have to come together to make decisions is when their parent faces a health crisis. The health crisis could be an emergency or serious diagnosis like cancer. Or it might be your growing awareness of a condition such as dementia. All these situations test the strength of adult sibling relationships. They also offer opportunities for siblings to grow beyond their childhood roles.
Respect boundaries while working together
Managing their parent's care offers siblings an opportunity to move beyond old labels and assumptions. Brothers and sisters can develop strong working partnerships based on individual strengths. Together you can pursue better options for your parent while also respecting each other's boundaries.
One of you may live closer to your parent and be the logical one to oversee day-to-day details. A sibling who lives farther away may shoulder more of the administrative load. She can pay bills, file insurance claims, make follow-up phone calls, and so on. The sibling who lives farther away can't expect to participate in every healthcare decision. And the one who lives closer won't be aware of every bill payment. But they should give each other periodic updates and discuss major decisions.
By dividing tasks and trusting the other's management of his or her area, adult siblings can focus collaboration on the bigger issues.
Take the long view
Actuarial science predicts your parents will die before you and your kids after you. You may live about the same amount of time as your spouse, friends and siblings. But as many of us know firsthand, friendships and marriages don't always last. Siblings, however, are the people you're stuck with forever.
It may be the case that you've fallen out with a sibling. Maybe you haven't talked to each other in a long time. I'm not suggesting you try to revive a toxic relationship. But if it's more a matter of your having let things slide, think about how you can reconnect with your brother or sister.
It may take some effort to mend past wrongs or correct misunderstandings. Yet by midlife, your sibling may also be ready to take the long view. You never know: your adult sibling relationships may prove more rewarding than you could ever have imagined as a kid.
Good luck, and let me know how it goes!
Images via: Shutterstock, Pixabay
P.S. This post focuses on relationships among siblings who are roughly the same age and born to the same parents. Sibling relationships have many more variations: blended family situations, significant age differences and so on. Adult Sibling Relationships*, by Geoffrey Greif and Michael Woolley, offers a comprehensive, research-based treatment of many types of adult siblings and their complex relationships. Although written primarily for the practicing clinician, the book is accessible to a wider readership.
Greif and Woolley discuss their research in this podcast from the University of Buffalo's School of Social Work.  Greif joins Tannen and Jeanne Safer, author of Cain's Legacy: Liberating Siblings from a Lifetime of Rage, Shame, Secrecy, and Regret* in a lively discussion on the Diane Rehm Show from 2016.
Join my journey through midlife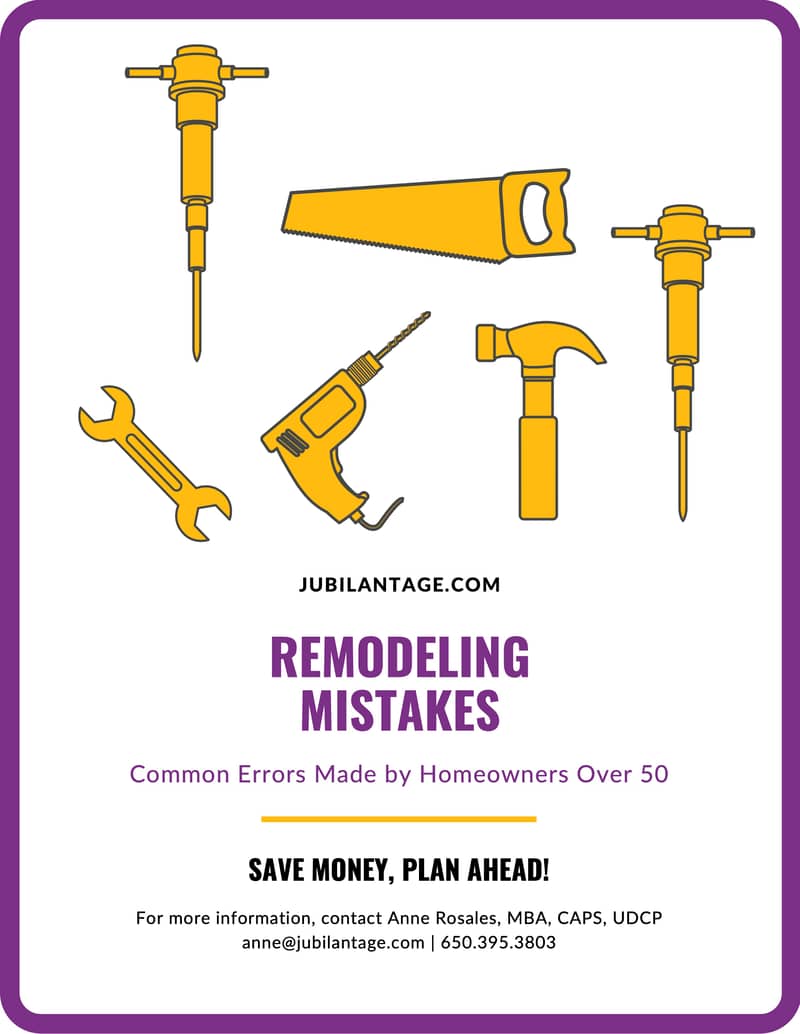 Subscribe to Jubilant Age and download a free checklist of remodeling mistakes to avoid!