A legacy video is any video that records family information or memories. Particularly meaningful is a video where your loved one recounts a favorite memory. You hear their voice, see their facial expressions and get to experience the story through their eyes.
My last post covered simple tech gear you can use with your smartphone to make high-quality videos you'll treasure in the years to come. This post gives easy tips that will help you make a better video, regardless of your equipment. We'll also talk about what to do with your video after you finish shooting it.
Legacy video setup
1. Choose a well-lit spot
If you're outdoors, choose a cloudy day or go for shade where you won't have harsh shadows on your subject's face. If indoors, set up Grandpa's chair by the window and take advantage of natural light.

Avoid backlit locations where the subject will look dark and the background light. You want to see his face!
It's best to get someone else in the family to sit in for your older relative while you set up and make sure the sound and video are working well.
2. Zoom with your feet
Don't locate the camera far away and then zoom in. Smartphones use digital zoom, not optical zoom. Zooming only degrades the final image. Locate your camera close to your subject.
It may seem intimidating at first to have the camera close up, but as your loved one gets more comfortable talking with you, he'll stop noticing the smartphone. Especially if you put it on a tripod (read on).
Video shooting tips
These 4 tips will make your videos better regardless of what gear you choose.
1. Steady your shot
Use a tripod or desktop tripod if at all possible. If you don't have one, get creative. Try putting the camera phone on a beanbag on top of some books. Or if you have an iPad case with a stand, use that instead of your smartphone.
2. Turn the phone sideways
It may be more comfortable to hold your phone in the vertical position – but you'll be using a tripod device, right? Horizontal video plays well on any size of screen.
3. Clean the camera lens
This may be obvious, but it's easy to forget that you've been toting your phone around in your pocket or purse. Use a lens wipe or microfiber cloth. Make sure you're not shooting with fingerprints or dirt on the lens.
4. Put the phone in airplane mode
You don't want texts and notifications coming through while you're doing your shooting session. Communication with others can wait until your loved one is finished.
Note that if you're using a Bluetooth shutter remote, you'll need to keep Bluetooth on. But iPhones allow you to go into airplane mode without disabling Bluetooth. Consult this post for more info if your phone isn't cooperating.
Keep things relaxed
Besides a steady shot, another benefit of using a tripod is that you can talk naturally with your loved one. The phone won't act as a barrier between the two of you.
Locate yourself just to the side of your phone on the tripod. You want your subject to look toward the camera while she's speaking, but she'll probably feel most comfortable if she's talking with you. Experiment with your setup before asking your loved one to sit down.
Recognize that your relative may be nervous and awkward. Assure her that you can cut out any bad parts afterward. My mom was so nervous at first that I had to tell her I "just wanted to make a test video."
But once she got into telling her story, she spoke quite naturally.
What to do with your video afterward?
At a minimum, you want to:
We'll cover each step individually.
Store the raw footage
Before you try to edit any of the video you've taken, store the raw footage and make a backup copy that you store elsewhere. Here's how.
Sync or "share" the video file with yourself
Sync your phone with your computer. Or it may be easier for you to "share" your video from your phone using the box with the arrow – the same way you'd text a photo to a friend.
Bonus tip: If you "share" the video file with your computer over AirDrop, it will import faster than trying to email a big file to yourself.
A benefit of sharing is that you'll automatically receive the file in a ".mov" format – perfect for storing in a backup location.
Back up to the cloud
Copy the .mov file onto a cloud drive, like Dropbox or Google Drive. You'll have this backup as a safe copy if anything happens to the original.
Edit your video
There are at least three ways to edit your video:
1. Enlist your kid
Get your child or another young person who's good at this to take care of it for you.
2. Contract it out
A quick web search will turn up names for deluxe legacy video companies. They'll handle the whole process for you, including coming to your home to shoot the video. This approach (and the price tag) are overkill for most people.
Another option is to take your own video and then look on fiverr.com or another freelance site to find someone who will edit it for you. Talk with possible freelancers for quotes on video packages that might merge your recent video with other images from old photos, etc.
You can communicate and send files to a freelance video editor online. There's no need to find someone in the same location as you.
3. DIY
It may be that all you care about is trimming off the beginning and end of your video. You can do that easily on your iPhone or computer, with the built-in iPhone editing software.
If you want to play around with something a bit more complicated, iMovie is a great home video-editing app that comes free with iPhones, iPads and Macs. Apple has an iMovie support site with lots of tips. There are numerous YouTube tutorials out there, too. Here's one of my favorites:
Share it
Super important step
Whether you choose to leave it "raw" or edit it, sharing your legacy video is the most important step in the process. You and your family may not care about watching the video now, but there will probably be a day when you're really glad you made it.
Don't be embarrassed if your video has mistakes or looks amateurish. It's authentic – that's the main thing. If you want to make a better one, try again another time. But don't delete this one.
Sharing logistics
You can share the video file by putting it into a folder on a cloud drive (like Dropbox or Google Drive) and then sharing that folder with your family members. Note that you can allow others to "edit" the file right there in sharing settings. But make sure you keep another backup version that they can't modify!
Another fun way to share family videos is to create a private Youtube channel. Or use your own YouTube account and mark the video "private."
You can upload private legacy videos and then send invitations for your family to see and comment on them. But your videos won't be discoverable by search engines. See this how-to post for more info on sharing a private video via YouTube.
My first smartphone legacy video
Here's a snippet of my first attempt at making a smartphone video (with a desktop tripod and inexpensive external mic) of my mom.
It's not the greatest. For example, at the time I didn't know that I should orient my camera sideways. There's a lot of awkward flipping a book back and forth. And maybe I should have worn a mic, too – you hear my voice talking with her through the iPhone external microphone.
But I chose a spot with good lighting. The tripod held the camera steady, and the external mic improved the sound a lot.
Plus, Mom enjoyed being the "star" of the show. And I had a good time making the video. Those two things have to count for something!
Make your legacy video fun
Don't stress out over your video equipment or setup. The point of making a legacy video is to capture the unique things about your family member. Their sense of humor, the way they scrunch up their eyes when they laugh. What stories make them feel emotional, and how they express their feelings.
A later post will offer tips for questions you might ask to start the conversation in a legacy video. But the most important thing is to let your loved one take center stage. And hopefully enjoy doing so.
You never know: they may even like watching themselves recount favorite memories later.
What are your tips for recording legacy videos?
Join my journey through midlife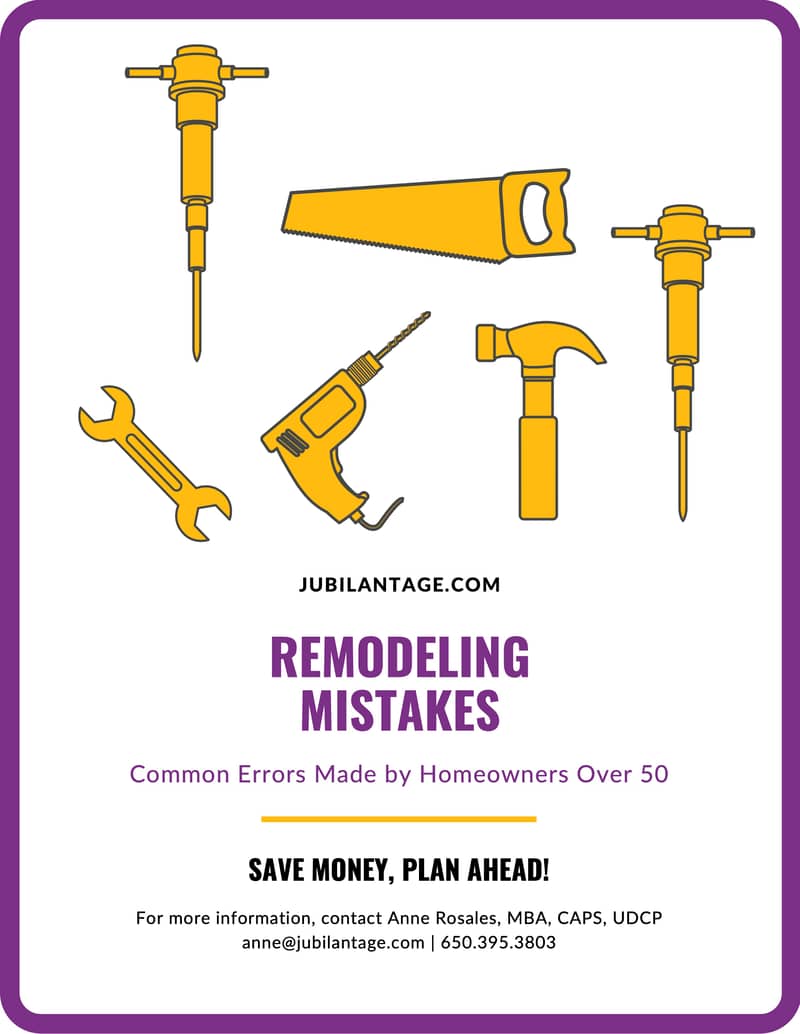 Subscribe to Jubilant Age and download a free checklist of remodeling mistakes to avoid!