Elder financial scams proliferate. Although anyone can fall victim to identity theft, unscrupulous individuals prey on senior adults in particular. Even the most cautious people can be tricked into revealing personal information. And if your loved one has experienced cognitive decline, she may begin to misplace or confuse her credit cards. You can protect her finances while preserving independence with a prepaid debit card.
This post considers options for securing your parent's or other elder's finances while still letting them shop. It summarizes my experiences and highlights a debit card I found to be ideal for my parent.
Online shopping and credit card usage
Online shopping is now a way of life, even for the older generation. According to the Pew Research Center's first survey about online shopping in 2000, only 22% of adults said they had ever purchased something online. Now that figure is 79%. Among adults ages 65 and older, a whopping 59% have made an online purchase.
Additionally, credit and debit card usage in the US correlates with internet usage. Among all adults, 56% of "Internet Users" pay for everyday living expenses with debit or credit cards, while only 17% of "Internet Non-Users" do so. Among adults ages 65 and over, comparable figures are 47% for "Internet Users" and 20% for "Internet Non-Users."
One solution: just pay cash (NO)
If you've noticed unusual expenses on your loved one's credit card bills, one solution is to confiscate all cards and restrict him to cash purchases. I don't advise this.
Having plastic money in your wallet is no longer merely a privilege in the US: it's become a right. Your parent probably associates having a credit or debit card with being independent. Especially if he shops online.
Even if your elder cash receives cash on a regular basis, taking away his cards may upset him. Both you and your parent will suffer as a result. He from feeling he's being treated "like a child," and you for having to bear the brunt of his anger.
Additionally, health conditions or moving to a retirement community may reduce your parent's access to physical stores. His level of online shopping could increase if he can't get out for his usual errands. Elders who shop online need a credit or debit card.
Another solution: restrict to one card and monitor closely (NOT IDEAL)
You might consider confiscating all but one of your parent's cards, leaving her with a single credit card. Or with only her ATM debit card that allows her to withdraw cash and buy things in person or online.
While this is a potential solution, it offers less protection than a prepaid card. If your mother retains her ATM card, whatever amounts she has in her bank account may be at risk. Federal law limits liability for fraudelent debit or ATM card transactions. But coverage varies according to when you report the card missing. It's best to avoid such complications.
If your parent's only card is a credit card, she can spend up to the limit on the card. She won't have to pay for fraudulent charges, but she's not protected against purchases she authorized herself. This can prove difficult in case of cognitive decline or inattention to a website's fine print.
My own experience
I noticed higher-than-usual credit card bills for my mom. She'd purchased cosmetics on a trial basis that, unless returned within ten days, would start monthly subscription programs. Although the free trials cost only $4.99, each of the automatically-renewing subscriptions cost $89.95/month.
She hadn't noticed the cancellation provisions in the fine print. She just thought she was getting a good deal on some skincare products. What's worse, she didn't scrutinize her monthly bills, which she had set up to pay automatically.
Once I figured out what was going on, I called the companies listed on card statements to cancel her memberships. But since the expenses had been authorized by the account holder (Mom), they weren't considered fraud.
On top of this, there was no way I could prevent future signups for trial cosmetics that would start the cycle all over again. Not as long as my parent had a credit or debit card.
A better solution: Preserve elder independence with a prepaid debit card
With a prepaid credit card, your elder still has plastic money, but he is at risk only for the amount of money loaded onto the card. Many cards are reloadable via electronic connection with a bank account. Some can be canceled and replaced if lost or stolen. But in any event, one can never spend more than the value on the card at that time.
Do online research to investigate terms and conditions. It might be convenient to link a prepaid card with your parent's bank account. You can replenish it easily, while still protecting the total value of the account.
A prepaid debit card works the same way as a regular debit or credit card does. Your elder can still shop, dine out and pay for other things in person or online.
But there is one critical difference. With the prepaid card, the maximum amount your loved one can spend (or lose) is limited to whatever the value on the card is at that time. You preserve elder independence at the same time as you gain peace of mind.
The best solution I've found: True Link Visa
True Link Financial is a San Francisco-based financial services company. It offers investment accounts and markets a debit card for elders and at-risk adults. Kai Stinchcombe and Clare McDonnell founded True Link in 2012.
CEO Stinchcombe's experience with his grandmother Ruth inspired the company's start. Ruth had fallen victim to aggressive telemarketers and others who solicited via telephone. Ultimately she gave tens of thousands of dollars via credit cards to people over the phone.
Control for you, independence for your loved one
What sets True Link apart is the control it gives you in the background. Even though your parent's name is on the card and you can link its funding to her bank account, you're the authorized card owner. True Link calls this position the card "administrator."
Signing up for a True Link card takes about 5 minutes. You specify your own name and email, then later supply the cardholder's information. You, the administrator, establish a funding source for the card. If you have online access to your parent's bank account, you can make this the funding source.
You decide how much value to load on the card initially. You also decide how you'll replenish the card's value as your elder spends it down. You might want to start by funding it manually. You can also choose to fund it automatically at set intervals (e.g., once a month), or when the balance falls below a trigger amount.
If your elder misplaces the card, you can temporarily disable it from your administrator dashboard. Or you can permanently disable it and ask the company to send out a new card. You select a PIN so your parent can use the card to withdraw cash at ATMs, just like her bank card.
True Link Spending Monitor lets you control card usage
Without a doubt, my favorite feature of the True Link card is the Spending Monitor. The administrator can selectively block or allow specific categories of merchants. Categories include gas stations, discount and variety stores, gambling and casinos, direct sales, magazine subscriptions, political organizations and more.
The Spending Monitor also lets you specify single purchase limits. This means that even if you load a relatively high amount on the card, you can limit individual transactions to any amount you choose. For example, you might put $400 on the card but limit each purchase to $75 or less.
Additionally, you can set limits for cash withdrawals and even specify how the cardholder can withdraw cash. If you're concerned about ATM withdrawals, for instance, you can say that all withdrawals have to occur inside the bank.
Spending Monitor customization
You can choose whether to block or allow certain types of transactions that are sometimes more associated with credit card fraud. I wouldn't suggest blocking all phone and online purchases, but you can. You also can block international transactions, wire transfers and charitable contributions. You can change the settings at any time by logging into your administrator dashboard.
Sometimes the categories aren't quite right. Depending on the MCC ("Merchant Category Code") assigned by Visa to a particular merchant, a purchase you want to allow might be blocked, or vice versa. But through the administrator dashboard, you can block or allow purchases for a given merchant. You can even set a limit for how much the cardholder can spend at that merchant.
An example of how the Spending Monitor works
Say your loved one tried to buy something on Amazon, but True Link blocked the purchase. Even though you had "allowed" online purchases, this particular one got categorized under "Phone, Internet & Cable," a category you blocked. I've found that Amazon purchases in particular can end up with strange MCCs.
But you'll receive an email or text notifying you of the blocked transaction. At that point, you can elect to "allow" purchases from this merchant and, if you choose, set a dollar limit per transaction. True Link will then clear the cardholder to resubmit the purchase.
Fine-tuning Spending Monitor settings
It takes a few weeks to adjust which purchases True Link allows and which it blocks. Although your elder will probably have to resubmit a few transactions, but this is the most inconvenient aspect of the transition. Otherwise it's just a change of payment card.
If the cardholder has questions, she can call True Link Customer service for clarification. But because True Link's system designates her as the cardholder (not the administrator) she can't change the card's spending parameters, nor request additional funding transfers.
Real time visibility into cardholder spending
As the administrator, you can set alerts to email or text you when the cardholder makes purchases with the True Link debit card. If you want, you can receive text or email alerts for every purchase. Or you can group them into a daily email digest.
Additionally, you can specify a second email address to receive spending alerts. This can be helpful if you have a sibling who wants to stay informed.
You can customize True Link alerts in more ways. For example, you can choose alerts only for purchases over a certain dollar amount. You can receive an alert when the card balance drops below a certain amount, or when the cardholder makes a cash withdrawal.
As described above, True Link can notify you anytime a purchase is blocked. Although you can't approve a purchase in real time, you'll receive the option to change Spending Monitor settings so they allow similar purchases in the future.
Peace of mind for $10/month
True Link Financial charges a monthly maintenance fee of $10. This is high in comparison to lots of prepaid cards' monthly fees, but:
$10/month is the total charge for the True Link card. Other prepaid cards may have a low monthly fee, but they often include charges like a point of sale fee (fee charged every time you use the card to buy something), reloading fee and/or ATM usage fee.
True Link is the only card I've found that allows such a high degree of customization with its Spending Monitor dashboard. It lets you preserve your loved one's independence with a prepaid debit card, while still safeguarding their bank account.
Preserve your loved one's independence with a prepaid debit card like True Link
We've used the True Link debit card for nearly two years now. While Mom initially resisted replacing her familiar credit cards for this new one, she adapted to it quickly. The card has saved her more lots more money than she's paid in fees. It's protected her from misleading sales offers such as those free trials with fine print about recurring subscriptions.
What's more, I don't worry about elder financial abuse as much as I did before. With True Link card, my parent can continue to shop online without being vulnerable to confusing sales pitches.
True Link card complements other measures to safeguard your parent's assets
I switched my loved one to the True Link debit card at the same time as I started paying her bills remotely and took additional measures to protect her bank accounts and other assets. Although she can still buy things on her own, I know she won't fall victim to an online or telephone marketing scam.
The True Link Visa is my top recommendation for preserving your elder's independence with a prepaid debit card. Check it out today and enjoy the peace of mind it will give you.
Images via: Shutterstock, True Link Financial
Join my journey through midlife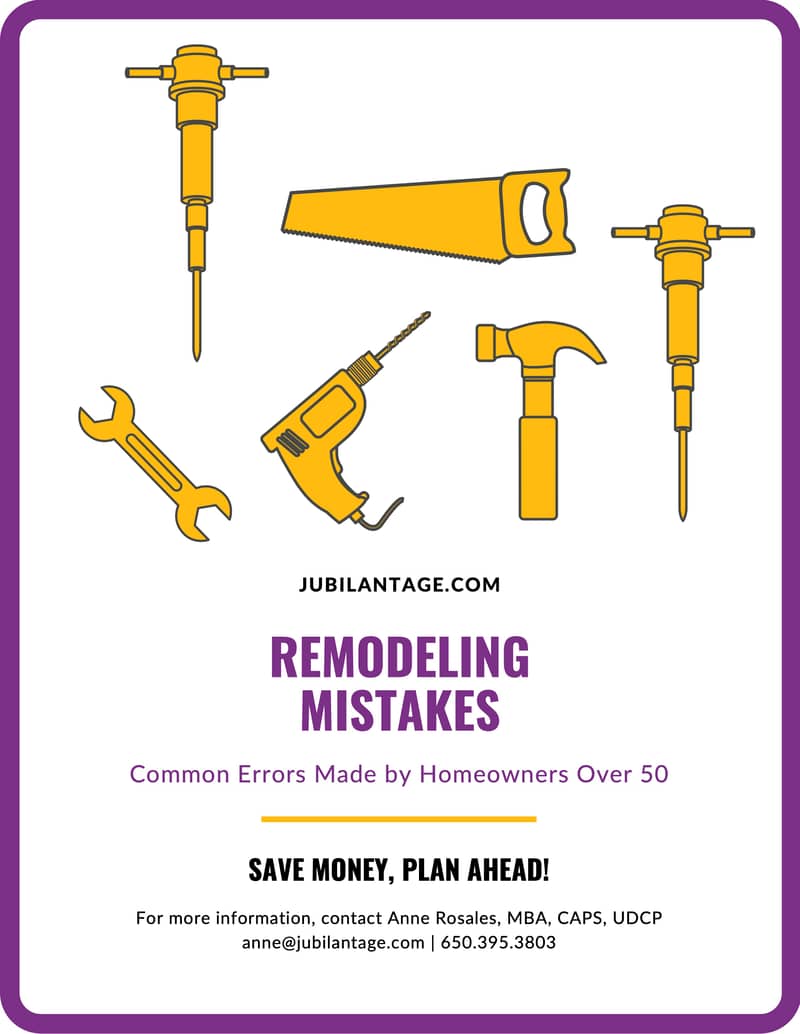 Subscribe to Jubilant Age and download a free checklist of remodeling mistakes to avoid!