Senior tech, or technology that benefits older adults and their caregivers, is an exciting segment of the overall technology market. According to Business Wire, the global market for elder care technology had a value of $3.7B in 2014. It's expected to grow to $10.3B by 2020. Aside from its enormous market potential, the senior tech space is intriguing because it holds the promise of improving quality of life for older adults and the people who care for them. 
Aging 2.0
Aging 2.0 is a 5-year-old organization that encourages entrepreneurship and innovation to benefit older people. They have chapters around the world. Their annual Global Startup Search identifies innovators in senior tech. In general, the organization highlights companies that are taking on the biggest challenges and opportunities in aging. Aging 2.0 holds an annual conference in San Francisco. They billed the 2017 conference, "Optimize," as the intersection of innovation and aging. Optimize presented two days of keynote addresses, panel discussions and exhibits where entrepreneurs and investors could meet. It was a terrific place for all kinds of people interested in senior tech to gather and learn from each other.
I've attended the Aging 2.0 conference for the past three years. This year was the largest and most fascinating yet. Past conferences have highlighted more "B-to-B" innovators, or companies focused on needs of institutions involved in elder care. However, now a growing number of senior tech startups are paying attention to the consumer. My favorite innovators this year were hardware and software companies whose technology were totally focused on enhancing independence and quality of life for elders and their caregivers.
Here are my five favorite senior tech companies from Aging 2.0 "Optimize " 2017:
Jibo, the social robot
Jibo is a family robot, not a robot specifically designed for seniors. But seniors' children are buying Jibo robots for their parents. Indeed, people of all ages seem to enjoy interacting with this cute-looking, voice-activated "friend." Jibo, Inc. Co-Founder and Chief Scientist Cynthia Breazeal, also Director of the Personal Robots Group at MIT's Media Laboratory, spoke to the conference about the importance of technology that enhances social interaction. The Artificial Intelligence (AI) behind Jibo "learns" to recognize household members, takes photos, tells jokes and even dances.
In the context of senior tech, Jibo can remind elders to take medications, go to doctor appointments or get ready for a lunch date with a friend. It can set up video calls and provide a social presence. You tend to forget it's "only a machine." On the market since 2015, Jibo sells for $899. The company's website includes videos of Jibo in action to stimulate your imagination regarding what it might do for you and your loved ones. Here's a recent ad:
Another example of voice-activated technology is OnGuardian, a software overlay for Amazon's Alexa. While not as "social" as Jibo (no joke telling or dancing!), OnGuardian operates in conjunction with a piece of hardware that lots of people already have or may be acquiring soon. Seniors can engage with caregivers, coordinate with family members and request home assistance, all by simply talking to the Alexa device equipped with OnGuardian.
Rendever, virtual reality for seniors
Another theme at Aging 2.0 this year was Virtual Reality (VR). Startup company Rendever has focused initially on group residential environments like assisted living facilities. It offers residents the benefit of experiencing faraway places from the comfort of their chairs. With assistance from family members, Rendever can even tailor a VR experience to an individual's personal history. It works with family members to put together familiar photos in a VR environment. The elder gets to travel back in time and experience memories of significant life events. Simply put, it's fun for an older adult to reminisce in this fashion. VR makes it possible to experience known and unknown places without ever leaving home.
Expanding on VR's potential to help adults with limited mobility "live large," Vivian Chazen of Mather Lifeways talked with conference attendees about how AltspaceVR is reducing social isolation and loneliness among elders and their caregivers. She hosts a weekly AltSpaceVR show called The Hive with Vivian for people of all ages. She has also posted on the potential of VR among aging adults.
AltspaceVR is currently the largest VR social network, claiming 30,000 monthly users. The company's oldest user today is over 70. Chazen noted, however, that AltspaceVR's services are need-based, not age-based. In the virtual space, you interact with others via avatars — so one's age is unknown to people online. Indeed, age is an irrelevant factor for participation in the virtual community. Microsoft acquired the company in October 2017 — it will be interesting to see what happens next.
Both Rendever and interactive platforms such as AltspaceVR illustrate the potential of VR to connect elders and family caregivers, whose situations often isolate them from their communities. Such technologies offer ways for individuals to develop "new" communities without concern for physical limitations.
CareAcademy, online training for caregivers
CareAcademy provides online classes to in-home caregivers. These classes are typically paid for by the caregiver's agency on a subscription basis. They help caregivers upgrade their skills and prepare for a variety of situations. Doctors, nurses and experienced caregivers teach CareAcademy's video classes. The company distributes them via an online portal that caregivers can access on their own. Completing classes earns "badges" that demonstrate learning achievements and may even help the caregiver earn higher wages or obtain better assignments.
In addition to its focus on home care agencies, CareAcademy offers family caregivers specific video training via fee-for-course or annual subscription. They have a course bundle called "Family In-Home Senior Care Basics." They also offer courses on softer skills, like "Communicating with Older Adults" and "Dignity and Ability in Senior Care."
I was excited to learn about CareAcademy because I've enjoyed online instruction for other topics. The convenience and affordability of online classes make caregiver education accessible to more people. More of us are becoming caregivers every year, and many family caregivers lack the training to do a job they may not have chosen in the first place. CareAcademy offers education and support for a role that's becoming more common in our aging society.
Silvernest, match.com for house sharing
Silvernest is a roommate matching service for Baby Boomers and other older adults who want extra income, companionship or an affordable place to live. The company offers a software platform where people with extra room in their homes can rent to others of a comparable age. Sivernest posts home photos online, similar to what one might see on a real estate site. Other than specifying a general neighborhood, however, it doesn't publish location details in order to protect privacy and security.
Homeowners with a room to rent can list it on Silvernest for free. Potential renters pay a one-time application fee to qualify their applications. If a renter ("housemate") sees a home online she likes, she can express interest via the app — just like on dating sites. Assuming the homeowner wants to communicate with potential housemates, she pays a $30 one-time fee for unlimited communications. After homeowner and housemate make a "match," Silvernest can even handle billing and rent collection.
Silvernest takes a concept that has worked well in other areas and translates it to meet older adult needs. It illustrates how senior tech can help people live more independent, enjoyable lives.
Funerals360
Funerals360 is yet another example of how the internet is changing old-time industries. Like what happened in segments related to cars, mortgages, travel and other businesses, Funerals360 is disrupting a long-established industry and reducing profit margins to benefit consumers. The company is demystifying the funeral business, sharing cost information and increasing consumers' power of choice.
Funerals360's dynamic founder, Rachel Zeldin, started the company after a difficult personal experience planning the funeral of a loved one. The company's website offers practical guidance for people planning a funeral in advance, as well as those who need help right away. They have a funeral planning checklist, as well as guides on organ donation, caskets, cremation, veterans' funerals, and how to pay for it all.
Even if you don't expect to be planning a funeral in the near future, Funerals360 has a tool where you can record your own funeral preferences, save the file and even share it with family members. People in midlife may resist planning their own funerals. But making notes on wishes you might have can save time, money and personal distress for your loved ones at some point in the future.
I'll admit it: at first, I just wanted to browse the Funerals360 website, not to give them my email or create a profile. It seemed spooky to think about my own death or that of a loved one. But their site is informative, straightforward — even elegant. Actually, I think reading Funeral360's articles gave me a sense of peace and practicality about issues the funeral industry has long shrouded in mystery in order to take advantage of grieving family members [pun intended!].
Senior tech: addressing needs of people, not an age group
The innovations I found most interesting at Aging 2.0 were those that started with an unmet consumer need and used technology to address that need better. Entrepreneurs have been developing hardware and software to ward off social isolation and depression, build caregiver skills, share information and connect individuals to each other. Most of these companies operate in the general "senior tech" category, but what makes them fascinating is their focus on the needs of people, not a demographic segment. They're disrupting old ways of doing things in order to benefit their customers — older adults and the people who care for them.
I'm excited to see these and other senior tech innovators improve lives of people who are older now, as well as those (like myself) who are heading that direction. But watch out: your parent may be sporting a VR headset before you are!
Images via Jibo, Shutterstock
Join my journey through midlife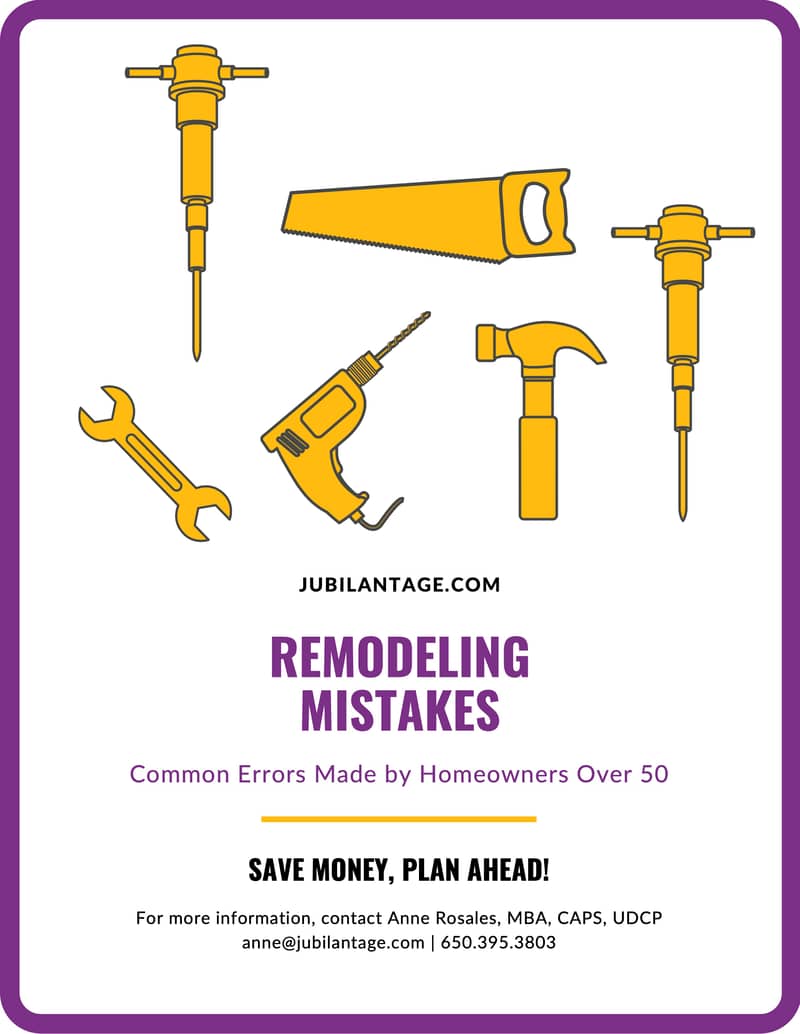 Subscribe to Jubilant Age and download a free checklist of remodeling mistakes to avoid!