Want to take charge of your health & wellbeing at midlife?
I'll show you how.
Do you ever feel confused about this midlife stuff? Do you sometimes ask yourself, "How did I ever get to be this old?" One thing's for sure: you're not about to stop living. In fact, this next chapter of your life might be the most interesting, adventuresome one yet.
You feel good and plan never to become an old lady like the ones you see in ageist ads. Plus, with attention to your health and access to great medical care, you have a good chance of living into your 90s or even 100s.
Let me be your guide as we journey together through midlife. I'll show you how to take charge of your health and wellbeing by sharing expertise that helps you:
Distill health information hype from reality
Support your parents as their needs change
Make your home a place to live well for the long term
My story
Despite a BA from Yale and an MBA from Stanford, I felt ill-equipped to meet the challenges of midlife. Working, volunteering in the community, raising three children and staying married over thirty years still didn't prepare me for the physical and emotional upheaval that hit in my late 40's.
As my children moved out to attend college, I began to drift. I sensed an opportunity to do something I might have put off while raising kids – but I didn't know what I wanted to do or how to start figuring it out. At about the same time, my father died, and my mother began to need more help from my sister and me.
Now in my 50s, I've weathered my own health issues, empty nest syndrome and lots of college tuition payments. I'm adjusting to adult children, children-in-law and more time with my husband alone. At the same time, I'm encountering new worries — loved ones' increasing frailty, retirement at some point, and how to thrive in this season of life.
Which could be a long season. Life expectancy has doubled in the last century, and it continues to rise. While living longer sounds appealing in theory, the practical side of longevity introduces concerns about healthcare, finances, living arrangements, family relationships, and alternative careers.
I've confronted my concerns the way I know best. Do research, take classes, learn from experts in the field. I've earned a Certificate in Health Advocacy from UC-Berkeley, become a Certified Aging in Place Specialist and a Universal Design Certified Professional. I study subjects like positive psychology, longevity and wellness, retirement planning and wellness architecture.
I want to share what I'm learning with you, so you, too, can conquer your worries and claim your best midlife ever. Our goal is to live forward, with hope and expectation of good things to come.
Fun facts about me
Proud to hail from Southwest Virginia but love living in California
Mom of three married kids and two Portuguese water dogs
Tennis player and fan
Favorite food = cheesecake!
What's next?
Join me to learn how you can take charge of your health and wellbeing at midlife. Give me your email below to make sure you don't miss a post. And if you have suggestions or questions about how I can help you, please contact me.
Together we'll make midlife a Jubilant Age!
Join my journey through midlife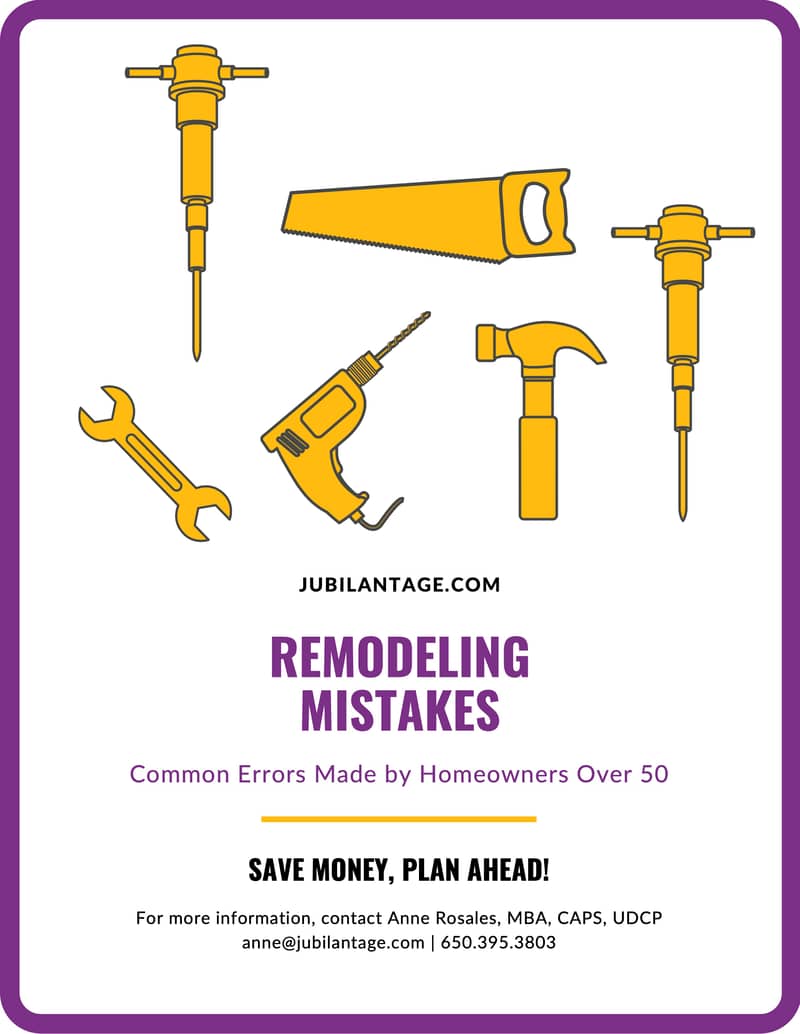 Subscribe to Jubilant Age and download a free checklist of remodeling mistakes to avoid!