Id tried learning to meditate, but I couldn't stick with it. My mind would wander, I'd fall asleep, or I'd forget to do it. It wasn't until I started using a meditation app on my iPhone that I got any traction with meditation. For me, that app was Headspace. But there are lots of other options.
As you can read on this blog and others, meditation promises benefits for your mental and physical well-being. Using an app will make learning to meditate easier for you. Actually, it will make doing something "good for you" actually kind of fun.
This post reviews 5 of my favorite meditation apps. Reading it will help you choose the best app for you. You'll be meditating before you know it, and even enjoying the process.
Why apps make learning to meditate easy
I couldn't develop a meditation habit until I tried an app. I think it was because I needed the structure of having someone guide me through the learning process. Also, my Type A personality caused me to view meditation as a to-do list item. Thus "doing my meditation" with an app turned it into a "productive" activity I could check off my list each day. Somehow that helped me feel better about sitting down and doing nothing for 10-15 minutes at a time.
Most of the apps allow you to set reminders, collect personal stats and earn virtual badges for reaching meditation milestones. Buddhist monks might look down on digital helps and rewards like these. But if you're an average person who's trying to incorporate meditation into your daily life, such virtual motivators can make learning to meditate easy and fun.
Another reason I like using an app is to incorporate meditation into my own schedule instead of setting aside time to attend a meditation class. A more extroverted person might enjoy the class atmosphere. But for me, learning to meditate is a personal activity.  Even if you attend a class, having the app to help you build your own regular practice is great.
Let's start with a well-known meditation app, the one I first began using. It's an Editors' Choice app on the iTunes Store with a rating of 4.9 out of 5 stars. Andy Puddicombe is the founder and voice of Headspace. His fascinating background includes university studies in sports science, ordination as a Buddhist monk and a degree in Circus Arts. But Andy's true passion is to demystify meditation and make learning to meditate easy. His 10-minute TED talk lays out his thoughts and is fun to watch. It uses juggling to illustrate meditation's impact on the mind.
Headspace includes animations that make learning to meditate easy. One of my favorite animation videos is Expectations:
After its "10 for 10" beginner pack, Headspace becomes a subscription service. It offers packs on different topics: Anxiety, Grief, Relationships, and Productivity, to name a few. It also offers "Singles" you can play to address specific situations.
You can choose how much time you want to meditate and even change session duration from one day to the next. This app is terrific when you are learning to meditate. Headspace costs 12.99/month to subscribe, or $7.99/month if paid annually ($95.88/year).
Apple's 2017 "App of the Year," Calm offers a variety of meditation, sleep and relaxation aids. It gives you a 7-day introduction to meditation and offers a free 7-day trial of its Premium subscription service.
Even for guided meditations, Calm allows you to choose your background video and ambient sound. For example, you can see and hear a thunderstorm, or water rippling on a mountain lake.
The Head of Content at Calm is Tamara Levitt. Tamara records all of Calm's meditations, except for its Masterclasses from experts like Dr. Alex Pang, author of Rest: Why You Get More Done When You Work Less*. Personally, I find Tamara's voice a bit annoying – but maybe that's just me. If you prefer a female voice, you might like Calm better than Headspace.
An interesting component of the Calm app is its Sleep Stories. These are 15-25 minute stories narrated by Tamara or another reader. In case you were wondering, the stories aren't plot-driven. Their purpose is to lull you to sleep, not to create dramatic tension. The narrator's voice grows slower and calmer throughout, and most subjects are peaceful – even boring.
The only Sleep Story whose title I recognize is The Velveteen Rabbit, a Premium option. Other titles include The Waterfall, The Secret Lagoon, and The Lavender Valley. Your phone shuts off automatically when the story concludes. So if it works and you do fall asleep, you won't be woken up by a random iTunes selection your phone plays by default.
Another nice aspect of Calm is its selection of relaxing music and nature sounds. You can even download them onto your phone for offline use. Like the Sleep Stories, you can try a few selections for free. Full access, however, requires a Premium subscription. Calm Premium goes for $12.99/month, but if you subscribe for a year it costs only $4.99/month ($59.99/year).
This app was founded by ABC news correspondent Dan Harris based on his best-selling book 10% Happier*. In the book, Harris talks about his experiences following a panic attack on national TV. He tried different things, but ultimately found meditation offered him greater focus, calm and a way to "tame the voice in his head." His funny, at times profane story recounts how learning to meditate helped him deal with job and life stress.
The 10% Happier app claims to be "Meditation for Fidgety Skeptics." It features video lessons followed by brief meditation sessions. The app assures you that there is no "wrong way" to meditate. It offers teaching and guided meditations from several individuals who are prominent in this field: Joseph Goldstein, Sharon Salzberg, Jeff Warren and more.
A unique feature of 10% Happier is its meditation coaches. These are a crew of experienced meditators who will answer your questions. Someone welcomes you via email, and you submit a question or comment at any time with email or the app itself. A coach will reply to you within 24 hours. This is a nice feature that can help you feel less "alone," even though you're meditating on your own.
Another aspect of 10% Happier is Dan Harris' podcast. He interviews famous meditators, athletes, celebrities and TV personalities about the impact of meditation on their lives. Regardless of whether you join 10% Happier Premium, listening to the podcast may encourage you to keep learning to meditate.
10% Happier is slightly higher-priced than competitors. It charges $14.99/month or $99.99/year (average $8.33/month) for a Premium subscription. While not a big difference, this positioning enhances a sense that one must "pay to play." It disappointed me to receive free access to only three sessions – most of which were interviews and not guided meditations. Like Calm, 10% Happier lets you try 7 days of Premium for free. But only if you sign up within your first few days after creating an account.
So don't sign up for 10% Happier at the same time as you're experimenting with other meditation apps. Choose a dedicated week to explore its free trial of Premium. The variety of narrators and personal stories may make 10% Happier the perfect app when you're learning to meditate.
This app boasts that it's the home of 3.7M meditators. It's rated as the top free meditation app on both Android and iOS stores. Insight Timer includes:
guided meditations
links to meditation teachers
benefits of meditation
meditation's historical origins
different types of meditation
relaxing music by original composers
A handy feature of the app is the Insight Timer, which allows you to customize your meditation. You choose the duration, ambient sound (or silence), interval bells (if any), and closing bell or gong. It's fun to experiment with different settings.
Insight Timer distinguishes itself not only with its enormous library of free content. It also hosts a huge online community. You can set your home screen to display info on people meditating now and scroll through them newsfeed style. You can choose to join one or more of 5000 discussions and/or meet up groups, and you can browse nearly 400,000 posts.
Insight Timer's website shows a real-time map of who's meditating now and where they're located. It connects you to a global sense of zen. Just another way to make learning to meditate interesting and fun.
Until recently, the app was entirely free. Most of it still is, but users are paying to gain access to newly added functionality. Insight Timer differs from other apps in that it separates its premium service into three modes: Offline Mode, Explorer Mode and Timer Mode (due to launch in April 2018). This post on Medium explains the thinking behind different modes.
Regardless of whether you join at the free level, or choose to pay 2.99/4.99/6.99 per month, Insight Timer is a nice addition to your collection of meditation apps. Its vast collection of material may prove overwhelming. But you can browse different styles or teachers to see what you like. And its customizable timer function is excellent for meditating on your own without voice prompts.
This app differs from the other four in several ways. First, you can't do anything with the Muse app unless you first buy the Muse headband (list price $249). Also, while there are a few introductory sessions, Muse is mostly an app where you focus on your breath and receive real-time feedback. Thus, it's not ideal for learning to meditate. But it's fascinating to help you assess your ability to calm your mind.
The science behind Muse is that your brain emits electrical signals that can be read from outside your head. The Muse headband has sensors to measure electrical frequencies around your forehead and behind your ears. The idea is that electrical signals vary according to your degree of being calm/focused versus distracted/scattered.
The Muse headband connects to your phone via Bluetooth and gives real-time feedback as you meditate. You choose a soundscape like Rainforest or Beach. When your mind is more active, you hear louder weather sounds from the app.
As your mind calms and your focus returns to the breath, the weather quiets down. You may even hear birds chirping. The birds are an audible reward for maintaining a calm state of mind. At the end of your meditation session, the app gives you a graph of your mind's journey through active, calm and neutral states. It also offers summary stats, badges and goals to motivate your practice.
I bought a Muse headband a couple of months ago, and I've been enjoying its feedback. It's helping me understand that it's normal to experience varying results with meditation. There are days when I feel calm and refreshed afterward, but others when I sit for 10-15 minutes and still feel anxious or distracted. With Muse data, I see how these sensations correspond to actual brain activity.
Like everything else, learning to meditate has ups and downs. Muse charts those ups and downs for you. But be careful not to make meditating with Muse a performance effort.
Price-wise, Muse is a hardware play. Their app is free and has no subscription fees or tiers of service. On a related note, the company recently started selling Smith Lowdown Focus sunglasses in white or black ($349.99), which go along with another app called Smith Focus. I think they're supposed to help you improve your focus for sport by giving you feedback during training sessions. The Muse website also sells meditation cushions.
Check out Muse if you can afford it. But avoid being the kind of person who shakes her arm to "trick" her FitBit into registering that she walked more steps than she really did. Meditation is something you practice, not something you master. Let Muse help you learn to meditate, but don't view it as a way to test your meditation mastery.
All 5 apps compared
I drew up a chart to see how these apps stacked up against each other. It shows features that all five apps offer and key differences among the apps, including pricing. It also identifies a feature that sets the app apart from competitors. If you want the table in an easier-to-read pdf, download it here. I hope this comparison will help you choose the app that works best for you.
None of the five options I reviewed stands out as a clear winner. I myself like Headspace, which I started using before some of the others had been developed. I think Muse's real-time feedback is cool, although I have to remind myself that the point of meditation is not to see how many birds or badges I can earn. And for a simple yet customizable meditation timer, it's hard to beat Insight Timer's free one.
Dan Harris is such a likable TV personality that you have to believe 10% Happier would be a good app to help you learn to meditate. And clearly, Apple evaluated thousands of apps before it designated Calm the 2017 App of the Year.
So check out the apps for yourself. Whatever you settle on, it should make learning to meditate an easy and enjoyable process. Unlike dieting, where you deprive yourself of good stuff as you journey toward your goal weight, meditation lets you relish the journey. Mindfulness, in fact, is all about the journey – and not the destination.
Have a good trip, and send me a postcard from along the way!
Images via: Shutterstock, 10% Happier App, AHR screenshots
Join my journey through midlife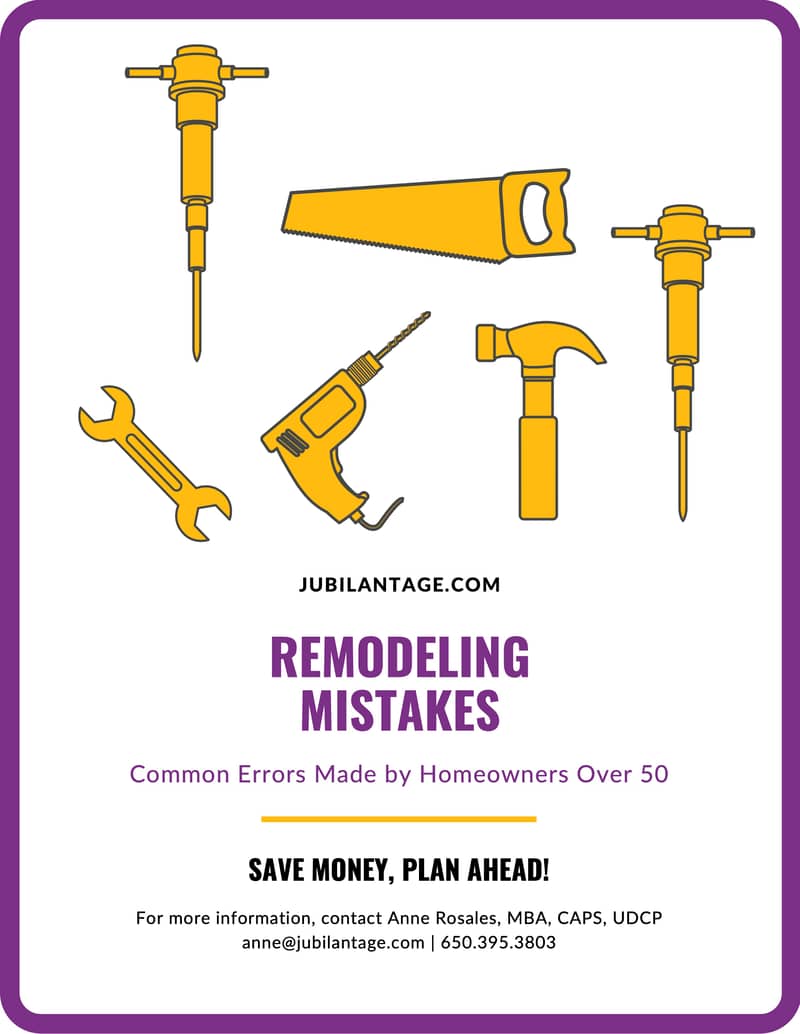 Subscribe to Jubilant Age and download a free checklist of remodeling mistakes to avoid!