You've probably noticed people talking to their phones. Not talking to someone on the phone, but talking directly to their phone. "Talk to type" is becoming common for all ages, but there's much more you can do with voice-activated technology. Techie Turtle has lots of suggestions for fun and useful things you can do with Siri, Apple's virtual assistant. Here's how to get started with Siri even if you're tech challenged.
Voice-activated technology growth
Devices like Amazon Alexa* or Google Home illustrate how the market for voice-activated tech is growing. Experts forecast that by 2022, 55% of US households will have a voice-enabled smart speaker. According to some analysts, the market for voice tech will grow at 67% per year during the next five years.
Laurie Orlov, founder of Aging In Place Technology Watch, says that technology is moving from a "mobile-first" emphasis to a "Voice-First" one. She discusses the market for voice technology and older adults in her June 2018 research report, The Future of Voice First Technology and Older Adults: Innovation to Boost Quality of Life.
The point is that you may as well get used to voice-activated tech. Not only will it help you get more out of your devices now. But you'll also grow more comfortable with controlling internet-connected devices with your voice. So future innovations in this area will continue to enhance your life.
Start where you are
If you have a smartphone, you already have voice technology in your purse or pocket. For iPhone users, that technology goes by the name of Siri. Siri's available on all Apple's internet-connected devices: iPhone, iPad, iWatch and Mac computers.
This post will show you how to get started with Siri even if you're tech challenged. It will also give you a list of suggested things you can do with Siri, including some of my favorite things to ask the virtual assistant in your phone.
How to use this post
Take three minutes to double-check your basic Siri settings. Or just assume they're fine – if you haven't changed your phone from the default settings, you're probably good to go.
Skim through the headings and try out stuff that interests you. You'll be talking with your phone in no time!
Siri basic settings
First make sure you have Siri configured and enabled. Follow this checklist.
1. On your iPhone, go to Settings, Siri & Search
Here's where you choose specific ways to activate Siri. "Activate Siri" is how you get Siri's attention. It's akin to rubbing the lamp to summon the genie. Think of Siri as your own personal genie.
I leave both "Listen for Hey Siri" and "Press Side Button for Siri" on (slid to green). I also check "Allow Siri When Locked," because I may want to ask Siri to do something for me even when my iPhone's sitting on the counter.
If you haven't checked "Listen for Hey Siri" before, the phone will ask you to speak into it a few times so it recognizes your voice. Just follow the prompts.
You can choose your preferred language and Siri voice. The default in the US is American female, which is why people often refer to Siri as "her." Right now I've switched mine to Australian male and chosen Australian English. I love the Aussie accent and kind of enjoy bossing a guy around…
2. Silencing Siri voice feedback
This can be important, so check out the options. The default is set to "Always On," which can be disruptive or embarrassing if you're asking Siri something when other people are around.
I usually put mine on "Hands-Free Only." This will silence Siri except for when you summon her with "Hey Siri" or when you're using Bluetooth, CarPlay or headphones. "Control with Ring Switch" is another option for silencing Siri voice feedback. Experiment and see what setting works for you.
3. Siri Suggestions
Siri suggests websites and other info in Search and Look Up. You'll see Siri Suggestions at the top of your search lists. If these suggestions annoy you, here's where to turn them off.
How to get started with Siri
As mentioned above, you activate Siri in one of two ways:
Press and hold the side button (right side of iPhone)
Say "Hey Siri"
I find it easiest to say, "Hey Siri." Then you ask your question or tell Siri to do something for you. A good way to  get started is, "Hey Siri, what can I ask you?" You'll get a list of common things you might do with Siri, like tell her to phone or text someone, launch an app and so on.
Siri can help you communicate
Siri can help you call or text people when you're driving and can't (or at least shouldn't) type on your phone. Note that if you have Bluetooth in your car, you may have to wait for your audio system to beep before you speak your instructions.
"Hey Siri, call Mom"
Siri uses your contacts file to figure out whom to call. So for example, if you list your mom as "Mom," you can say, "Hey Siri, call Mom." Or you may need to use the person's first and last name.
If the contact has more than one number, Siri will ask you to specify which number. For example: "Which number: home or mobile?" Just reply and Siri will dial that number for you.
"Hey Siri, read me my new texts"
You can also ask Siri to read your new voicemails. For privacy reasons, your phone needs to be unlocked before Siri reads them to you. If you have an iPhone X, look at the phone to unlock it. If you have an older model, you'll need to type in your passcode.
When Siri reads a text, she'll also ask if you want to reply. If you say "Yes," Siri will ask you what you want to say. Speak your reply. Then Siri will read it back to you and ask if you're ready to send it. If you respond, "Yes," your text will be on its way.
"Hey Siri, text Julie"
Sometimes you're driving and know you're going to be late. But you want to convey that info in a quick message, not make a phone call. Siri can help you. And you don't have to take your hands off the wheel.
Once you ask Siri to text a person, it works the same way as replying to a text. Siri asks you what you want to say, and you say it. Siri will read it back to you and ask if you're ready to send. If you're satisfied, say "Yes."
So you can relax. Your hosts will know you're running late. And you haven't risked anyone's safety by handling your phone while driving.
Getting information with Siri
Need an address or phone number?
Maybe you don't know exactly how to reach your destination. Try asking Siri. You might say, "Hey Siri, where's [name of business]?" The voice will respond with some options. Choose the one you're looking for.
Then Siri will ask if you want to call or get directions. If you say, "Get directions," the Maps application will open and guide you to the address.
"Hey Siri, where's the closest gas station?"
I've used this one when driving a rental car that I needed to return with a full tank. It will save you time if you're in a hurry to get to the airport.
"Hey Siri, what's the weather today?"
This is possibly the most common question people ask Siri. You'll get a forecast for your current location. You can also ask for the weather forecast in another location.
Siri tells time
Even if you're not wearing a watch, you can find out the time without tapping your phone. "Hey Siri, what time is it?" Or you can see what time it is in another part of the world. "Hey Siri, what time is it in Paris right now?"
My son who loves to cook taught me a useful command you can give Siri when your hands are full. "Hey Siri, set a timer for 15 minutes."
You also can set an alarm. "Hey Siri, set an alarm for 6:30 am."
Siri does math
Maybe you want to split the lunch bill three ways or do a quick tip calculation. Just ask Siri for help. So for example: "Hey Siri, what's 54.50 divided by 3?" (The answer, rounded off, is 18.17.) Then ask, "Hey Siri, what's 18.17 plus 20%?" Now you know everyone's share of the bill.
I haven't figured out how to ask Siri to multiply and divide in the same command. But still I think it's easier to talk to my phone in two steps than to locate my calendar app and do the math there. I guess I could do it in my head. But Siri's probably faster, and she's definitely more accurate!
Siri plays music and podcasts
You can play songs from iTunes. "Hey Siri, play artist Adele." or "Hey Siri, play playlist Dance Party." This link has more info on how to play your music with Siri.
So far Siri doesn't allow you to control Spotify, Pandora or other music streaming services. The best you can do right now is, "Hey Siri, launch Spotify." This will open the app.
One thing I do all the time is direct Siri to play a podcast. For example: "Hey Siri, play podcast The Daily." It's a great way to load up a podcast in the car without having to fumble with your phone.
You also can ask Siri to give you the headlines. In my experience, this works better if you specify a source. For example: "Hey Siri, play news from NPR." Or "from CNN," "from ESPN," or wherever you choose. The request will start a podcast from that source, even if you don't subscribe to it.
Siri's more than a novelty
It makes sense to get started with Siri even if you're tech challenged. Voice-activated tech is here to stay. And it's likely to expand to other devices.
Once you increase your comfort with voice technology, you probably won't go back to typing all your messages and commands. You'll especially want to substitute voice commands for typing on a tiny virtual keyboard like the one on your phone.
Siri's developers programmed in lots of funny responses to odd questions people might ask. For examples, read here and here. Apple foresaw that people would have fun with voice-activated technology. But the artificial intelligence that helps Siri run keeps getting better all the time.
Here's a video with even more ways Siri can help you be more efficient.
Speak your way forward
Have fun with Siri. But know you also can use Siri's technology to make Apple devices do more for you.
And don't worry. You might get an answer that doesn't make sense  But you're not going to break Siri. So just try it out.
"Hey Siri, what are you making for dinner?"
So far this question produces only names of nearby restaurants. But hopefully, a day is coming when Siri will order takeout and have it delivered. Now that would be life-changing!
Images via: RA Studio
Join my journey through midlife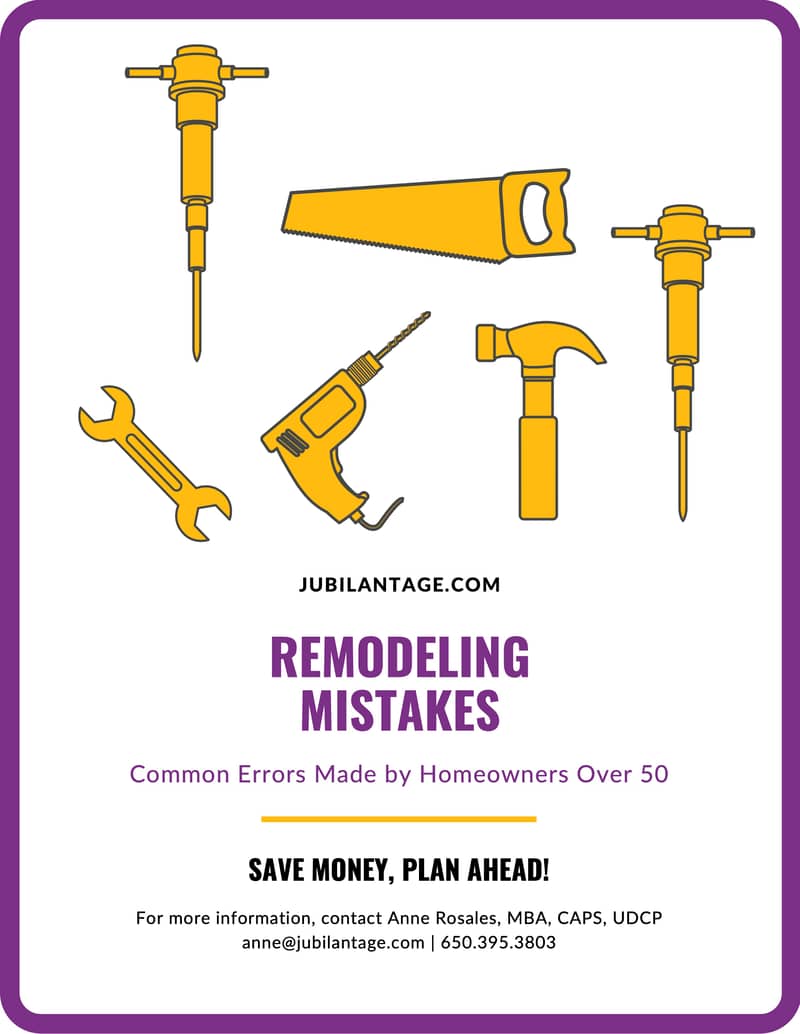 Subscribe to Jubilant Age and download a free checklist of remodeling mistakes to avoid!