Apple's latest mobile operating system, iOS 12, was running on 60% of eligible devices as measured by Apple on 10/29/18. If you're one of the 60% of users who's upgraded, congratulations! This post will tell you how to get more out of iOS 12. If you still need to upgrade your mobile operating system (or if you don't know whether you've upgraded or not), Techie Turtle has you covered there as well.
Read on for details and a list of Techie Turtle's favorite iOS 12 and 12.1 features.
Why and how to upgrade to iOS 12
The best reason to upgrade is that iOS 12 is focused on beefing up the performance of all iOS devices – both old and new. CNET explains why you want to install iOS 12:
Instead of cramming countless new features into iOS 12 and adding to some of the already perplexing (and frustrating!) bugs we all experience, Apple is using iOS 12 to focus on improving the overall performance of its iOS device lineup across the board.

Apps should open faster, scrolling should be smoother, and crashes should be fewer.
To see if you've already upgraded and/or to upgrade to iOS 12, look at your device's Settings icon. If there's a little red circle with a number in it (usually a 1), you still need to upgrade. Click on the icon and follow the directions. The CNET article linked above has instructions, or you can use Apple's directions here.
iOS 12 fun: new emoji, animoji and memoji options
Admit it: you love emoji. You may even occasionally spend time searching to find just the right emoji to add to your text or email. They make using your phone more fun.
Over 70 new emoji
iOS 12.1, released on 10/30/18, contains over 70 new emoji. You now can send a red-haired or curly-haired emoji image, a kangaroo, llama, ball of yarn or cupcake. Here's a a list of all new emoji. Depending on how you count skin/hair variations, there are up to 158 new ones.
New animojis
If you have an iPhone X or higher, you can use your voice and facial movements to animate a character. New animoji for iOS 12 include a koala, tiger, t-rex and ghost. Check out this link for Apple's instructions on how to create animoji.
Memoji
One more aspect that makes the iPhone fun is the option to create memoji. Memoji are emoji that are actually personal avatars.
You create an avatar to look like you, or it can be an alter ego. Create more than one and choose the one that suits your current mood. To make a memoji, click the + sign on the Animoji menu. A quick way to get to it is in your text menu options. Just tap the monkey icon.
Here's a link with more detailed instructions if you want them.
iOS 12 features: Do Not Disturb improvements
Now when your phone is set to Do Not Disturb ("DND"), all notifications will be held back while your phone is locked. You'll also get a reminder on your lock screen that your phone is on DND. You can opt to turn DND off, or at least know that you need to unlock it in order to see any notifications that have come in recently.
What's more, you can specify that the DND schedule is for "Bedtime." This will dim your phone screen and display only the clock.
Sleep like a baby
The point of enhanced DND options is to help you choose how you want to control your phone. To lessen a sense you might have that your phone is controlling you. You now can roll over and check the time if you wake up during the night without its notifying you of something that agitates you and makes it hard to get back to sleep.
Techie Turtle's opinion: anything that helps reduce midlife insomnia has to be good!
Silence until you change locations
Another cool DND feature is that, in addition to scheduling it for bedtime and/or turning it off and on manually, you can set conditions to control DND automatically. For example, you can tell your iPhone to go on DND until you leave the place you're in now. This is great for meetings or appointments where you don't want to be disturbed.
Focus on your priorities
Or you can set a time limit. For example, tell your phone to go on DND for an hour. This is a good way to prevent yourself from being interrupted. Maybe you can finish that piece of work that needs your full concentration.
Here's how to adjust DND settings to suit your preferences.
iOS 12 features: notification improvements
iOS 12 will help you manage your notifications so they're less distracting. The more notifications you receive, the more you'll appreciate this feature.
Grouped notifications and delivery options
The first thing you'll notice about notifications in iOS 12 is that they're grouped by app. This helps you review them quickly. It also helps you hide or delete them. Or you can deliver them quietly, a new option with iOS 12.
For example, say you have Amazon alerts set to notify you when a package ships, when it's out for delivery, and when it gets delivered. But you don't care about seeing these status reports in real time. You can change your Amazon notifications easily. Here's how.
Tap on a single notification when it comes through, or else tap on the Amazon group in the Notification Center
Swipe left on the Amazon group and press Manage
From there, select Deliver Quietly
Now those alerts will go straight to the Notification Center. No more interruptions!
Note that you could manage most notification options in previous versions of iOS. But now it's easier than ever. You can get to a lot of options by clicking on the notification itself. This avoids your having to hunt through the Settings menus.
Here's a video that explains iOS 12 notifications and DND features:
Huge new iOS 12 feature: Group Facetime
A much-anticipated feature for iOS 12.1 is the ability to video chat via Facetime with up to 32 people at once. This compares to a maximum number of 10 on a regular Google Hangout,  25 on Google Meets, or 25 on a Skype conference call.
Probably due to performance issues, Group Facetime is limited to the newer models of iPhones and iPads. But it's a cool feature you can enjoy with friends and family if you have one of the more recent phones or tablets.
So far, however, there's no indication of how Apple suggests you moderate a 32-person discussion. Maybe it's too much technology?
CNET offers simple instructions for how to place a Group Facetime call.
iOS 12 includes a new Measure app
When you're out shopping and run across a framed picture that might fit perfectly in an empty space you've been meaning to fill on your wall, you no longer have to find a sales assistant and wait to see if she can locate a tape measure. Just whip out your phone and take the dimensions of the picture with your new Measure app.
The app also has a level function. It might come in handy when you go to hang that same picture!
You can probably play around with the Measure app and figure out how to use it. But here are instructions if you want more detail.

A controversial feature of iOS 12: Screen Time
A key emphasis of iOS 12 is helping you gain control over your device use. So for example, the new operating system gives you greater ability to manage random interruptions from notifications. And you can set your phone on Do Not Disturb more easily, without worrying that you'll forget to turn it on again.
Big Brother is watching
But some people say that in developing Screen Time, Apple has taken the Big Brother thing too far. Screen Time is enabled by default in iOS 12. It quietly collects information in the background about how much you're using your phone, and even about what you're using it for.
This capability resided in the software before. But now with Screen Time, you get reports of how much you're using your devices. You even can aggregate your usage to see totals across various Apple devices if you sync them via iCloud. Screen Time reports arrive once a week or once a day (your choice). You can get much more granular data on what apps you're using, too.
Not only this, but you can restrict your own or your children's screen time to certain apps, certain times of day, total time, and so forth. Password protections allow you to track as well as control your children's usage. Your phone alerts you when you reach a pre-determined limit. You have the option to override it if you wish. At least you've been warned…
Note that to turn Screen Time off (or on), go under Settings and click on Screen Time.
What's up, Apple?
It's ironic. A company that makes more money when you use your devices more is trying to help you curb your usage. Or is it?
Some have characterized Apple's move as a response to criticism that people (children and teens especially) have become addicted to their devices. From this point of view, it's just another way Apple is listening to customers and giving them what they want. And giving customers cool features they like usually leads to increased sales.
Here are some links that offer more perspective:
MacRumors has a video that shows you how to use all of Screen Time's features if you're interested.
Summary: upgrade to iOS 12 now if you haven't already
There are even more iOS 12 features to explore, but this post has covered Techie Turtle's favorite ones. Despite diverging views on whether Screen Time is desirable, iOS 12 will help you get more out of your iPhone or iPad.
Plus, you can turn off Screen Time if you don't like it. Or let it run for a week or two and see if it informs your decisions about how much and for what purposes you're using your devices.
On balance, iOS 12:
Improves hardware performance
Adds fun features like cute emojis and animojis
Gives you greater control over when and how your device interrupts you
Unleashes your inner carpenter without requiring you to carry around a tape measure or level
So go ahead and install the upgrade. You'll at least enjoy a performance boost and more emojis to help you express yourself vividly in texts and emails.
We're still waiting, however, for a more exciting turtle emoji. ???? Techie Turtle might just have to create his own.
Images via: RA Studio, Emojipedia
Join my journey through midlife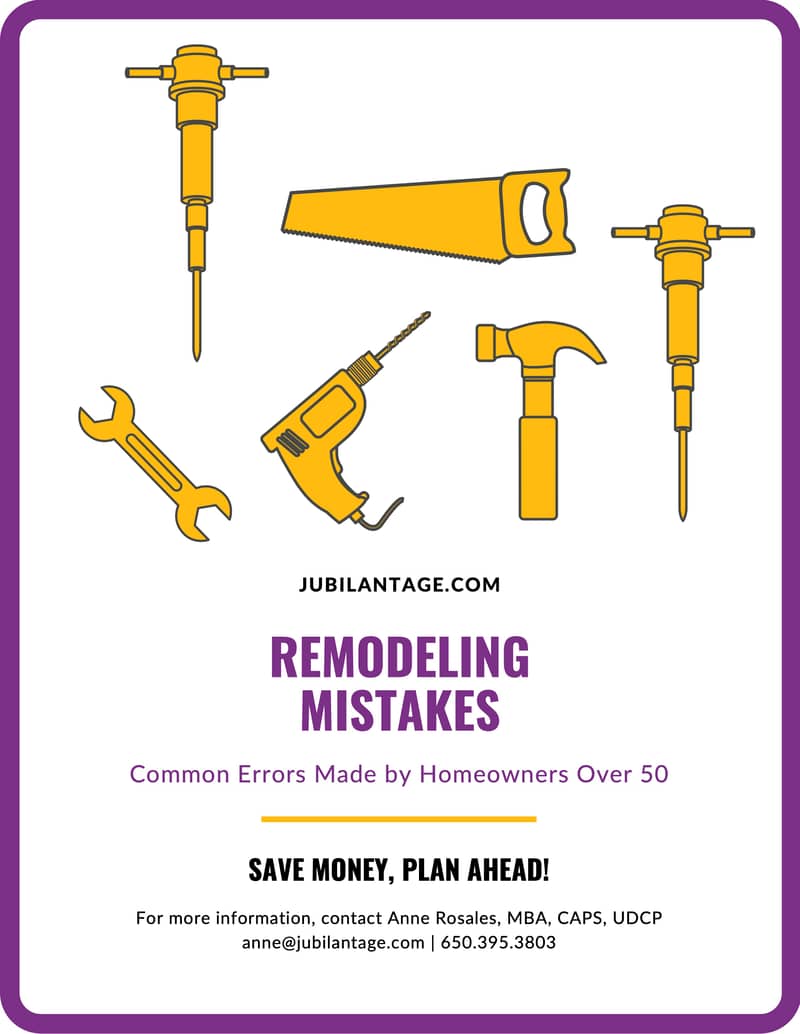 Subscribe to Jubilant Age and download a free checklist of remodeling mistakes to avoid!