I want to talk about something most of us don't spend much time thinking about. Which is, how can you live your best life if you have a disability that prevents you from doing things that most of us take for granted? This post will share some of my learnings about how to live your best life with a disability.
Adapt your environment to you
A key to living more comfortably with a disability is to make changes in your home or workplace that adapt it to suit your way of doing things. Don't be bound by that stuff you learned in high school about environmental adaptation and survival of the fittest. You can change things up and live better as a result.
USC HomeMods
I'm working on a certificate with the HomeMods program of USC's Leonard Davis School of Gerontology. The program teaches students how to help people with disabilities and/or chronic illnesses remain in their homes.
The final project for a recent course was to reconfigure part of a client's main floor. The goal was to design a bedroom/bathroom after an accident left the client with significant physical disabilities. Not only did I create a floor plan for the existing space that would better suit his needs. I also researched a lot of products that would assist him to live more independently.
Besides learning that I have a lot to learn, I gained an appreciation for what a person with physical or mental limitations has to deal with every day. Simple things like opening doors, using the toilet or washing your face can become super-challenging.
Make your home suit your needs
Placing myself in the shoes of my theoretical client was eye-opening. I saw how finding new ways to do old tasks can make a huge difference, especially if you have a disability.
For example, a person with mobility limitations needs a very large shower that's completely curbless. Not only that, but he needs a bench and hand sprayer in the shower, plus grab bars and temperature controls so he doesn't fall or scald himself. Yet with these things in place, he can take care of this personal task with limited assistance. Thus gaining autonomy as well as privacy.
Universal design
There are tons of products available now to help people with disabilities live more independently. Some of these items are marketed specifically to aging or disabled people. But many are simply great ideas that make anyone's life a little easier. They are designed to benefit everyone, not only people with disabilities.
A simple example of universal design is a lever-style door handle. A lever handle makes it easier for someone with arthritis or grip issues to open a door. They don't have to grip and twist, just push the lever down.
But lever doors are great for everyone. How many times have you found yourself setting down the groceries so you could turn the doorknob and get into your house? Maybe you want a lever door handle even if you're physically able to operate a knob.
Your house doesn't have to look like a hospital
The number of universally designed products is growing. Things like grab bars, LED lighting and dual stair handrails can be attractive as well as functional.
"Durable medical equipment" is still a big product category in the home healthcare market. But accommodating your disability doesn't mean you have to maroon your home in a sea of beige plastic.
So even if you care a lot about aesthetics, you can still live your best life with a disability. No need to settle for beige!
Use technology to your advantage
Healthcare robots are a cool idea. Their potential is vast, yet their reality as a home consumer device is probably years off. There are, however, plenty of other tech solutions available right now.
For example, a previous post discussed how Amazon's Alexa can help you age in place. Smart speakers like Alexa can also assist a younger person with disabilities, as long as the device can "understand" her speech.
Abilities Expo
Last week's San Mateo Abilities Expo showcased innovations designed to help disabled people live more comfortable lives. Companies and non-profits demonstrated how their devices assist adults and kids with disabilities.
The Abilities website lists similar events across the US and Canada. Look for one in your area. They're a great way to learn about the market, as well as to interact with people who are living their best lives with disabilities.
Tech high and low
The San Mateo Abilities Expo looked like a car show when I first walked in. But the vehicles on display were electric wheelchairs. Super fancy wheelchairs, some of them costing as much as a small car. Of course, you'd need a big car to transport such a chair in. Not surprisingly, there was also a booth with tricked-out minivans.
The Abilities Expo displayed solutions to problems I'd never even thought about. For example, there was a company that designed vests for people with disabilities. They showed a video of a quadriplegic person using the vest to stay upright in a lake.
Other devices displayed simple technology that reminded me of As Seen on TV products. But they demonstrated the application of human creativity to challenges faced by disabled people.
For example:
An $8.00 key holder that looked like a large Swiss Army knife. You could flip out your key, insert and turn it in a lock. Perfect if you had trouble gripping and twisting something small
Gravity Ball that combined features of a medicine ball, dumbbell, ankle weight, yoga strap and resistance bands to furnish a home gym experience. One for which you don't even need grip strength
Pants UP Easy device that does just what its name implies. It helps you pull your pants up when you can't do it alone
Learning to empathize
My husband asked me what kind of people I saw walking around at the Expo. Actually, I was one of the few guests walking around. Most were motoring around the exhibition space. In fact, there was a wheelchair traffic jam in one of the aisles.
It actually felt kind of cool to be in the minority of visitors who didn't have a visible disability. I got a small taste of what a disabled person might feel like in a typical crowd. I definitely got a sense of being the odd person out – especially in the motorized wheelchair aisles!
Connect with others
I loved the fact that the Abilities Expo gave disabled people and their caregivers a chance to connect with others. Others who faced similar challenges. Others who were marketing potential solutions to their problems.
The atmosphere was super positive. There were booths for disabled sailors, rock climbers and water sports enthusiasts. By using the product innovations on display, you could continue a favorite hobby or even take up a new one. In other words, you could live your best life with a disability.
I chatted with a man who had little use of his legs, but whose chest, shoulders and arms would rival that of any bodybuilder. He demonstrated his amazing wheelchair for me. By pushing on some side levers, he could raise himself from sitting to standing. They also had a lightweight wheelchair that folded faster and smaller than lots of baby strollers can.
Strength in weakness
I came away inspired by the authenticity and can-do spirit among the people I saw at the Expo. I felt humbled to have interacted with such strong individuals. True to its name, the event focused on expanding people's abilities. Not just compensating for their disabilities.
I'm not a fan of terms like "differently abled," but I appreciate what they connote. We all have abilities and disabilities. And what really matters is connecting with each other as people, without regard to each other's visible or invisible impairments.
Reflections
Spending time at the Abilities Expo helped me learn about shifting my perspective. I experienced kindness and acceptance from people there whom the mainstream would regard as disabled. The experience caused me to:
Feel grateful for my body. Sure, I'm annoyed by issues here and there. But these are mere inconveniences compared to the types of disabilities I witnessed last week
Appreciate that disabled individuals represent much more than healthcare challenges. They have dreams and goals, friendships and hobbies. Being disabled shouldn't prevent you from living your best life
Take charge of your attitude
Attitude is the main thing that will help you live your best life with a disability. Most disabilities cause you to rely on others for help. Your attitude toward receiving help from someone else, however, is completely up to you.
You can choose to feel bitter about needing assistance. Or you can adopt the attitude that, in the words of an often-quoted phrase, it takes true strength to ask for help.
Stop judging, accept help
Brené Brown, author of Daring Greatly and other books, has tough words for people who help others but resist asking for help themselves. She says that if you can't ask for help without self-judgment, you're not really giving help without judging the other person as "less" than you. We need to give and receive help from each other without judging.
In other words, to live your best life, with or without a disability, you have to let go of self-judgment and start asking for as well as giving help. This produces authentic connection with others and lays the groundwork for what Brown calls wholehearted living.
Summary of lessons learned
I started my HomeMods classes and visited the Abilities Expo thinking that I'd learn about people whom I could help. People whose disabilities prevented them from doing things I take for granted. Specifically, how I could help them become more independent by coordinating home modifications and assistive technology for them.
Tailor your environment and technology
And I'm learning quite a bit about such things. Home modification and tech innovations can help a disabled person attend to daily needs more easily and efficiently. They can give an individual time and energy for more enjoyable activities.
At the same time, I'm encountering a more important lesson. While environment and technology improvements matter, they provide means to an end.
Emphasize connection and attitude
The point of assistive tech is to keep a person from being defined by disabilities. It sounds corny, but assistive tech frees you to be you.
Support groups are good places to exchange tips and make friends. There are groups for people with physical disabilities, cognitive impairment, alcohol addiction, food issues, divorce recovery, parenting concerns and so on. It's nice to connect with people who share challenges similar to your own.
But we also can benefit from interacting with people who are different from us. Assistive tech helps bridge the gap between people with and without disabilities. But to forge an authentic connection with a disabled person, you have to leave your comfort zone and interact with someone who may seem very different from you. Likewise, a disabled person has to stretch to connect with an able-bodied individual who may seem self-sufficient.
Having an attitude that everyone can ask for and offer help puts us all on equal ground without regard to disability. I'll admit I find Brene Brown's assertion in the video tough to swallow. I like to think of myself as a helper. And yet according to her research, the hidden side of helping someone is judging them to be less than you.
Reflecting on Brown's comments has shifted my attitude, made me more aware of personal biases. I'm recognizing notions about my own and others' worthiness that I'd rather conceal – even from myself. Personal growth isn't necessarily easy!
You deserve to live your best life
I felt different as one of the few people walking around the Expo without a walker, wheelchair or companion. I didn't feel more than others. Or less. Just different.
That's all: I felt like a person who wanted to live her best life. Regardless of disability, we all deserve that.
Images via: Pixabay, Action Trackchair
Join my journey through midlife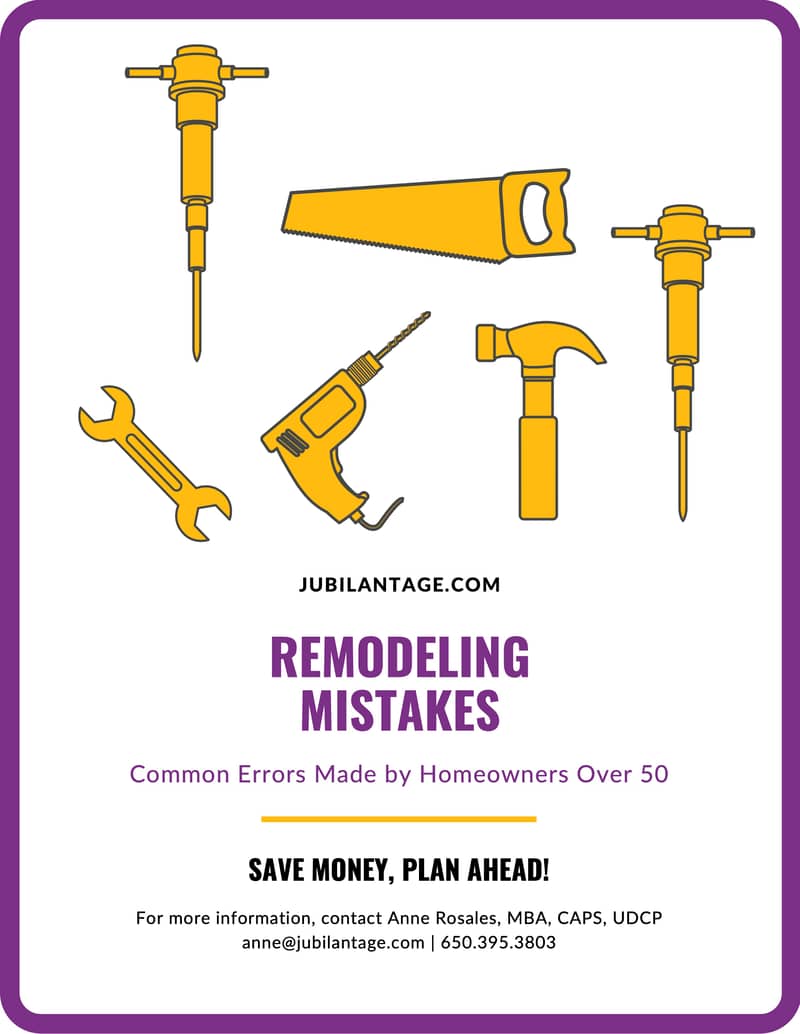 Subscribe to Jubilant Age and download a free checklist of remodeling mistakes to avoid!