My last post talked about pros and cons of switching to a tiny house in retirement. Another dimension of living tiny, however, is joining a tiny house community.
A desire to balance independence with authentic community is central to the goal of aging in place. If this describes you, a tiny house community may be the solution you're looking for.
Tiny house communities
Tiny house communities are springing up across the US. Some provide mainly parking and electricity, but many offer common garden and meeting space as well.
In this respect, tiny house communities resemble campgrounds. But they are oriented toward longer stays and thus encourage residents to build deeper relationships.
Most tiny home communities charge rental fees based on the services they offer. Rental rates cluster around $500 a month depending on the location.
"People are the focus"
Tiny homeowners themselves often organize such communities. After all, you have fewer material goods in a tiny home. You're less distracted by things and have more time for the people around you.
As tiny house community builder Chelsea Rustrom puts it, "With tiny houses . . . people are the focus." Tiny house communities are an organic development.
Airstream Park
A famous tiny house community is part of the Downtown Project in Las Vegas. Started by Zappos CEO Tony Hsieh as one of many projects helping to revitalize downtown Las Vegas, the community comprises Airstream trailers, tiny homes and shared spaces. Hsieh himself lives in an Airstream trailer in the tiny house village, alongside his pet alpacas.
Airstream Park rents out high-tech, 240-square-foot Airstream trailers for $1200/month. They also offer 140-square-foot tiny houses manufactured by Tumbleweed. The Tumbleweed homes have less technology and more of a homey, cabin-type aesthetic.
The village's shared amenities include a kitchen housed in a shipping container, a community pantry, laundry facilities and an outdoor gathering space with fire pits. There are two swimming pools, a playground and activity space, plus a lounge and office area.
A popular rooftop deck sits atop a large Airstream bus at the rear of the property. A 5-foot concrete wall encloses the park for security, but residents say it also enhances their sense of community.
Tony Hsieh's devotion to the communal living experience of Burning Man inspired him to found Airstream Village. In that spirit, musicians often perform in the outdoor space, and the community hosts art installations from time to time.
Minka tiny homes and communities
Another version of tiny house community deals specifically with aging in place. Dr. Bill Thomas, a geriatrician and pioneer of new approaches to caring for the aging, has developed a special type of tiny house he calls a Minka.
Minka is Japanese for a house for regular people. Thomas envisions the Minka as a solution to housing problems both young and old people face:
Tens of millions of people of all ages will find their houses, and housing stock in general, to be too big, too expensive and too hard to maintain. For younger people, these barriers can prevent them from owning a home of their own. For older people, sustaining a big unwieldy house can be the thing that tips the scale from independence to dependence. This insight is behind the "tiny house" craze that has fascinated so many people.
Dr. Bill Thomas, ChangingAging.com
Universal design and the latest technology
The Minka is a customizable home whose design is influenced by centuries-old Japanese architecture and its clever use of space and materials. It combines universal design principles with modern manufacturing techniques.
Pre-fabricated homes
Minka printers operate 24/7, using robotics and computer code. They can churn out the Minka's 2772 pieces in about two weeks.
Two workers assemble these pieces into 120 components. The factory ships customized Minkas in flat packs, not unlike the way Ikea ships furniture.
The basic Minka shell is easily duplicated via robotics and 3D-type printers, but owners customize room configuation and finishes. In the end, no two Minkas look the same.
Minka home construction is fast, affordable and sustainable. The company website claims their process involves far less waste and energy usage than traditional construction.
A bigger tiny house
The flagship one-bedroom Minka is 640 square feet, larger than a tiny house. It costs about $100,000 to fabricate. Transportation costs vary, as do planning and zoning expenses.
Minkas don't come on wheels. You pour a traditional home foundation onsite. Skilled workers then unpack the components and put together a weatherproof, insulated Minka house in two days.
Cost-wise, you can buy a Minka for less than the median price of a home in the US ($226,800 in 2019). And it will incorporate universal design features that make the home comfortable and accessible for people of all ages.
Minka for aging in community
Just as Minka houses are bringing innovation to residential home building, Minka communities promise to upend traditional notions about aging in place.
Thomas' vision, in fact, is to develop Minka communities with people of varying ages. He's partnering with the University of Southern Indiana on a pilot project called MAGIC (Multi-Ability, Multi-Generational, Inclusive Community).
Minka communities are still developing, but their philosophy is straightforward.
They place sensibly-sized, universally-designed homes in close proximity to each other. Somewhat ironically, by encouraging homeowners to be dependent on their neighbors, Minka communities foster independence for people as they age.
People live on their own in a Minka community longer than they might have been able to do in their former houses. It's better than aging in place; it's aging in community.
How to find tiny house communities
If tiny houses intrigue you, there are lots of ways to learn more about them. Countless blogs, YouTube videos and manufacturer's websites offer advice and personal perspectives on building and living in a tiny house.
You can find photos and descriptions of notable tiny house communities online. For example:
Talk with tiny house owners
As you might expect, however, the real sources of information on tiny house communities are the people developing and living in them. The market is changing rapidly. New tiny house communities are springing up around the US faster than an information clearinghouse can track.
The Tiny House offers suggestions for how to find a community that works for you. In one way or another, they all involve talking with people:
In-person

Workshops often sponsored by tiny house builders
Meetups
Conferences such as a Tiny House Festival

Online
Reinventing community
Tiny house communities are creating new models for people to live in community with each other. Particularly exciting are the communities that encourage aging in place. They promote independence by emphasizing interdependence.
In many ways, these tiny house communities are a return to the simple village life that existed long ago. They're a new twist on the pioneer ethos, too. Only now, they incorporate technology and modern conveniences.
The tiny lifestyle won't work for everyone. But for people who prefer a pared-down life, the tiny house community offers a unique path to authentic sharing of life together.
Are you aging in place in a tiny house community? I'd love to hear your perspective.
Images via: Shutterstock, Pixabay
Join my journey through midlife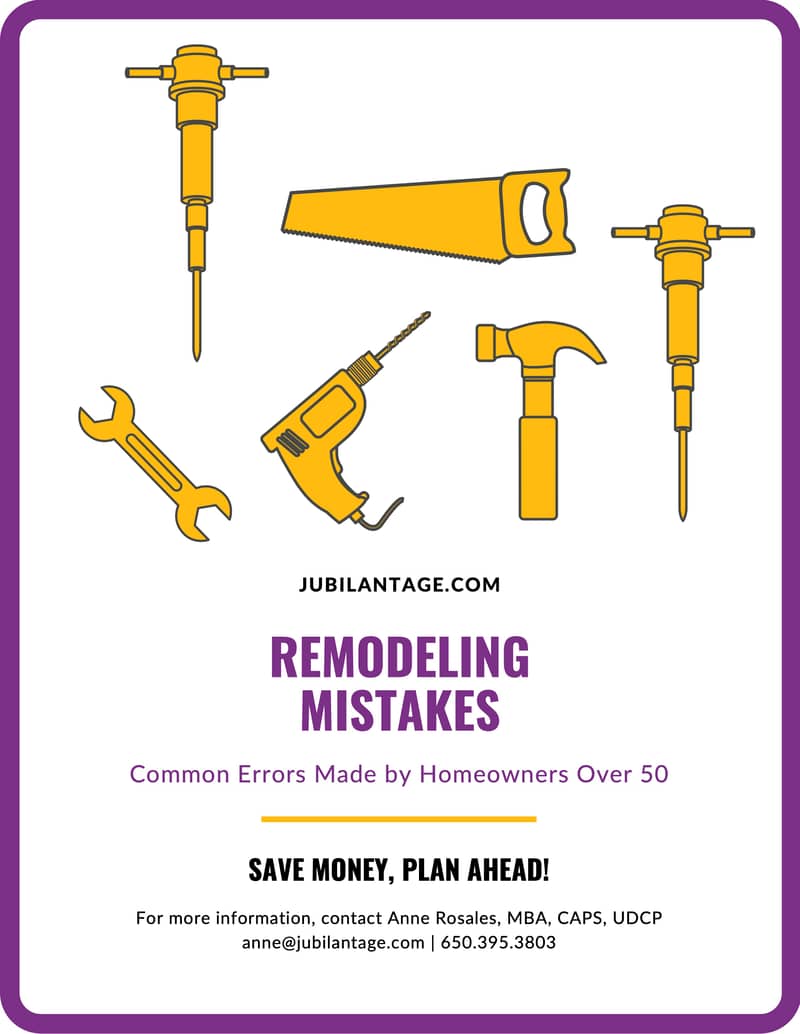 Subscribe to Jubilant Age and download a free checklist of remodeling mistakes to avoid!