Universal design has been around for over 20 years. Simply put, universal design refers to products and environments that can be used to the greatest extent possible by everyone – regardless of size, age or ability.
Even though universal design isn't a new concept, people still confuse it with handicap accessibility. They also don't really know why they might want to consider universal design for their homes. 
Here are 5 common myths about universal design and what you need to know about universal design in midlife.
Universal design myth #1: It's the same as ADA-compatible
This misconception is super common. For example, I recently talked with a friend who's doing a big remodel of her home. I asked if she'd be incorporating any elements of universal design or aging in place. She replied, "Oh definitely. We told our contractor to make everything ADA."
ADA covers public facilities
In truth, the ADA (Americans with Disabilities Act of 1990) applies to public buildings, not private residences. It requires public buildings, transportation, telecommunications, etc. to be accessible to people for whom a disability prevents them from functioning in one or more major areas of life.
ADA regulations about grab bars, toilet seat heights and so on provide starting points for planning to age in place. But they can end up making your home look like a hospital.
Moreover, ADA guidelines are geared toward people with disabilities. Its regulations don't address design that makes spaces and products more usable by non-disabled people. Like a family with a tall dad, short mom, two young children and grandparents who come to visit. 
Beauty as well as function
ADA-compatible design in public buildings is usually functional but not very attractive. For example, consider an accessible hotel room. You know, the kind with ugly grab bars and a curbless shower, whose curtain doesn't keep the water in. Any time you take a shower, the whole bathroom gets wet.
A universally-designed bathroom in your home, however, has a curbless shower with beautiful tile and a floor that slopes to guide water down the drain. Its grab bars look like designer accents. Plus, it works equally well for you, your parents and your children.
In short, ADA-compatible or "accessible" facilities focus on providing equal access for disabled people. Universal design is about making spaces and products for everyone, regardless of ability. It's beautiful as well as functional, and it works universally.
Universal design myth #2: It's expensive
Remodeling with universal design in mind doesn't cost more than regular remodeling. And lots of people in midlife are choosing to remodel their homes. In fact, more than half of all remodeling dollars are spent by people 55 and over.
So for instance, when you're replacing doorknobs, you have many options. A lever-style door handle needn't cost more than a doorknob that's much harder for someone with arthritis to use. Or someone with a broken wrist. 
Or someone with an armful of stuff. Just hit the lever with your elbow and carry your things through the doorway.
Universal remodeling may actually save you money
Remodeling with an eye to universal design might save you money later. Choosing to widen the hallway or change out your bathtub for a curbless shower now means you'll be prepared if an injury or surgery reduces your mobility later on.
Designing with the future in mind can also save you the expense of living elsewhere if your home doesn't fit your needs in an emergency. If you or your spouse has a severe stroke or breaks a hip, and your home doesn't have a first-floor bathroom, one of you might have to live in a rehab facility for a while.
But Medicare covers only the inpatient rehabilitation that a doctor certifies to be medically necessary. It doesn't reimburse living in a rehab unit because your own house needs remodeling. 
Universal design myth #3: You should wait until you need it
Since people associate universal design with accessible design (see Myth #1), they want to hold off until they need it. If they ever need it. After all, who wants to make their home look like a hospital unless they have to?
This attitude reflects a misconception about universal design. A universally-designed space works for all ages and abilities, without singling anyone out as "different." Even if you never "need it," universal design still makes sense.
Adaptable design
One of universal design's many sensible aspects is that it helps you plan ahead. You can create adaptable spaces. 
For example, if you're not interested to install grab bars in your shower, just be sure to reinforce the wall behind the tile. That way you can put in grab bars later without having to rip tile out.
Or you can construct a cabinet whose front can be easily removed if you should ever need to access a sink from a seated position. There's no need to make your bathroom vanity wheelchair-accessible from the get-go. You can change it out later without doing a second remodel.
Visitability
Another reason to go ahead with universal design in your home is to make it visitable by anyone. If you have a ramp-type slope up to your front door, for example, your elderly neighbor can come over for coffee.
And you can babysit your grandchild more easily. Roll her straight out the door for a walk around the neighborhood. No need to go back and forth between the house and the sidewalk – setting out the stroller, collecting the baby stuff, then the baby herself. It will be easier on your back and make outings more fun for you and your grandbaby.
Universal design myth #4: It will decrease your home's value
Universal design done right adds to your home's marketability. The best universal design elements don't stand out. They just work. They work for everyone without calling attention to their features.
Think about OXO utensils. They're exquisite examples of products that are universally designed to look good and be comfortable for everyone to use. So are kitchens with multiple-height counters and well-lit stairwells with handrails. They're attractive, modern and comfortable for people of different sizes and ages.
Need for universal design is increasing
It's a simple fact of supply and demand. According to Harvard's Joint Center for Housing Studies, the need for accessible housing already exceeds its availability. In 2016, 26% of households age 50+ included a member with at least one vision, hearing, cognitive, self-care, mobility, or independent living difficulty.
Yet only 3.5% of America's housing stock had single-floor living, no-step entry, and extra-wide halls and doors.
Aging baby boomers will continue to fuel demand for universally designed features in private homes. With so many people growing older, retirement communities and other types of senior housing can't keep pace.
Not that people even want to move into senior facilities. As an AARP survey found, 90% of people plan to live in their homes for as long as possible. Thus, even if you remodel your house and then later decide to move, universal design features will help you sell it.
Universal design myth #5: You have to use a contractor certified in universal remodeling
Because universal design is gaining in popularity, lots of contractors and designers are developing expertise in various aspects of the topic. You can work with someone who doesn't have specific certification in universal design as long as they have the knowledge and skills you need.
If you want to make sure you're considering all options for universal design and/or aging in place, look for someone with credentials such as:
CAPS (Certified Aging in Place Specialist)
CLIPP (Certified Living in Place Professional)
UDCP (Universal Design Certified Professional)
Occupational therapists and physical therapists also have expertise in helping you assess your needs and ways to address them.
Get started for free with AARP's HomeFit Guide. It's a checklist you can use to see how ready your home is to serve you as you grow older and/or have older relatives come to stay with you.
5 universal design myths
Here again are 5 common myths about universal design (UD):
UD = ADA-compatible
UD is expensive
Hold off on UD until you need accessible features
UD will decrease your home's value
Only UD-certified contractors can install
There's no reason to put off incorporating universal design features into your next home project. Even starting out small, like replacing your old X-handled faucet with a lever-handled one, will benefit you.
And by the way, changes like these will make your home look more up-to-date. In fact, it's hard to see why you'd ever want to remodel without considering universal design features.
What about you?
What are your favorite universal design elements? Have you run into other universal design myths?
Let me know your thoughts in the comments!
Join my journey through midlife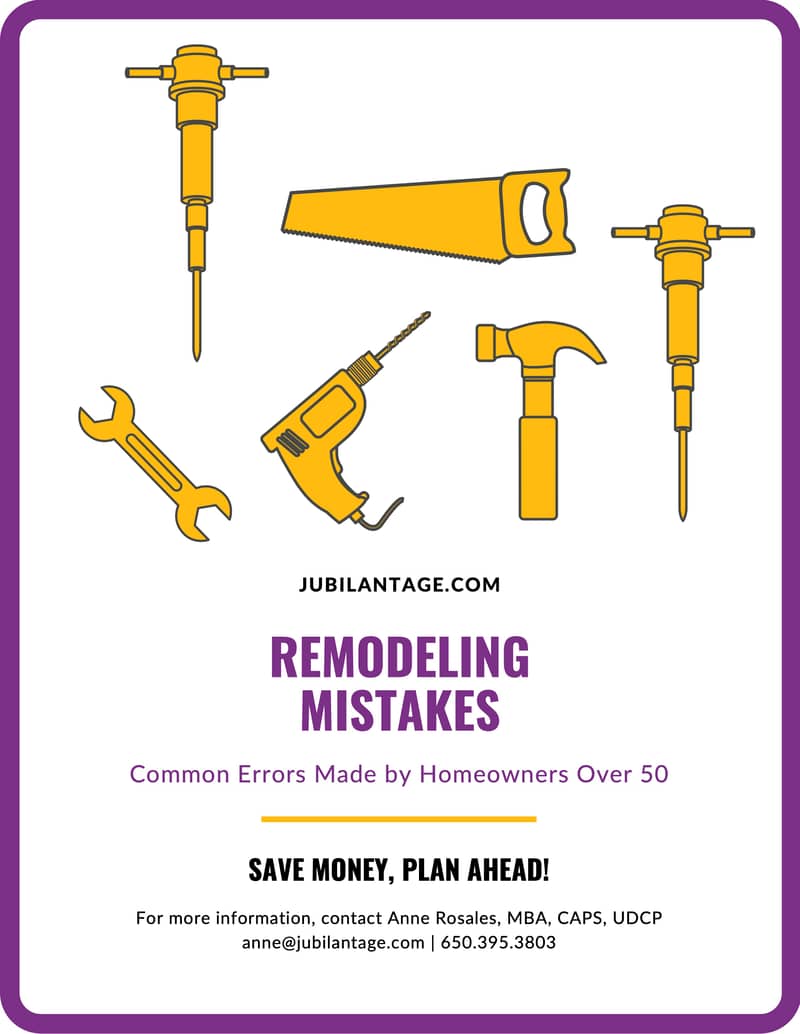 Subscribe to Jubilant Age and download a free checklist of remodeling mistakes to avoid!