Independence is a foundational principle of our society. Especially in America, we exalt the individual. But as we age, we confront tradeoffs between independence and safety.
Anyone who's argued with an older parent about their driving, cleaning the gutters or other household chores knows what I mean. Physical and cognitive changes often result in having to give up independence in order to stay safe.
This post looks at the conflict between independence and safety. It also suggests ways that you and your aging parents can address safety concerns while still preserving as much personal independence as possible.
Independence is a core value
Consider protests raging around the world against dictatorial regimes. People are willing to risk their lives to gain their freedom.
We in the US celebrate our country's freedom on July 4th, Independence Day. The value we place on political freedom extends to people's attitudes about personal independence. We honor individualism in the stories we tell all year round. Iconic metaphors include the pioneer, the cowboy, the immigrant who "made good" through hard work and personal effort.
We parent our children to make their own choices, to take responsibility for their actions, and eventually to move out and live on their own. Most Americans can't conceive of a society where you aren't allowed to determine where you live, what you do, or how you spend your time.
Age can tip the value scale toward safety
Your attitude toward personal freedom can make it hard to balance independence and safety as you and your loved ones grow older. Physical changes like reduced mobility, low vision or poor balance can mean a person stops driving and spends more time at home.
Which can result in additional problems. Social isolation, falls, and trouble with errands are all examples of things that might happen if physical changes limit your independence.
Cognitive changes can make things even worse. A person may think that her driving is fine. That her ability to manage household tasks is the same as always. But it's not.
Her inability to remember that she thawed and re-froze a piece of raw meat multiple times can lead to food poisoning if she eats it. If she continues to drive, she might be putting others as well as herself at risk.
Scenarios like these often result in adult children urging their parents to move to retirement communities or to come live with them. But that usually doesn't resolve the conflict between independence and safety.
Senior living facilities prioritize safety over independence
On the one hand, moving into an Independent Living or Assisted Living community increases your independence. You're no longer confined to your home. In fact, your new home is likely smaller than your old one was. This gives you an incentive to explore the rest of the facility and grounds.
You can make friends, try new activities, and don't have to hassle with logistics like meal prep. You can shop or attend concerts around town with transportation provided by the retirement community.
In all, you get to spend less of your time on routine tasks, and more on things you choose to do.
Independent Living
But even in an Independent Living setup, you're going to have more structure and supervision than you ever had in your own home. Staff will typically knock on your door once or twice a day, just to make sure you're doing okay. If you leave the grounds for any reason, you're supposed to sign out at the front desk.
I've heard complaints from residents like, "This feels like I'm back in my college dorm." (Remember that women's dorms used to have strict rules about visitors, curfews and so forth.)
Assisted Living and Memory Care
The restrictions increase if you move to Assisted Living, a higher tier of healthcare and supervision. People come by to take your blood pressure and give you your medications. They may take away your hearing aids at night for safekeeping.
Moving to Memory Care usually entails going to a unit that's locked from the inside and out. You may have a comfortable environment, with wide hallways, an enclosed garden and a central area for eating and socializing. But for your own safety, you can't leave the unit by yourself.
The intention is a good one. Lockdown units prevent residents from wandering into traffic, suffering the anxiety of becoming lost, and possibly coming to worse harm.
But they also can make you feel like you're incarcerated. Even walking through a very nice Memory Care facility, I'm reminded of the warehouse for long term memories in Inside Out.* I can't help but think of such places as storage units for people.
Preserving personal independence benefits your health
Face it. No one wants to give up her independence. You don't want to forfeit your ability to choose where you'll live, whom you'll spend time with, what you'll do.
Research by the CDC shows that seniors whose physical or cognitive impairments reduce their independence are at higher risk of depression. Moreover, the lack of social interaction and stimulation that often goes with losing your freedom leads to further cognitive decline.
How can you help your parents with independence and safety issues?
One of the tough things you confront in midlife is role reversal in your own family. Declines in your mother's health, for example, can lead you to help her in ways she views as treating her like a child.
Arguments are common. They often concern tradeoffs between independence and safety. Here are a few things you can do to reduce tension.
Resist ageist attitudes
Our society views older adults as less productive, less capable – even as annoying people we'd rather not deal with. But we're all likely to become older adults at some point. Let that consideration inform your attitude toward your parent.
Think about all your older loved one still has to offer the world. For more specifics on the dangers of ageism, check out the AARP's #DisruptAging.
Engage in interactive caregiving. Even though it may be faster and easier for you to do a task yourself, let your loved one do it. Even asking a parent with dementia to help set the table for dinner conveys respect for their contribution.
Don't do for, do with.
Communicate and compromise
Your parent may have personality issues or cognitive impairment that make communication difficult. Still, listen to what they have to say. Try to hear what's behind the words and do your best to strike a compromise.
Sometimes just listening to another person helps them feel better. Listening connotes respect for that person's independence. If they also can truly listen to you, perhaps the two of you can agree on a compromise.
For example, your dad might resist having a daily caregiver, saying he doesn't want a stranger in his house. But maybe he'd be willing to experiment with having someone come in to help with housework and errands twice a week.
Technology is your friend
Technological options for keeping track of loved ones remotely are expanding every day. Take advantage of various types of home sensors, medication reminders, webcams and other ways to monitor your loved one's health and well-being.
You should obtain agreement their before installing any monitoring technology. But perhaps this will be a less intrusive way for you to stay informed about what's going on with your parent than regular visits from a home healthcare worker they don't know.
You can present a technological solution as something that will assuage your safety concerns while also preserving your parent's independence. Maybe it's something that they'll accept.
What role to elders themselves play?
Your parent may be able to preserve significant aspects of personal freedom while making sure she doesn't pose a danger to herself or others.
For example, she'll probably resist handing over the car keys. But maybe you can persuade her based on her desire not to be in an accident that hurts other people.
Here are things you can say to your aging parent when discussing tradeoffs between independence and safety.
Asking for help is not the same as becoming dependent
The strongest among us know when to ask for help. Business and personal development gurus cite knowing when and how to ask for help as a sign of true strength.
Communicate and compromise
You don't want to become your parent's parent anymore than she wants you to do so. But you also don't want her to hide what's going on for fear that she'll lose her independence.
Try to help her know that you want to help her stay as independent as possible. That you're willing to compromise and that you value open communication.
Cognitive deficiencies may make conversations like this impossible. But it's still important to listen to your parent talk about her feelings, even as you're trying to keep her safe.
Aging in place helps you balance independence and safety
Aging in place can help your parent maintain independence even in the face of physical and cognitive challenges. Staying in one's own home imparts a sense of security with the familiar. It also helps a person feel she's still in charge of her environment.
Aging in place modifications include:
Changes to make the home safer such as grab bars and improved lighting
Services to assist the elder with household chores, transportation, etc.
Technology like Alexa, monitoring devices and sensors
Local "village" network where seniors help seniors
Summary: a personal perspective
In my opinion, being well cared for is not the same thing as living well. You see it in the grammar: "being well cared for" is passive. "Living well" is active.
Part of living well is being able to make choices. Even if your choices are limited, you still deserve to choose. For most of us, risk-taking is a normal part of life. We take risks when we cross the street, sample a new food or try an activity we haven't tried before.
Of course, taking a personal risk is very different from risking someone else's safety. But institutional environments tend to lump all types of risk-taking into the same bucket. In doing so, they limit resident choices and prioritize safety over everything else.
And don't be fooled: senior facilities also prioritize safety to minimize their own liability. All these factors make me sad.
I hope that by the time I'm facing these tradeoffs between independence and safety, my kids will help me realize these objectives:
maximize personal freedom
minimize risk of harm to someone else
accept the personal risk that goes alongside living well
What about you? What's your perspective on independence vs. safety?
Images via: Shutterstock, Pixabay, AHR
Join my journey through midlife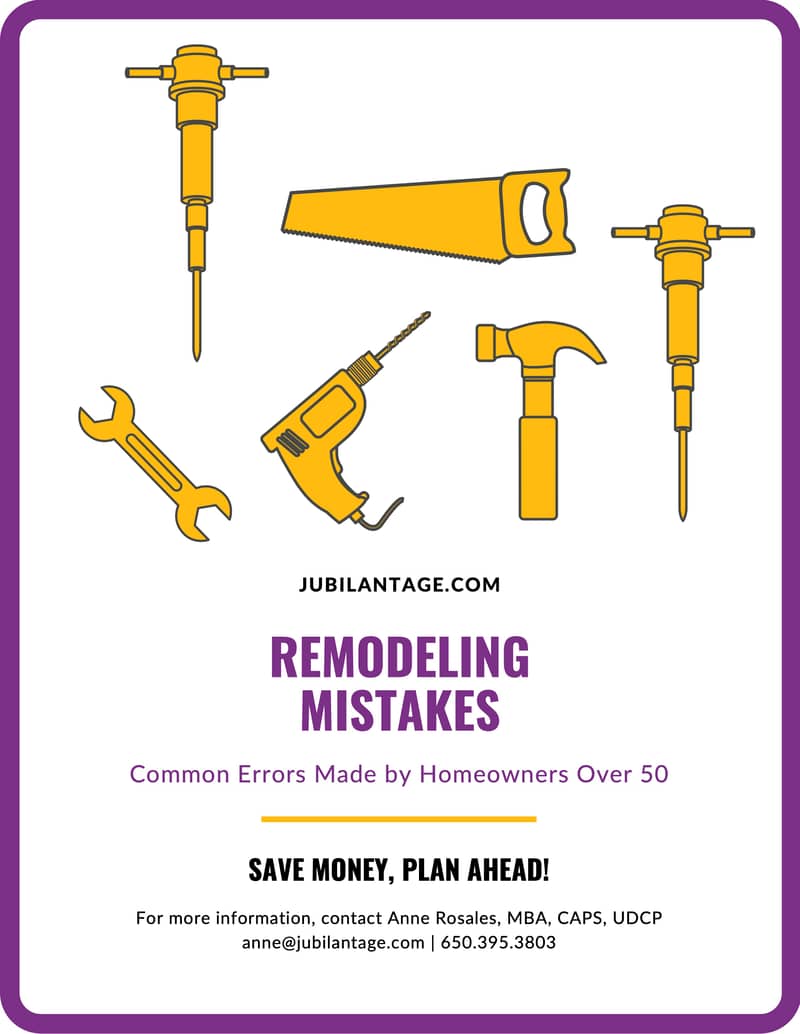 Subscribe to Jubilant Age and download a free checklist of remodeling mistakes to avoid!