Today's post is the third part in a miniseries on preparing for your retirement transition. In case you missed the earlier posts, here they are:
Part 1: 4 steps to better retirement planning in midlife
Part 2: Don't underestimate retirement's psychological impact
In Part 3, we're diving deeper into psychological aspects of the retirement transition. We'll look at common stumbling blocks and how to deal with them.
The retirement transition is still a big deal
Don't kid yourself. Even semi-retirement is a major life transition. Going from an occupation you've done for 5+ days a week to something less time-consuming may seem great at first. But it doesn't take long before you can hit a rough patch.
As we discussed in Part 2 the retirement transition affects the person who retires AND that person's spouse. Regardless of whether the spouse is employed, having one member of the couple in transition affects both partners.
It's easy for misunderstandings to crop up. Spouses make different assumptions about housework, "honey-do lists," or vacation plans.
Both of you need to communicate. Talk about your hopes and expectations. Acknowledge upfront that you're going a major life change together, even if only one of you is retiring.
DOs and DON'Ts
There are lots of pitfalls you can experience in your retirement transition. But some basic dos and don'ts will help you focus on what matters most. Even if you don't plan to retire for years to come, keeping these points in mind will help you prepare mentally for this major life change.
To make it easy, I'll give you 3 don'ts and 3 do's. First the don'ts.
1. DON'T rush
If you're retiring from an intense job, you may need the better part of a year to unwind from that experience. Companies might ask you to do consulting for them as soon as they learn that you've retired. Just say "no."
Or people will pester you at social events to talk about what you'll do next. For now, unless you feel sure about your next step, tell them you'll have to get back to them. Or give them a funny answer that steers the conversation in a different direction.
It's likely that you'll feel refreshed and ready to think about what you want to do next after you've had a little downtime.
No impulsive decisions
For example, don't make a spontaneous decision to sell your home and household goods, buy an RV and travel the country. Instead, rent out your house and put your possessions into storage for a year.
Then see how you feel after living in a trailer for a while. It may be the case that you love the freedom of your new life. Or you may decide to go back to your big house. You might want to downsize your home and live on the road for part of the year. Give yourself time to check it out. You'll know.
No ignoring bad feelings
It's also possible that the retirement transition may make you feel depressed. You've lost that sense of identity you got from your work, and you haven't replaced it with anything else yet. This is particularly relevant for men, who typically associate their identities with their work.
If retirement makes you feel blue, acknowledge that head-on. Feel the feeling. Don't be in a rush to cover it up or move on to the next thing. Consult with a therapist. Take time to process what may be the biggest change you've gone through since your kids were born.
Don't rush your retirement transition: more reading
2. DON'T stop
Even though you shouldn't rush to find your new retirement rhythm and identity, stopping is not a good idea.
Don't withdraw from life
You finally have free time to do those things on your bucket list. You can travel, take classes, start a new hobby.
Volunteering is a great way to share your expertise and passion without having to commit to an activity full-time. It also can lower your blood pressure, which is a big factor in cardiac events and strokes. A 2006 study found that adults ages 51-91 who volunteered 200 or more hours per year saw a 40% lower chance of high blood pressure. I like those odds!
Don't sit around all the time
Staying physically active gives you better physical health and cognitive functioning as you age. According to the National Institute on Aging, you need to do 4 main types of exercise as you age: endurance, strength, balance and flexibility. So mix it up, and get healthy for the long term.
If nothing else motivates you, consider these findings published in the Mayo Clinic Proceedings. In short, exercise in midlife reduces your risk of dementia later. So what are you waiting for?
Don't stop when you retire: more reading
3. DON'T put off addressing difficult issues
You may have procrastinated on dealing with thorny issues. It's now time to revisit your estate plan or consult an attorney to draw up a will if you don't have one.
Don't bail on the legal stuff
You need to select a person to hold financial power of attorney (POA) for you. As well as someone to serve as your healthcare proxy via an advance directive. This can be the same person or different individuals.
Not only should you execute the appropriate legal documents to designate people you think will respect your wishes. You need to talk with your POA and healthcare proxy to inform them that you've designated them to fill this role when needed.
Don't keep your wishes secret
And don't shy away from being explicit about your wishes. For examples and how-to's, look at Five Wishes or The Stanford Letter Project. They offer easy-to-understand forms you can use or adapt as you prefer. Both are good places to start when thinking about how you'll want to communicate your thoughts on things like end-of-life care.
To you, it may seem far too early to think about such things. But the longer you wait, the more you'll tend to put off these tough conversations.
Seventy percent of older adults are too ill to make decisions about their treatment when they are nearing the end of their lives. Moreover, most of these individuals will receive acute hospital care from doctors who don't know them.
Better to start now, draw up plans as best you can, and make revisions if you need to in the future.
Don't put off addressing difficult issues: more reading
Now for 3 DOs.
1. DO prioritize friendships
Nearly a third of Americans over 65 are lonely. According to a 2010 AARP study, over half of lonely adults said their health was "fair" or "poor." Social engagement turns out to be critical to successful aging.
Back when your kids were in school, you probably had lots of friends. Maybe not close friends, but plenty of acquaintances you used to chat with in the school parking lot, or on the soccer sidelines. Now you have to be more intentional about friendship.
Old friends
Make a list of your friends from the past 20 years and note the ones you want to stay connected with. Decide which friendships you want to invest in and take the initiative. Text them, call them, invite them to lunch or dinner.
Maybe you have some super-longtime friends, too. People you knew during childhood or college. People you haven't seen in years, other than an occasional photo on Facebook. You might feel they live in a world that you left behind years ago and hesitate to contact them.
Or you might discover that the reasons you became friends long ago are still relevant today, even though both of you have led separate lives. You won't know unless you try to connect.
New friends
Find ways to make new friends, too. Sign up for painting classes, join a bocce ball league, check out a faith community that interests you.
And don't forget to add younger and older folks into the mix. Multi-generational community is great for all ages.
Do prioritize friendships during your retirement transition: more reading
2. DO live with purpose
When you retire, you may think you've let go of that purpose which drove your life for so long. This is true whether you're leaving a marketplace job, a volunteer post, or changing life roles with your retirement transition.
My purpose story
As a stay-at-home mom, my "job" was raising my family. I felt a strong sense of purpose and commitment to it.
But my oldest child left home for college 10 years ago. We've had a completely empty nest for 5 years. In fact, the youngest graduated from college two years ago. All my kids are married, and we live in 4 different time zones.
It's pretty obvious that my purpose is no longer caring for my children on a daily basis. When people ask me what I do now, I talk about how I'm in transition. Exploring new possibilities, learning about successful aging and living your best midlife.
But when I acknowledge to myself that I've been "in transition" for 5-10 years now, I feel a keen sense of failure at still not knowing what my new purpose is.
Failure?
This personal assessment ignores the fact that I still gain satisfaction and purpose from being a mom. That I enjoy connecting with my adult children. That I'm working hard to build relationships with their grownup selves and their spouses.
The empty nest has also given me time to volunteer in my community, build my leadership skills and work on my writing. Last but not least, I'm able to pay more attention to my husband than I could when the kids were small.
In short: I haven't lost my purpose, but I do have a shifting sense of purpose. Will it translate into an encore career (link) or lifelong passion? I'm curious to know myself!
Do continue to live with purpose: more reading
3. DO choose joy
You can put a lot of effort into doing retirement right. Manage your money, guard your health, stay connected to family and friends, give back to your community. But bad things may still happen to you.
You've lived long enough by now to have experienced some ups and downs. More lie ahead. As you age, you may weather health issues, the loss of loved ones, declining independence.
Attitude is everything
Yet you still get to choose how you'll face your circumstances. Even if your life seems to be crumbling, you're still in charge of your attitude.
Your circumstances may make you long for the old days. Times when you were young, free and happy. It's ok to feel sad about your losses.
But instead of focusing on what you've lost, you can choose to focus on what you still have. Like a cup of coffee in the morning, sunshine on your face, a laugh shared with a friend.
Choose friends, choose life
Statistically, happy people live longer. A UK study found that older adults in better moods were 35% less likely to die within the next 5 years. Moreover, this was the result after they corrected research data for individual health situations.
If you've always had a cheerful outlook, you're fortunate. But don't give up if your personality isn't naturally sunny. The retirement transition gives you an opportunity to change. To see the glass half full rather than half empty. The choice is yours.
Do choose joy in your retirement transition: more reading
Flourish: A Visionary New Understanding of Happiness and Well-being*, by Martin E. P. Seligman.
The Happiness Curve: Why Life Gets Better After 50*, by Jonathan Rauch.
The Book of Joy: Lasting Happiness in a Changing World*, by Dalai Lama, Desmond Tutu, Douglas Carlton Abrams.
Summary: all 6 don'ts and dos
Increase your chances of a successful retirement transition by observing these don'ts and dos:
Don't rush
Don't stop
Don't put off addressing difficult issues
Do prioritize friendships
Do live with purpose
Do choose joy
Let me know what other tips you have as you plan your retirement transition!
Images via: Shutterstock, Pixabay,
Join my journey through midlife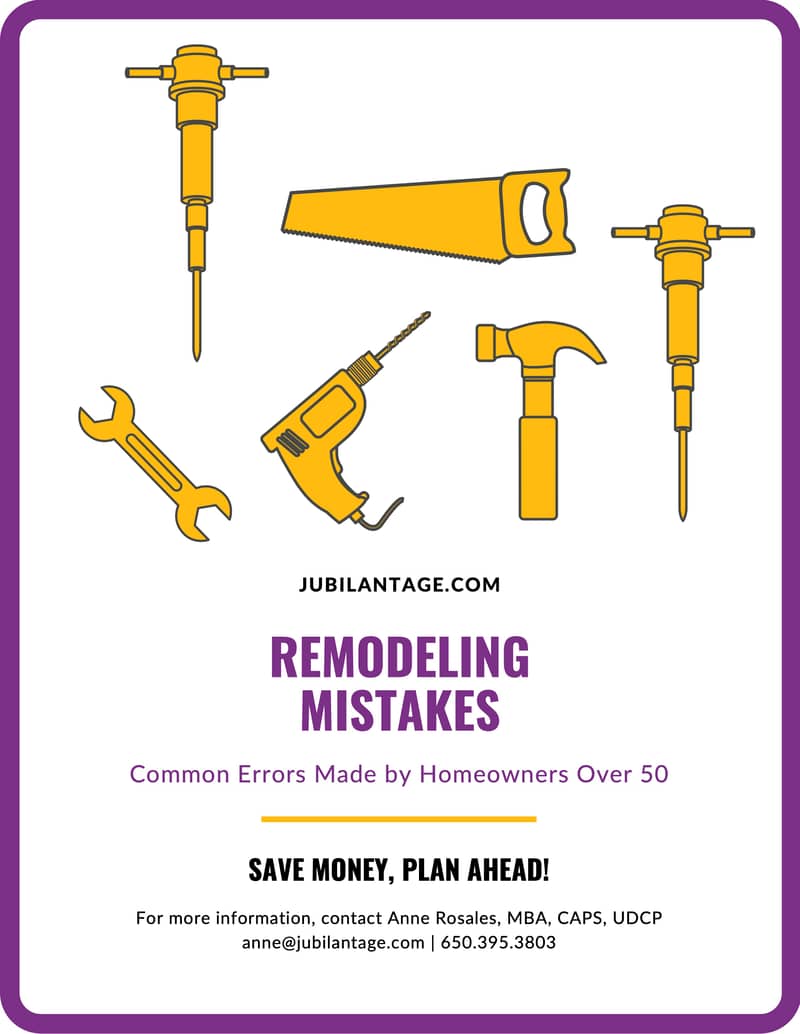 Subscribe to Jubilant Age and download a free checklist of remodeling mistakes to avoid!