There are over 10,000 tiny houses in the US. While early adopters were young couples, older people have been joining their ranks. In fact, 2 out of every 5 owners of tiny homes are 50+. Switching to a tiny house in retirement can give you freedom, independence, and more disposable income.
Of course, there are also drawbacks. Let's look at the tiny house trend and consider whether switching to a tiny house in retirement makes sense for you.
What's a tiny house?
The average American home is 2600 square feet. The typical tiny house, however, is only 100-400 square feet. Often there's a sleeping loft you reach via a ladder or narrow stairs. Tiny houses for retirees, however, tend to put the bed on the main floor and use the loft for storage.
A tiny house might sit on a trailer base. This, for aficionados, is a Tiny House on Wheels (THOW). A heavy-duty vehicle can tow a THOW from one location to another. Other tiny homes are less mobile. They have foundations just like regular houses.
Although tiny homes represent less than 1% of the homes in the US today, the segment is growing rapidly. In 2017, the number of American tiny homes increased by 67% vs. 2016.
More than a dwelling
The tiny house movement started in the 1980s and picked up steam in the early 2000s. Its popularity has accompanied the increasing appeal of minimalism and simplicity as a way of life.
To live in a tiny home, you have to declutter and downsize. Many tiny house owners seek to leave the hustle and bustle of cities behind and pursue a quieter life. Some even choose to live off the grid.
TV series like A&E's Tiny House Nation* and HGTV's Tiny House, Big Living* showcase these trends. They also provide lots of ideas for would-be tiny home builders. Or in my case, for viewers who're fascinated with clever storage solutions and like to unwind with stories of simple living.
Should you move to a tiny house in retirement?
DIYers can buy tiny house plans or kits for $5000 to $20,000+. Additionally, there are lots of websites offering tiny homes for sale – both new and used. You can even order a tiny house on Amazon*.
A highly customized tiny home might cost as much as $200,000. But most tiny houses offer a chance to own your own home for far less money. A retiree could sell her long-term home and buy a tiny house outright with the proceeds. In doing so, she'd eliminate her mortgage and gain disposable cash.
A person who's looking to simplify her life in retirement might be drawn to the tiny house lifestyle. At the same time, 50+ years of accumulating possessions can make it hard to accomplish the extreme downsizing you have to do if you want to "live tiny."
Tiny house in retirement: YES
There are several advantages to going tiny in midlife and beyond.
1. Money
This is the #1 reason people switch to a tiny house, especially during retirement years. A tiny house costs less to buy than a regular one does. And it costs far less to maintain.
Moreover, tiny house utilities cost a fraction of what you'd pay in a larger home. Even if you hire someone to clean it, that takes about 15 minutes. 
Since the home is small and recently built, you're much less likely to get hit with surprise expenses like a worn-out furnace or broken sewer.
Unless you own the land where you park your tiny house, you also don't have to pay property taxes. That's another big saving.
2. High-end finishes
An advantage of downsizing your space is that you can use quality materials without breaking the bank.
Granite or marble counters in the kitchen? Brazilian tigerwood floors? You can go high-end because you need only a few square feet of material.
Also, tiny house storage solutions can make owners of larger homes jealous. Stairs to the loft, for example, typically contain drawers or cabinets. A wall folds down to reveal a bed. Lifting up the couch cushions uncovers big cubbies below. 
Such high-end finishes and customization set tiny houses apart from RVs and trailers. The latter tend to give you temporary living space during a vacation. But a tiny house is your full-time home.
3. Privacy
If you compare living in a tiny house to moving in with your kids or going to a retirement facility, the tiny home definitely affords you more privacy.
Most retirement communities have common dining facilities and lots of activities. Many residents like this atmosphere, but others feel as though they've moved back into their college dorm.
The tiny house presents an easy and affordable way to build an Accessory Dwelling Unit (ADU). An ADU is a second, small home on a single-family lot. Also called a granny flat, such secondary units are becoming more common.
In fact, in efforts to address housing shortages, several states are revising their zoning regulations to permit ADU construction where previously they had prohibited it.
For many retirees, an ADU offers a way to live closer to their family but still maintain their own separate home.
Here's a video about an Australian woman whose tiny house gives her the perfect combination of privacy and proximity to her daughter.
4. Intangible rewards
In the case of a tiny house, intangible benefits include independence, flexibility, and freedom.
You can move to a tiny house on wheels to experience living in different places. You have the independence to decide where you want to live and the stability of living in your same home no matter where it's located.
Moreover, if you tire of one spot, you can move on. With a THOW, you're flexible to act more spontaneously than you did before.
A big draw of tiny homeownership is an overall sense of freedom. For example, 68% of tiny house owners have no mortgage. They're free from high fixed expenses like home loans, utility bills, and maintenance costs.
Living tiny also frees you from possessions – you're forced to declutter and downsize. Fans of the tiny house movement relish the simplicity of having less stuff. They say it allows them to focus on what really matters in their lives.
Tiny house in retirement: NO
At the same time, tiny house living isn't for everyone.
1. Close quarters
The average hotel room is 325 square feet. But lots of tiny homes aren't even this big. Bathrooms are typically very small. Most tiny houses can accommodate a bed no larger than queen-size. And the kitchen counter space can make it challenging to have more than one person cooking at a time.
Even in the best of circumstances, two people living together in 100-400 square feet will get on each other's nerves. If they have hobbies or work requiring a lot of space (or making a lot of noise), tempers can fray on a regular basis.
Tiny houses are more challenging in harsh climates. It's easier to live in a small space if you can get outside. Likewise, people who enjoy activities outside the home can avoid feeling cooped up in a small space. Homebodies, on the other hand, can go stir crazy in a tiny house.
2. Logistics
Parking a tiny house can be a problem. For people who move around frequently, RV or trailer parks may prove the most convenient ways of parking and connecting to services.
No matter where you choose to go, you have to be sure you're legally allowed to park your tiny house there. Many localities are reevaluating standard classifications like mobile homes and RVs to determine how best to regulate tiny houses. Tiny house websites abound with parking advice.
In addition to worrying about where to park, you have to consider other things, like filling your water tanks and emptying your sewage receptacle. In this sense, tiny living works like living in a camper. It's best if you have some DIY interests and skills.
3. A depreciating asset
Unlike normal homes, which often hold their value or even appreciate over time, the value of a tiny house typically behaves more like that of an RV or trailer.
After all, location is irrelevant for a THOW. You don't own land. Location is a key driver of home value, but a tiny house isn't usually tied to a specific location.
Some argue that tiny houses depreciate even faster than RVs and trailers because you live in them full-time.
As newcomers to the real estate market, tiny houses don't have a proven track record of holding or losing value over time. You can definitely buy a used tiny house. But the secondary tiny house market isn't yet big enough to document solid trends.
4. Mixed bag for aging in place
While lots of retirees are choosing to go tiny, it's not clear that tiny houses offer long-term solutions for people who want to age in place.
You can improve the odds that your tiny house will suit you for a longer period of time by choosing one with a bedroom on the main floor instead of a sleeping loft you access via a ladder or narrow stairs.
You also can customize exterior entry access and door width to accommodate a wheelchair, in case you need one down the road. 
Likewise, a bathroom with a curbless shower, handheld sprayer and grab bars will prepare your tiny house to age alongside you.
However, your needs for additional space and personal assistance may increase at some point. And then the tiny house would be too small.
Setting yourself up in an ADU near family may be the best way to age in place with a tiny house. Still, there may come a time when living in a tiny home no longer makes sense for your circumstances.
Conclusion: going tiny is a radical choice
Analysts compare the tiny house plans and kits you can buy on Amazon to Sears Catalogue Homes. These mail-order house kits were popular in the early to the mid-20th century. Lots of them still stand in communities across America.
In many ways, Amazon is the Sears Roebuck of today. By selling houses on the internet, Amazon might transform the tiny house movement – and indeed, the state of housing generally.
While such a notion seems far-fetched, people used to think it was odd to order a pre-built house from a catalog. But Sears sold 70,000 of them. Tiny houses may point to future changes in residential markets across the country.
Regardless of whether the tiny house movement continues to grow, switching to a tiny house in retirement is a radical choice. The extreme downsizing needed to "go tiny" means you have to get rid of possessions you may have spent the last 50 years accumulating.
Reinventing your life with a tiny house in retirement
At the same time, choosing tiny living frees you to completely reinvent yourself in retirement. You may have dreamed of free-spirit living for years.
Now, if you want, you can relocate on a whim. And you get to take the (pared-down) comforts of home along on your adventures.
In fact, you get to take your entire home with you. Viva the tiny lifestyle!
Images via: Shutterstock, Pixabay
Join my journey through midlife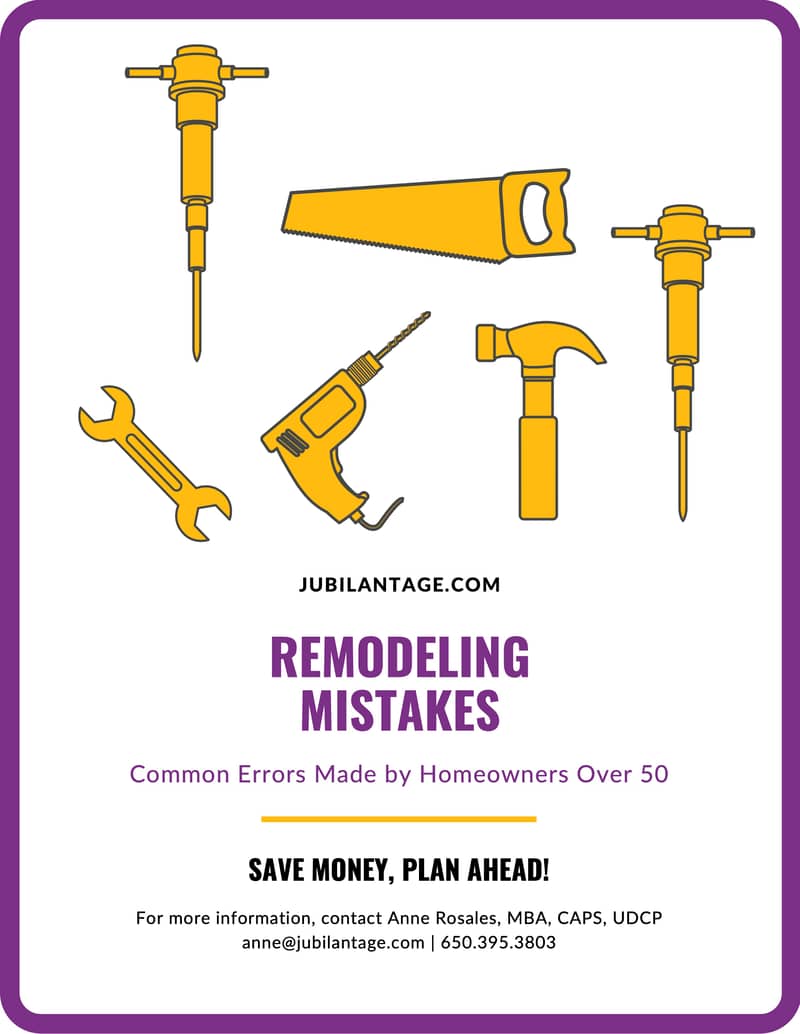 Subscribe to Jubilant Age and download a free checklist of remodeling mistakes to avoid!