Aging in place is a concept that's sweeping our country as baby boomers move into their 60s and 70s. But successful aging in place requires more than just installing grab bars in your bathroom. It involves multiple considerations, inside and outside your home. The goal of aging in place is to help you stay independent, comfortable and safe, even if your needs change as you grow older.
Starting to prepare now will benefit you later. I'll give you 6 things you can do now that are key to aging in place. You'll learn how to set yourself up for success in your later years.
What's aging in place?
In essence, aging in place means staying in the home of your choice for as long as possible. The Centers for Disease Control (CDC) say that aging in place means staying in your home and community safely, independently, and comfortably, regardless of age, income, or ability level.
In my opinion, the CDC definition expresses an ideal to strive for. Being able to stay in your own home despite your age, income or ability level would be wonderful. But in reality, aging in place successfully requires upfront planning, financial investment, and a certain level of health.
Americans' expectations about aging in place also don't match up with reality. An AARP survey finds that 90% of people ages 65+ want to stay in their homes as they grow older. And fully 80% of them believe their current residence is where they'll live until they die.
1. Home Modifications
The first thing people usually think of as a key to aging in place is remodeling. Doing things like installing grab bars and lever-style door handles or widening hallways.
Simple home modifications are a great start. However, most of us aren't even taking baby steps like these to prepare to age in place. According to Harvard's Joint Center for Housing Studies, homeowners ages 55+ account for over half of all remodeling expenditures in the US. And 26% of households ages 50+ had someone with at least one vision, hearing, cognitive, self-care, mobility, or independent living difficulty.
Yet in 2011 (the most recent year with available data), only 3.5% of all US homes were accessible – meaning they had single-floor living, a no-step entry, and extra-wide halls and doors.
If you're remodeling your home now, it makes sense to plan ahead for things that might make it easier for you to continue living there long-term. Universal design principles focus on making spaces usable by people of ALL ages. They combine an orientation toward comfort and ease-of-use with a sense of aesthetic beauty.
Consult with a CAPS (Certified Aging in Place Specialist) to figure out what you can do now to be ready as your needs change. As a CAPS consultant myself, I promise: you won't have to make your house look like a nursing home!
2. Support services
A second key to aging in place is lining up the support you need to help you function well in your own home.
Having people help you with household tasks, transportation or personal hygiene may sound like you're "giving in" or becoming dependent. But accepting help in these areas actually allows you to continue to live on your own.
Furthermore, you'll live more independently in your own house than if you were to move to a retirement community where your meals and activities were planned by others. Moving to a senior living facility buys you a lot of conveniences. But it requires you to give up some of your independence.
This tradeoff isn't necessarily bad. But you might prefer to accept help in your own home than to have it "prescribed" for you in a so-called independent living community.
As you plan for future support services, consider what types of assistance you might need at some point. For example, as you age you may want or need help with:
Cleaning
Errands and grocery shopping
Meal preparation
Bill paying
Medication reminders and/or blood pressure monitoring
Bathing/grooming/dressing
Transportation
Neighbors, family and friends may be able to provide some of these support services. Others are things you'll have to pay for. Long term care insurance or Medicare may cover a few of them, but most costs tend to be out-of-pocket.
3. Finances
Which brings us to our next key to aging in place, financial considerations. As you plan for retirement, you'll want to budget for medical as well as age-in-place costs like those listed above.
There are several ways you can cover the cost of staying in your own home, in addition to your retirement savings. They include:
Long term care insurance if you buy a plan that offers in-home care rather than one that covers only care in a facility
Reverse mortgage

recent changes may have increased the attractiveness of these instruments
enable you to tap your home's equity for remodeling or other current needs

Rent out part of your home for regular monthly income. Additional benefits may include:

increased sense of safety
personal assistance in exchange for reduced rent (spell this out in your rental contract)
companionship and social interaction
In general, you should compare the cost of obtaining in-home help with the cost of living in an "independent living" or "assisted living" community. Determining which option is cheaper will depend on your care needs, labor rates and the availability of elder housing in your area. You may find it less expensive to pay for help that allows you to stay in your own home.
Just don't put off considering what type of assistance you think you'll need in the future, as well as where you might go to hire help. The answers are critical to planning to age in place.
4. Legal
The next key to aging in place is related to financial considerations. You can make life easier on yourself and your family by having the difficult conversations and designating your legal representatives now – long before you need them.
While it may be enticing to procrastinate, you're not doing yourself or others any favors by neglecting to discuss your intentions with them. Put another way: don't wait until a health crisis or other emergency prevents you from speaking for yourself. Clue people in now about your wishes for treatment, where you'd like to live and so on.
You'll want to make sure you've worked with an attorney to:
Draw up your estate plans
Designate a POA (Power of Attorney) for financial matters
Designate a POA for Healthcare matters

this is also called a "healthcare agent" or "healthcare proxy"
you name this individual as decision-maker in the event you can't make your own decisions (it's part of your advance directive)
it can be the same person as your financial POA, or someone different
The point of all this is to make sure you've set out your wishes and plans in a way that your family knows what you want. No one likes to think about the fact that someday they might not be able to make choices about their care and living situation.
But being clear now about these important issues may help your family someday make decisions that align best with your preferences.
5. Technology
By the time you need them, assistive personal robots and mass-market driverless cars will probably be available. But already there are lots of technologies that can help you age in place. To cite a few:
Smartphone apps like Uber/Lyft, Instacart and TaskRabbit
Medication packaging that doses meds for you, like PillPack*
Medication and other health reminders via subscription or voice assistant like Amazon's Alexa*
Voice assistants such as Google Home or Amazon's Alexa that you can ask to call people for you, send you reminders and lots more
Cameras and services for loved ones to monitor your health and safety, so they feel comfortable with your decision to remain in your home
These examples are just a few of the technological solutions that are emerging to benefit our aging population. Some of them, like the smartphone apps or voice assistants, can help you now – despite how young or old you are.
An added benefit to learning to use technology like this is that you can make yourself comfortable with it now. The hoped-for result is that you'll be more likely to accept technological assistance with aging in place down the road.
Besides, this key to aging in place is kind of fun. Just try it: "Alexa, sing me a song."
6. Social interaction
A sixth key to aging in place involves keeping up your social connections – and even making new friends.
According to a study at the University of California at San Francisco (UCSF), more than 40% of senior experience loneliness. Loneliness is associated with a host of other complications:
26% higher mortality risk
5 times greater likelihood of dying in the first 30 days after heart bypass surgery
64% more chance of developing dementia
5% more severe symptoms during a common cold incident
health risk equal to smoking 15 cigarettes per day
higher Medicare costs (extra $130/month for extremely socially isolated people)
For more information about loneliness in midlife and what you can do about it, check out these posts:
Villages help you age in place
A growing concept in communities where large numbers of people are choosing to age in place is that of the village. A village is a membership-based organization, where seniors help each other and also gain access to discounted rates with local handymen, etc.
Most villages offer continuing education, social opportunities and transportation assistance to members. Larger ones like Avenidas in Palo Alto, CA offer much more. If you're interested to learn about villages in your area, check out the Village to Village Network and look for a local organization to contact.
Home mods and support services are prerequisites
A reason many people give for why they want to age in place is that they want to stay in their community. They want to enjoy long-time friendships and familiar surroundings.
To realize the goal of staying connected to friends and community, however, you have to adapt your home as your physical needs change. You also should engage support services that help you keep going with your activities.
It's important that you continue to enjoy planned as well as impromptu social interactions. If you start to decline invitations and stay home because have trouble entering and exiting your house, or because you no longer drive, your social network will shrink.
In short, to realize the social benefits of aging in place, you have to do the other things we've talked about, too. It does you no good to become a prisoner in your home, reluctant to leave because you're worried about safety.
Nor does it enhance your independence to stay alone (and maybe lonely) because you don't want to ask for help. Letting someone assist you with transportation or other things will enable you to get out and enjoy your community.
Which is why you wanted to age in place, right?
Conclusion: successful aging in place requires planning
To set yourself up to age in place well, you need to address each of this post's six keys to aging in place. You don't have to complete them all now, but you should get started.
Home modifications and planning for support services are crucial to realizing your goal of aging in place. If you're not willing to modify your home or bring in outside help, you're more likely to experience a serious fall or health crisis that will force you to leave your home. Perhaps permanently.
Analyzing your financial considerations will help you see how you can achieve your goal of staying in your current home. Or whether you might want to choose a different location to age in place,
Making legal plans like a will, power of attorney and advanced directive will give you peace of mind that you've anticipated possible issues going forward. And that your family will benefit from your guidance even if an emergency leaves you unable to speak for yourself.
Take this opportunity, too, to stay on top of technology changes that can assist you now and later. The technologically savvy among us may well become the most independent elders.
And finally, make an effort to keep up your social network. What good is it to stay in your home, if all you do is roam around within its four walls? You'd be better off in a retirement community, where you'd have a built-in group of friends right outside your door.
What about you?
The topic of aging in place presents a lot of issues to think about. They may not seem urgent now, especially if you believe you'll have another 10-20 years before you have to deal with them. But it's not too soon to set yourself in a position to achieve the goal of living in your community long-term.
You may already be helping a parent or other loved one age in place. What are you learning that will make a difference in your life?
Images via: Shutterstock, Pixabay
Join my journey through midlife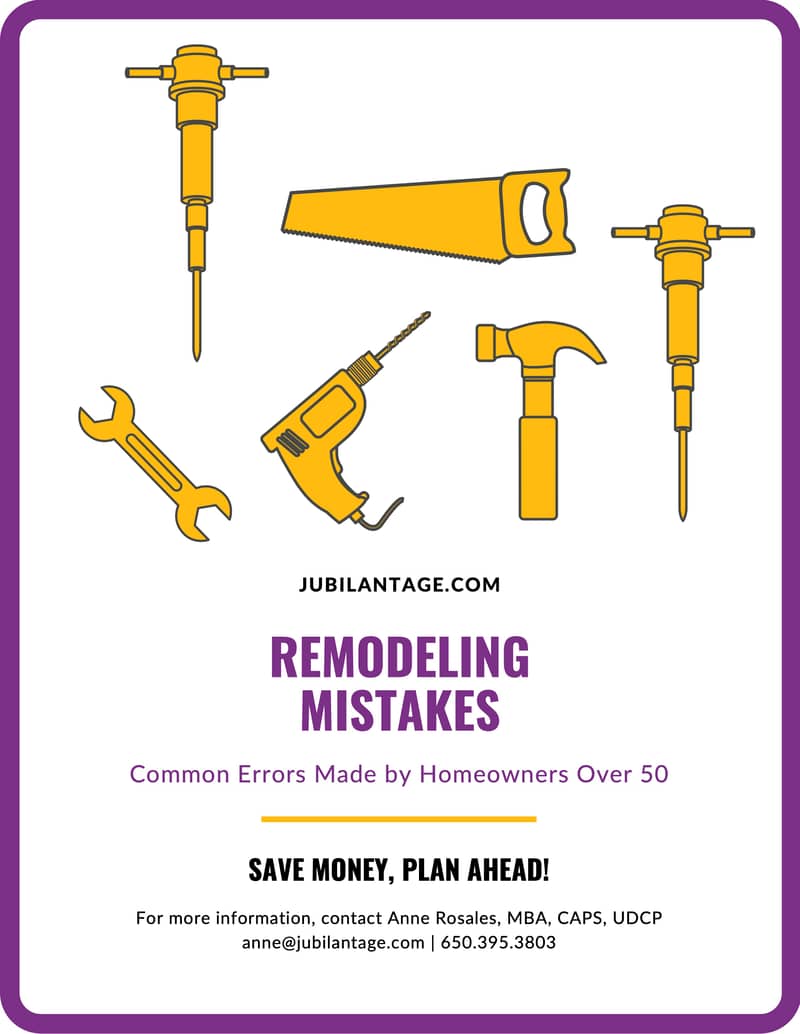 Subscribe to Jubilant Age and download a free checklist of remodeling mistakes to avoid!