Are you sick of being in a hurry? Or are you sick from being in hurry? Maybe both. Hurry puts your health at risk. Midlife hurry compounds the other health problems you might face as you grow older.
This post will help you identify symptoms and risks of midlife hurry, as well as what to do about it.
Technology increases your sense of hurry
Being in a rush is all too common these days. It's a cruel joke: the technology which helps you do more in less time is actually at the root of your hurry. Our always-on culture has people checking their phones 80 times a day on average. We consume written, audio and video content nonstop. There's never enough time to read/hear/see it all.
Remember the comment from Reed Hastings, CEO of Netflix? He made headlines when he said his company's main competitor wasn't another streaming service. It was sleep.
Symptoms of midlife hurry
Do you ever find yourself doing one or more of these things?
Interrupting co-workers or friends to finish their sentences
Counting the people in line in front of you and switching to another line
Feeling irritated when the person in front of you at Starbucks or the grocery store makes small talk with the cashier instead of finishing their transaction and leaving
Repeatedly pushing the "close door" button in an elevator
Multi-tasking to the point that you forget one of the tasks
Modern culture has accustomed us to hurry even when we don't have to do so. I bet I'm not the only one here who's driven too fast on my way to a dinner with friends. Or a massage appointment. Or some other destination where I plan to relax.
Hurry leads to accidental death
According to the National Safety Council, the third leading cause of death (after heart disease and cancer) is "preventable injury."
Statistics assembled by Carsurance cite hurry-related situations among the top causes of traffic fatalities:
32% Drunk driving
31% Speeding
16% Distractions
11% Bad weather
Of this list, speeding often arises from being in a hurry. Moreover, distractions indicate multi-tasking, cell phone use while driving, and so on. Based on these figures, as many as half of traffic fatalities are related to being in a hurry.
Hurry also leads to less-serious accidents
Hurry and distraction are significant elements in non-life-threatening injuries around the home or office. Midlife hurry can be especially dangerous. At midlife your sense of balance, strength and coordination may start to decline. You've probably already noticed that you can't do some things you did in your 20s or 30s, or that you can't do them as easily.
You now avoid climbing ladders to clean gutters or hang Christmas lights on your two-story home. But you still might try to send a text while stepping off a curb. Or carry all your groceries in from the car at once to avoid making additional trips outside. Or rapidly chop vegetables because you've gotten home late and want to get dinner on the table quickly.
If you're like me, you know the likely results from these small instances of hurry. You could twist your ankle stepping off the curb while looking at your phone. You might drop one of your grocery bags or irritate your sore elbow by carrying all that weight.
Evidence of my own hurry is the fact that I've lost count of the number of times I've cut my fingers while rushing to slice vegetables for dinner. Hurrying through routine tasks can result in cuts, scrapes and falls that may not be life-threatening, but are clearly nuisances. In short, hurry puts you at greater risk for "preventable injuries."
Midlife hurry compounds chronic health conditions
Many people begin to confront health problems like high blood pressure, diabetes and cardiovascular disease as they age. Midlife hurry can exacerbate any of these chronic health concerns.
For example, hurry and stress may lead to blood pressure spikes, increased desire for sweets (bad for someone with diabetes), and even heart attack or stroke.
Being in a state of hurry causes your body to produce the stress hormone cortisol. Cortisol suppresses the immune system and has been linked to heart disease.
Hurry's emotional toll
Constant stress also leads to long-term mental health problems like depression, anxiety and irritability. The ongoing cycle of stress and stress response can lead to panic issues and affect your relationships. It can rob your ability to think clearly by overstimulating your mind and reducing your focus on the task at hand.
Ironically, then, constant hurry leads you to accomplish less, not more. Along the way, it can wreck your personal happiness, damage relationships and take away your peace of mind.
Hurry sickness
The mental health community has coined the term hurry sickness to describe the condition where someone's state of hurry puts their health at risk. Two representative definitions of hurry sickness are:
a behavior pattern characterized by continual rushing and anxiousness; an overwhelming and continual sense of urgency
a malaise in which a person feels chronically short of time, and so tends to perform every task faster and to get flustered when encountering any kind of delay

Psychology Today
6 steps to fight midlife hurry
You don't have to accept hurry as a fact of modern life. But since our culture is geared toward more, now, better, faster, you have be intentional about fighting midlife hurry. Saying "no" isn't as easy as it seems. But here are some practical steps you can take to reclaim your peace of mind.
1. Prioritize
Any productivity guru will tell you to prioritize your to-do list and make sure you take care of the most important thing or things. OK.
But if you're like me, you don't want to select only one or two things as important to do today. You have a whole list of stuff to do: being productive means checking things off, right?
Let's unpack this thought, however. What if you do a bunch of easy, less-important things and avoid the big, difficult things? How productive will you feel at the end of the day if all your big to-dos are still outstanding?
It's a learning process we have to force ourselves to go through.
Take that long to-do list and highlight one or two things. Choose the things that, if done today, will move you toward a larger goal you have in mind. You'll probably end up checking fewer items off the list, but the ones you check off will be the ones that truly matter.
2. Categorize
Most of us have different aspects of our lives that don't really mesh. When you're looking at your priorities, be sure to consider what's important in different parts of your life. It's helpful to identify your top priorities for areas such as work, relationships, and personal development.
Don't overwhelm yourself by choosing something from each category as a must-do every day. That will quickly add up to multiple important things you expect yourself to accomplish. And you'll feel hurried and stressed!
So maybe "take turns" between areas. One day prioritizing work, another one personal development.
But do make sure you're not consistently postponing one area of your life to deal with "later, when I'm less busy." You've lived long enough by now to recognize "later" as a time that might not ever arrive on its own.
What you're looking for is balance. It's not wrong to emphasize one aspect of your life for a time, but doing it for too long will impair your long term happiness.
And working to balance out your efforts can lead to a greater sense that you're in control of your time – not the other way around.
3. Delegate
This is a tough one for me. Appointing someone else to do something for me means the task will be done their way. Not my way.
I know. I should be glad to have someone else do my housework, or take over a volunteer role that's making me feel burnt out. But my standards are high. A refrain plays softly in the back of my mind: no one will do as good a job as I would.
Which isn't true. Well, maybe it's a little bit true. 🙂
But seriously. I'm trying to be grateful for others who come alongside and help me with things so I can feel less hurried. And I'm having to accept that if a person does something differently from how I would do it, that doesn't mean they're doing it worse.
And even if they're doing it worse, so what? I get to cross the task off my list.
Developing your ability to delegate may be hard. It's often harder to find and train someone else to do something than it is to do it yourself. But delegating is one of the keys to less-hurried living.
4. Meditate
It sounds so simple. Stop doing and just be. Sit for 15 or 20 minutes and pay attention to your breath.
Learning to meditate regularly, however, can be hard. Especially if you're feeling hurried. I mean, why would you think you have time to sit and do nothing?
But mindfulness meditation is a critical step you can take. It trains you to appreciate the present moment, to interrupt your brain's tendency to focus on the past or the future.
Meditation has lots of health benefits. And it's a practice that helps you identify and eliminate midlife hurry in your own life.
5. Check in
Find an accountability partner. Maybe you have a friend who's also struggling with feeling hurried. Commit to encourage each other as you both work to change.
Do regular, quick check-in phone calls with your accountability partner. Plan a weekly walk or meal together. Have a short, standard question list to keep you on track. For example:
When did you feel hurried this week?
What did you try to slow down and/or reduce your sense of stress?
How do you plan to get reduce hurry in your life next week?
Having someone else on the journey with you can make a big difference. You can be each other's cheerleader, but also give one another the occasional nudge to get back on track if you've experienced a setback.
Just like losing weight or establishing a regular exercise routine, getting rid of hurry in your life is hard. Unlike weight loss and exercise, however, slowing down is also counter-cultural.
You need others with you as you develop counter-cultural attitudes and actions regarding hurry. So find someone with whom you can check in. It will increase your chances of kicking the hurry habit.
6. Check out
Sometimes you need to escape. Don't skip a big event you promised to attend, like a wedding where hosts have committed to substantial per-person fees. But at other times, you might look at your calendar and decide you can cancel something last-minute without hurting anyone.
At times like these, give yourself permission to stay home in your PJs and do nothing. Or go for a long walk outside. Or whatever it is you need to do so you can feel sane again.
Looking for ways to get rid of hurry may result in your hurting someone's feelings by declining their invitation. But if you're careful about your choices, you'll end up better off for taking a break from all that rushing around.
Summary
Breaking the habit of midlife hurry is hard. You feel as though you're getting fewer things done. You probably will disappoint some people.
But when you decide to eliminate hurry from your life, you're actually taking charge of it. You're reclaiming control of how you spend your time, and you're choosing to do the things that matter most to you.
As a reminder, here are 6 steps to help you slow down:
Prioritize
Categorize
Delegate
Meditate
Check in
Check out
For more inspiration and examples, have a look at these posts. They'll help you start living a less hurried, more fulfilling life:
Good luck kicking the hurry habit. Let me know how it goes for you!
Images via: Pixabay
Join my journey through midlife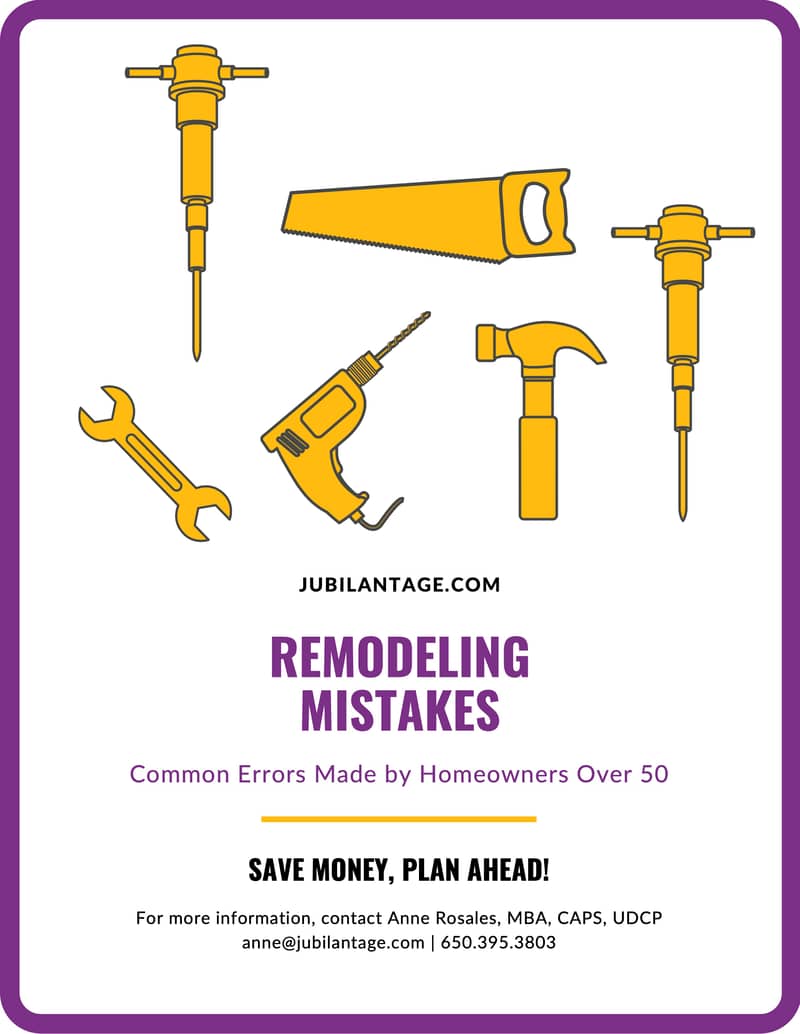 Subscribe to Jubilant Age and download a free checklist of remodeling mistakes to avoid!