Even if you don't need grab bars or special modifications now, you should think about how you can make your bathroom safe and comfortable for years to come.
Here are three levels of modifications you can make to prepare your bathroom to age in place. It's not an exhaustive list, but these are top items to consider. If you have to replace a broken fixture or decide to remodel your bath, use these tips to make sure you spend wisely on the upgrade.
1. Simple bathroom modifications, no remodeling required
There are a number of things you can do if you're caring for a relative who's just been discharged from the hospital after surgery, or who has an injury that limits their mobility. Easy ways to increase safety on an immediate or temporary basis:
Remove bath rugs (they're tripping hazards)

if you want a mat outside the tub or shower, make sure it's taped down so it doesn't slide out from underfoot

Put a non-skid mat or stick-on decals in the tub/shower
Buy "durable medical equipment" (DME) to address mobility needs without making permanent changes. For example:

toilet seat riser or commode chair
bath bench that fits in your tub/shower
sliding bath transfer bench if mobility is very compromised
These changes are quick to make and can be helpful to someone whose mobility is challenged due to an injury, surgery or illness. But they're not pretty. You probably should avoid having all that beige plastic in your home long-term. It'll remind you of a nursing home.
To prepare your bathroom to age in place, you'll want to do more.
2. Modest bath modifications for aging in place
The second category of changes you can make to accommodate aging in place requires a few home modifications. You can do most of these tasks by yourself if you're good with tools. Or enlist help from a friend or handyman.
Combine tasks from the list above with these things to make your bathroom more suitable for people with different abilities:
Attach a sprayer hose to the existing showerhead pipe

It should mount above like a regular showerhead for normal use, but you'll also be able to unhook it so someone who's sitting on a bath bench can bathe easily

Swap out your sink fixture with a single faucet handle (if you have a narrow-set faucet) or two lever handles (for wide-set faucets)

Note that you'll use the existing holes in your bath counter. And your new faucet will be easier to control than the old one with round or X-style handles
Consider replacing your existing toilet seat with a bidet-style one if it fits

This change helps with personal hygiene when someone's mobility is limited

Consider replacing sliding shower doors with a curtain to make entrance/exit easier
If you need grab bars but don't have reinforced walls and aren't able to install them into studs, check out these options:
3. Major remodel to prepare your bathroom to age in place
If you're doing a full-scale bath remodel, make sure to include universal design features that will accommodate people of all ages and abilities.
Your universally-designed bath should be on the first floor of your home. It will allow you to host visitors who might have mobility or other challenges. And it will be available to you in the years ahead, should you need it.
Key features you should try to include:
Wider doorway (32″+) and turning space to accommodate a wheelchair (60″+ diameter)
Curbless shower, at least 36″ wide

Shower curtain, wide swing-out door or no door
Flip-down seat in the shower
A showerhead that adjusts to various heights and has a sprayer hose so you can use it while seated

Plywood reinforcement or bracing around the shower and toilet so grab bars can be installed later if needed
"Comfort height" toilet with bidet seat if desired
Plenty of light
Tilting vanity mirror to accommodate users at different heights
Consider providing for seated knee space at the sink with adaptable vanity cabinet, pedestal or wall-hung sink
Start to prepare your bathroom to age in place
While you don't need to make all these modifications today, think about how you would change things around should you ever need to do so. And if you're investing in remodeling a bathroom, consult with someone about your specific situation.
The CAPS (Certified Aging in Place Specialist) and UDCP (Universal Design Certified Professional) designations indicate someone has earned appropriate credentials to advise you. They also should know about new products and technology that will help you prepare your bathroom to age in place.
Share your ideas and suggestions
What's top of mind for you when you plan to prepare your bathroom for aging in place? Do you have suggestions for new products or money-saving ideas?
Let me know in the comments.
Images via: Pixabay
Join my journey through midlife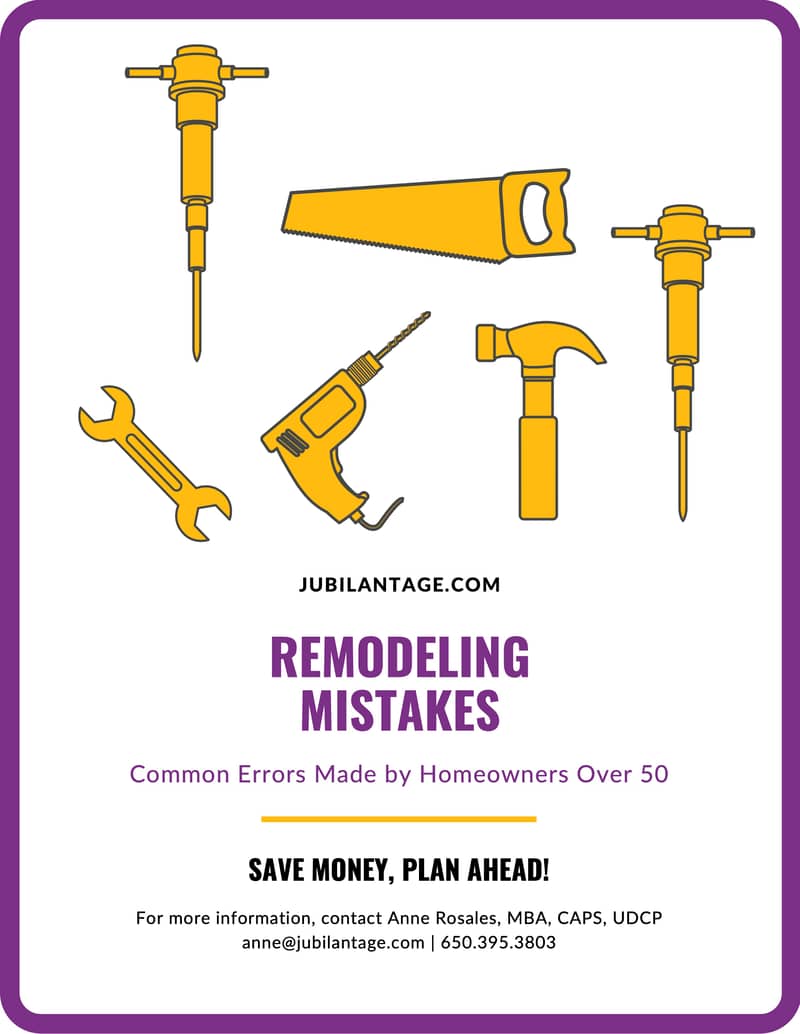 Subscribe to Jubilant Age and download a free checklist of remodeling mistakes to avoid!