Do you like to cook, but worry whether your existing kitchen set-up is going to work for you as you grow older? It's not to soon to consider how you might adapt your kitchen to serve you better.
Here are three levels of modifications you can make to prepare your kitchen to age in place. When thinking about aging in place in your kitchen, it's best to consider how you want to adapt it over time. NOT to configure it now as if you're certain to end up in a wheelchair!
Like my recent list of ways to prepare your bathroom to age in place, here are 3 categories of adaptations you can make to prepare your kitchen to age in place. Keep them in mind if you have to replace something that's broken or decide to remodel your kitchen.
1. Simple kitchen modifications, no remodeling required
Remove throw rugs
Throw rugs can problematic no matter your age. In fact, I recently caught my toe on the rug in front of my sink.
It got me thinking I should replace it with one of those cushioned mats that's easy on your legs and spine, with tapered edges. A rug that would stick to the floor so people wouldn't trip.
But the first one I ordered was ugly. I'm still shopping, and I'll share links with you when I find a better one.
Declutter and reorganize
Do you have things you don't need taking up space in your kitchen? Like small appliances, souvenir cups, kitchen gadgets and baking pans you use only once a year?
In our home, we toss many of such items into a blind corner cabinet my daughter has labeled "the cabinet of doom." You can't find anything in there without getting down on your hands and knees. Then you have to dig through pans, baskets, graters, water bottles, etc. – just to find the one thing you're looking for.
That's not the only cabinet in my kitchen that's overstuffed. I could make the kitchen easier to use by getting rid of stuff and reorganizing my cabinets. Note that this would help me enjoy my kitchen more today – not just when I'm older.
My sister recently spent more than 10 days reorganizing her whole kitchen and mudroom, and the results were impressive. Plus, she really enjoys cooking now – in fact, she's cooking at home more and ordering out less.
In all, decluttering your kitchen is a great way to eat healthier and save money at the same time!
2. Modest kitchen modifications for aging in place
Lighting
Our eyes need twice as much light at age 40 as we did at 20, and 3 times as much at age 60. But you can improve the lighting in your kitchen without doing a full remodel:
Add or replace under-cabinet lights with LEDs – they put out more light and cost less to maintain
Replace recessed incandescent, halogen or compact fluorescent lights with LEDs
Add small LEDs for task light over the island if needed – merely upping the wattage of existing fixtures will result in glare
Appliances
These changes are things you can do if your older appliance wears out and you have to replace it:
Choose a cooktop with with with front controls – easier to reach
Consider an induction stove or combination gas and induction model – induction burners aren't hot to the touch and shut off automatically
Replace an older refrigerator with an energy-efficient, side-by-side model – store frequently-used items at a convenient level in both the fridge and freezer
Fixtures and cabinets
Again, you can adapt your kitchen to work better for you as things wear out or you want to freshen up the look:
If your faucet needs to be replaced, choose a single-lever or sensor-based one – make sure to include a pullout spray
Opt for D-shaped or loop cabinet and drawer pulls – they're easier to open for people with stiff hands)
Shop for cabinet and drawer organizers that help you find stuff easily
3. Major remodel to prepare your kitchen to age in place
A complete remodel of your kitchen presents an opportunity to configure it so it serves you for the long term. Besides choosing lighting, appliances, and fixtures like those discussed in Section 2, you can make other changes.
Avoid making your kitchen completely handicap-accessible unless you know someone in a wheelchair will be cooking in it. Instead, focus on selections that make the space comfortable for you now as well as adaptable if your needs should change in the years to come.
Variable-height counters
Create a design with counters that are comfortable for different users or activities:
Raise the dishwasher 6″-12″ so you don't have to bend over as far to unload it
Make a counter section at table height (30″-32″) – ideal for baking and seating for grandchildren
Avoid surfaces that have sharp edges or create excessive glare
Cabinets
Check out cabinet organizer systems like those sold by Häfale or Rev-a-Shelf
Install pulldown shelving so upper cabinets are easier to reach
Consider open shelves for frequently-used items
Allow 42″+ aisle space between rows of cabinets – provides room for multiple cooks now and a walker/wheelchair later
Appliances
Refrigerator drawers have been around for some time, but they're becoming more popular – easy to find things in, and you can store different items at different temperatures
Put your microwave at counter height or just below it – no one wants to burn themself by lowering a hot plate from above
Consider new appliance technology, like built-in air fryers, sous vide or steam ovens
Final thoughts on preparing your kitchen to age in place
Preparing your kitchen to age in place is a bit of a misnomer. You really want to prepare your kitchen to serve you for the long term, so you'll continue to enjoy cooking for as long as possible.
Your goal is to make it easy to fix healthy meals for yourself and family, as well as to entertain friends in your home.
If you want to be fully prepared for limited mobility in the future, and/or you expect to have an elderly relative living with you, make the cabinet in front of your cooktop adaptable for a wheelchair user. This would mean installing a false front that could be removed to create knee space for a seated user.
For most homeowners, however, this type of modification is too much. They'd rather deal with it later if the need should arise.
But this 3-tiered list will help you prepare your kitchen to age in place. Keep it in mind as you replace broken appliances, refresh or remodel your kitchen. It will increase your comfort now as well as your peace of mind that you can continue living comfortably in your home for years to come.
Your ideas and suggestions
Let me know what modifications you've made or are considering for your kitchen. I'd especially love to see before and after photos if you have them! Share comments here or send pics to me at anne@jubilantage.com.
Images via: Pixabay
Join my journey through midlife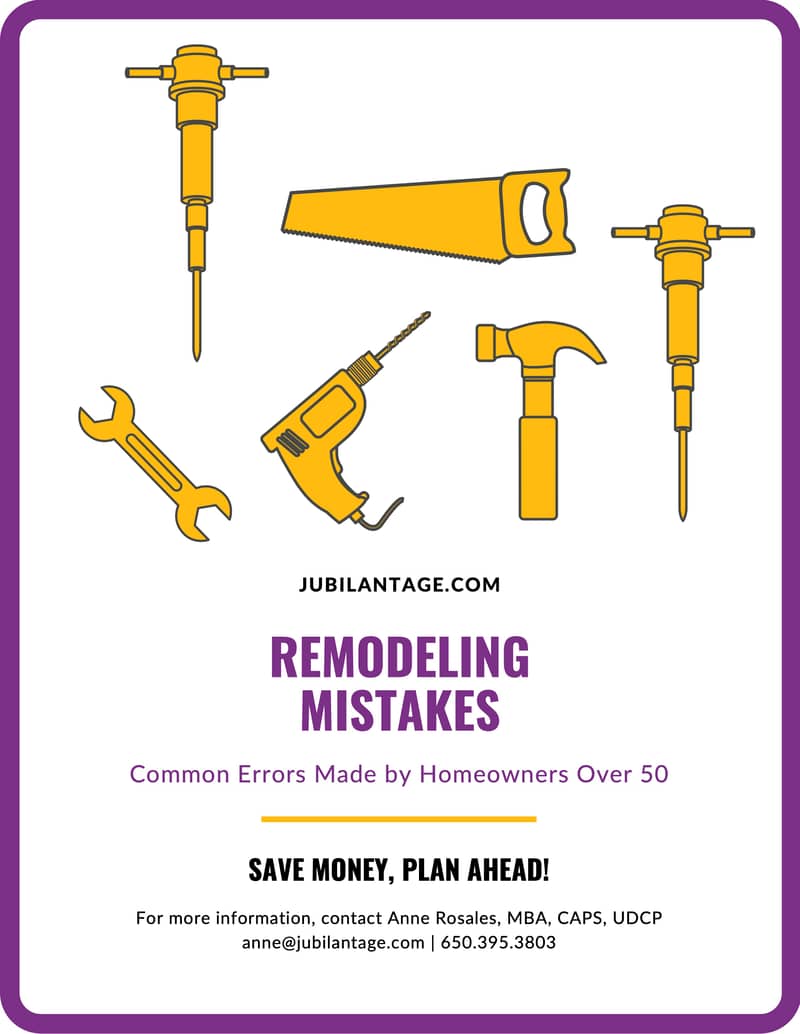 Subscribe to Jubilant Age and download a free checklist of remodeling mistakes to avoid!