When you think of a village, what comes to mind? I imagine a quaint old town in Europe, where ancient stone walls and intertwined families protect anyone living there. Or a child's playset with houses and people, where everyone has their own place and special role.
The concepts of neighbors helping neighbors and a community where everyone plays a specific role are the essence of the village movement that's catching on across the US. While people of all ages desire to experience community, older people are giving structure to that goal.
As the Pasadena Village puts it, "The Village is not a place to live, but a way to live." This post explains villages in the context of aging and gives you 4 ways that joining a village helps you age in place.
You can use this information to help your parents now. Chances are, they want to go on living in their home for as long as they can. Understanding how a village helps you age in place may also come in handy as you're planning your own retirement.
A grassroots concept
Beacon Hill Village, which people usually consider to be the first age-in-place village, got started in 1999 by seniors in Boston. They came together as a group to devise solutions that would help them continue to live in their homes on Beacon Hill – a beautiful neighborhood where many of the streets have cobblestones and most of the houses require you to go up several steps to enter.
They ended up organizing a concierge type of service. Everyone contributed some money, and then the group acquired assistance with tasks that were becoming more difficult for them. Things like:
transportation to doctor appointments
bringing home groceries and carrying them up to the kitchen
changing light bulbs
home safety modifications and repairs
They also gathered to socialize and enjoy living in their community. Over time they built up a well-organized system that's served as a model for numerous similar village around the country.
This PBS video features the Beacon Hill Village and how it helps residents age in place.
A new twist on retirement
This twenty-first-century twist on a village as a virtual community is catching on in a big way.
The growth of the village movement in the US represents a pendulum swing back from the "retirement village" concept popularized in the 1960s-1980s. But now, instead of selling their long-time homes and moving to developments where everyone is 55 or older, village members prefer to stay in their communities.
Village members don't want to shift their focus to the pursuit of leisure in their "golden years," as Joseph Coghlin describes in The Longevity Economy (see this post). They want to continue their lives in the community as before. Maybe with just a bit more assistance than they needed when they were younger.
Aging in community
There are now over 200 villages in the US, with more in development. Because they're started by residents of a community, each village is slightly different. To find a village near you, check out this interactive map from the Village to Village Network.
Perhaps a more appropriate way to describe aging in place is aging in community. Regardless of which term you choose, a village can help you achieve this goal.
How a village helps you age in place
Let's talk about 4 key ways that joining a village helps you age in place, or age in community – I'll be using these terms interchangeably. Some of these 4 elements address physical needs you may have as you get older. Others speak to emotional needs like the desire for friendship, purpose and meaning.
1. Help when you need it
The most obvious reason that many elders join a village is to gain access to help with transportation, errands or household tasks that simply have become too difficult or time-consuming as they've grown older.
You can line up regular wellness checks – calls from a village representative to make sure you're ok. But in general, the village leaves you alone unless you ask for help. This suits people who prefer their independence and want assistance on their terms.
Help with technology
A popular service that many villages offer is tech assistance. That might mean in-home help, like someone who'll program your TV remote or set up home wifi. Or the village might host a class on internet tips and tricks, or how to do more with your cell phone.
In many cases, a teenage volunteer helps a village member fix a tech problem they're having. Intergenerational relationships like this amplify the village concept of everyone having a role to play in the community.
Central phone number
The best part about village concierge service is that a member calls the same phone number in order to fix any number of problems. She doesn't have to determine what is causing the issue and whom she needs to contact.
2. Pre-screened vendors and discounts on services
The central village phone number can offer members access to paid as well as free help. For example, most villages have volunteers who change light bulbs and make simple household repairs for free.
But for more complex jobs, the village will provide referrals to pre-screened vendors. Such companies often give village members discounts on their services. This might include:
handymen
de-cluttering experts
caterers or meal service providers
home assessments to increase your safety and comfort as you age
3. Social engagement
Another important way that villages promote healthy living in community is through social engagement. Most organize member parties, lectures, and trips to local art museums or historic sites. Some even sponsor travel opportunities.
It's all up to the preferences of the members and their elected board of directors. There's often an emphasis on staying active, whether by setting up "walking buddies," trips or classes that stimulate the mind.
The beauty of a village's social activities is that they reflect what the members want to organize. This is a significant difference between a village and a traditional retirement community. The retirement community management decides what activities it will offer to what is essentially a captive audience.
But village social events and classes are chosen by members for members. Villages thrive because they are grassroots organizations.
4. Community involvement
Since villages are mostly volunteer-led and staffed, they give members a way to create meaning and purpose in their lives. Many free village services are provided by the village members themselves.
Even if a member isn't physically able to assist someone, he might do volunteer work like calling to welcome new members. Or he could help assemble mailings or register people for village events.
Villages give their members many ways to serve their communities. Instead of living in a residential facility where people do things for you all the time, living in a village lets you serve others. Encouraging volunteering in their community is a powerful way that villages promote mental and physical health.
Evidence of how a village helps you age in place
The village movement is so new that not many studies have been completed to document how a village helps you age in place. But a survey of members of 7 California villages in 2016 found that becoming a member of a village greatly increased people's confidence in their ability to age in place.
When asked to consider the past 12 months of village membership, 79% of respondents felt that they were more likely to be able to stay in their own home as they got older because of their village membership.
Additionally, 29% said they had an easier time taking care of their home and 36% reported having an easier time taking care of themselves because of their village membership.
For a more in-depth look at the village movement and how a village helps you age in place, download this podcast from Better Health While Aging. Host geriatrician Dr. Leslie Kernisan interviews Dr. Andrew Scharlacht, a professor at the University of California, Berkeley, about his research on the village model.
How does village funding work?
A typical village has lots of volunteers and only a few paid staff members. Most of the volunteers are members. As stated above, the entire concept is member-driven, with an emphasis on neighbors helping neighbors.
Members pay an annual fee of around $600-$1000 depending on whether they have a single or couple membership. Fees can run higher in some localities. Most villages have a sliding scale fee structure, so members pay according to their income levels.
The village itself is structured as a non-profit organization. Membership fees cover only about half of the total costs of running the village. Thus all villages do fundraising – both among individuals as well as corporations and foundations.
The Village to Village Network has resources on how to start a village, including a package called the Village 101 Toolkit. They also hold annual conferences and provide other opportunities where village representatives can meet and learn from each other.
Villages suit lots of different communities
Although the village movement started among urban residents who wanted to age in place, there now are villages in a variety of communities. A study published in 2017 found that US villages are:
36% urban
35% suburban
13% rural
16% mixed
Because each village is organized locally by the members themselves, every village is unique. Example villages include:
Find a village or start one yourself
As many as 90% of people want to remain in their homes as they age. If you're trying to help your parents age in place, and their community has a village, suggest they join it.
The cost is reasonable, and a village may provide exactly the type of help they want. When they want it. And not when they don't.
It's also wise to keep the village concept in mind for yourself somewhere down the road. If your community doesn't have a village now, find some other forward-thinking people and look into starting one.
By doing so, you'll help a lot of elders in your community. And by the time you're ready for a village to help you age in place, it will be there!
Images via: Shutterstock, Pixabay, Pexels
Join my journey through midlife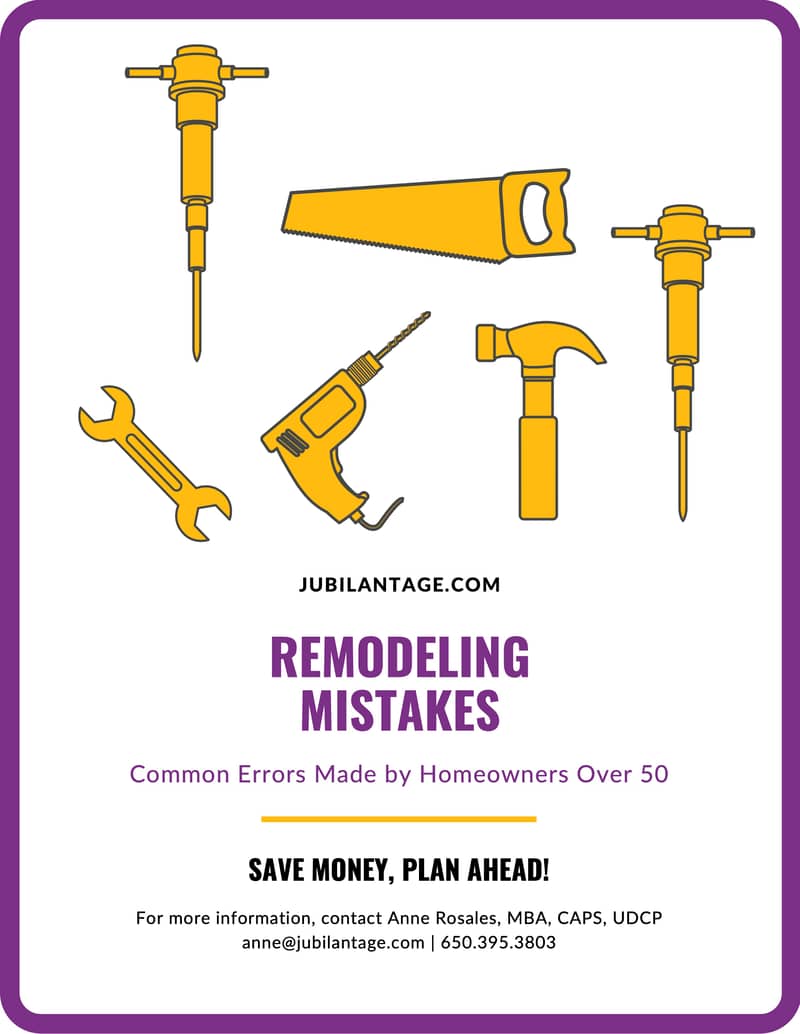 Subscribe to Jubilant Age and download a free checklist of remodeling mistakes to avoid!